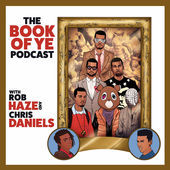 The Book of Ye -- Episode 13: "Monster" (with Alexis Nedd)
When mythology starts generating around a performer as pervasive in pop culture as Kanye West, can a podcast devoted to it be far behind? The Book of Ye, hosted by comedians Rob Haze and Chris Daniels, proves that it cannot.
Along with this week's guest, Alexis Nedd (senior editor at Hearst Digital), the boys go deep into things I don't pretend to know very much about...or didn't, until I made my way through this almost-two hours of infotainment.
Still hot is the ongoing sort-of-feud between Kanye and Taylor Swift. What started with West storming the stage and interrupting Swift's VMA Award acceptance speech in 2009 has raged off and on ever since. It flared up again a couple of weeks ago when Mrs. West (Kim Kardashian) made public a video that had been made of Swift apparently approving the use of some lyrics aimed at her in West's Famous song.
This topic dominates a big chunk of the episode but there is a lot more in store for the co-hosts and their guest to break down, which they do -- including a dissection of Ye's Monster track, Desiigner's Tiimmy Turner release, how bad ass Black Panther was in Captain America: Civil War, and more.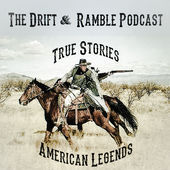 Drift & Ramble - S1E4: Bodie Ghost Town
I'm not quite sure where you classify new podcast Drift & Ramble: True Stories & American Legends, but it's an interesting listen for sure. Hosted by Steve Blizin, its focus is on just what the subtitle suggests: Stories and legends that, at least in Season One, seem to be circled around the American West.
This latest drop is all about Bodie, an Old West ghost town in the Sierras. Blizin and wife Cheryl do some deep homework (with the help of an assistant ranger in Bodie who really knows his stuff) to breathe life into the history of a place that time has pretty much forgotten.
Inhospitable terrain above the treeline in the Sierra makes Bodie an unlikely spot for a town but the lure of gold on the heels of the Gold Rush at Sutter's Mill 10 years earlier drew prospectors and opportunists like moth to the flame. Blizin spins out a history that seems like episodes of HBO's Deadwood strung together, plus the tantalizing promise of real dead ghosts.
In what I can only label as a podcasting first (any ghost-hunting EVP tracks not withstanding), we're treated to an audio recording made by Blizin in the local Bodie graveyard in the sane light of day...and one can clearly hear the sound of a child's voice in the mix of wind and other sounds.
Except there were no children in view as far as the Blizins, who were both on hand, could see. (Cue the theremin...)
Blizin's delivery is laidback and engaging, similar to the comfortable tones of Rex Allen, late Western actor and narrator of the old Disney nature films. This is a great podcast to enjoy with the kids, old radio style, if you can pull them away from Pokémon Go long enough.
Podcasts I'm also listening to this week: The Adventure Zone -- Episode 45: The Eleventh Hour - Chapter Five; and Nerdist -- Mike Birbiglia #4
In addition to his weekly contributions to This Week In Comedy Podcasts for Splitsider.com, Marc Hershon is the host and executive producer of Succotash, The Comedy Podcast Podcast, featuring clips from comedy podcasts from across the Internet as well as interviews with podcasters, comedians, and assorted show biz folk.
Popular in the Community