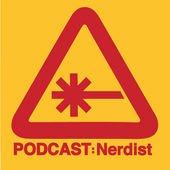 Host Chris Hardwick's enthusiasm seems to run higher than most folks most of the time. But when he gets a first-time guest on his podcast, The Nerdist, that he's genuinely excited about, the enthusiasm spikes to 11. And it stays pegged there all through his recent interview with actor Bruce Campbell (The Evil Dead, Burn Notice, Briscoe County, Jr.)
Any nerd worth his or her salt is familiar with Campbell -- his exploits starring as chainsaw-for-a-hand Ash in the Evil Dead franchise (including Starz' new Ash vs The Evil Dead) is the stuff of comic-horror legend.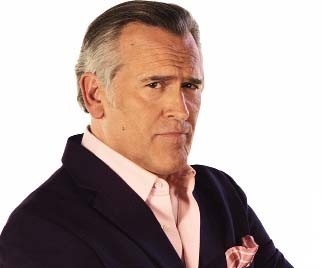 Fan of his or not, Campbell turns out to be a dream guest. He's got great stories, from being a fan himself and drooling over the same people HIS fans do - from Stan Lee and Adam West to William Shatner and the late James Garner, to life behind the scenes and on the set of shows like Burn Notice, Xena, and Hercules.
He's a rollicking raconteur, handily snapping out impressions of people like Burt Lancaster, Cary Grant, and the aforementioned Shatner. (His story of having the star of Star Trek and T.J. Hooker teach him how to do the "Shatner Power Slide" -- the technique the series star used to brake his car in Hooker -- is fantastic good fun. And, notably, Campbell uses the SPS in the pilot episode of his new Starz series.)
Harwick has such a great time with this guest that he's hard-pressed to let him go and the repartee continues for several minutes past the official end of the show.
Podcasts as companion pieces to TV shows, movies, and websites, officially sanctioned or - more likely - unsanctioned, have been all the rage for the past few years. This week the first episode of a "companioncast" dropped for a website which has yet to launch.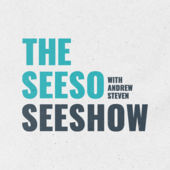 Andrew Steven, who introduces himself as an amateur explorer, expert coffee drinker, and podcast maker hosts The Seeso Seeshow. Seeso is NBCUniversal's new ad-free, subscription-based streaming comedy service which is set to launch in January of the new year. But somehow Steven's pulled the trigger three months early, perhaps as some kind of "teaser campaign" to whet the appetite of comedy fans eager to access materials that may be difficult to access otherwise as well as brand new, original series.
In this debut installment, Steven focuses on Saturday Night Live, the entire decades-long series of which will be available via Seeso.
He talks about how he came late to SNL as a viewer, only to become a steadfast devotee. And he features various folks sharing their favorite memories of the SNL universe, including former cast member Sheri Oteri reminiscing about how announcer Don Pardo could never get her name right, and a chance meeting with Adam Sandler, Chris Farley, and David Spade in a suburban Chicago bar.
It will be interesting to see what other tidbits Steven is able to pry out of Seeso before the doors even open.
Podcasts I'm also listening to this week: Comedy A Go Go: Epi 241 - Kevin Lee; and You Better DON'T: Epi 35 - What Happened To The Pittsburgh Wheelchair Mosher?
The The Nerdist, The Seeso Seeshow reviews and other podcasts mentioned originally posted as part of This Week In Comedy Podcasts on Splitsider.com.
Marc Hershon is the host and executive producer of Succotash, The Comedy Podcast Podcast, featuring clips from comedy podcasts from across the Internet as well as interviews with podcasters, comedians, and assorted show biz folk.
Calling all HuffPost superfans!
Sign up for membership to become a founding member and help shape HuffPost's next chapter