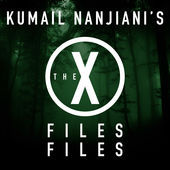 Being a podcast-wielding fan of TV's X-Files has paid off in spades for comedian Kumail Nanjiani since starting his show, The X-Files Files.
In making his way through the show, episode by episode, some of his guest commentators have included people like Dean Haglund, who recurred as one of the Lone Gunmen, and Darin Morgan, who wrote several of the most memorable episodes.
This installment is different than most, in that Nanjiani isn't recounting the next episode in the series, but instead chatting with series stars David Duchovny and Gillian Anderson -- characters Fox Mulder and Dana Scully, respectively. And they're not sitting in a studio or around a kitchen table for this talk -- they're in a tent at 3 AM, between takes on the set of the upcoming X-Files rebooted mini-series. And Nanjiani is there because he got cast in a role in the episode being shot.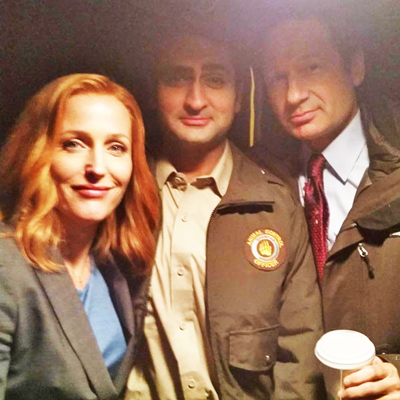 There's a podcast host that's being given some respect!
As he emphatically states at the top of this episode, this is not a interview with the series' stars but he also overly apologizes for what it is -- an informal chat recorded on his iPhone that runs about 20 minutes.
In spite of that, Duchovny and Anderson are engagingly open and playful, both with each other and Nanjiani. And both are aware of the podcast -- Duchovny has even listened to it. They reminisce about past X-Files episodes, favorites and least-favorites. By the time the actors are recalled to the set for the next shot, the only regret the listener has is that host Nanjiani wasn't able to keep recording whatever was next to come.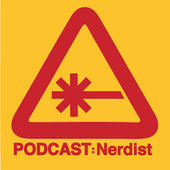 Most of the focus since John Stewart relinquished the anchor desk on Comedy Central's The Daily Show has been on his successor, Trevor Noah. But some of the spotlight is beginning to fall on another alumnus of the show: Samantha Bee.
The longest-running correspondent on the show (12 years) pops up on The Nerdist this week, part of the publicity play ramping up behind her soon-to-debut TBS late-night series Full Frontal with Samantha Bee. (The Nerdist, BTW, has altered their release schedule as of the start of the new year, now presenting just a single episode a week, dropping on Tuesdays...)
Totally comfortable in the Nerdist environment, she and host Chris Hardwick slides easily from topic to topic. Whether it's the expected download about the news-ish, real issues-covering Full Frontal, including how she and her writers spent months tossing ideas into a shared file until details started to crystallize, why couples used to sleep in twin beds, and her grandmother's non-squeamishness talking about oral sex.
Bee's also TV show multi-tasking, as she was producing Detour, a scripted family comedy with husband and fellow former Daily Show correspondent Jason Jones. As rarefied as the idea of running not one but two TV shows sounds, many listeners can related to her reflections on being a working mom when she gets into the struggle of work/life balance.
The The X-Files FIles, The Nerdist reviews and other podcasts mentioned originally posted as part of This Week In Comedy Podcasts on Splitsider.com. (You can hear my interview with Michael Ian Black of Mike And Tom Eat Snacks in current Epi125 of my Succotash podcast.)
Marc Hershon is the host and executive producer of Succotash, The Comedy Podcast Podcast, featuring clips from comedy podcasts from across the Internet as well as interviews with podcasters, comedians, and assorted show biz folk.