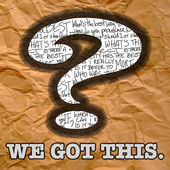 What do you do when you're a regular cast member on a popular podcast that's about to close down its phenomenal run? For Mark Gagliardi and Hal Lublin, fixtures on The Thrilling Adventure Hour (not to mention regular turns on Drunk History and Welcome to Night Vale) the answer is to gear up your own podcast.
This week marks Episode 4 of We Got This, where the two comedic actors and vocal artists match wits and absurdity to settle debates on the oddest of topics. The current edition looks at mankind's classic struggle: Creamy or Crunchy Peanut Butter?
The two gentlemen stray frequently off topic and, when they do, their back-and-forth has a little of the feel of the popular (though intermittently released) Mike And Tom Eat Snacks. Their interplay is pretty entertaining and, with episodes running just a tad over half an hour, if you have the bandwidth for a bit of goofiness in your podcast listening day, We Got This should fill it nicely.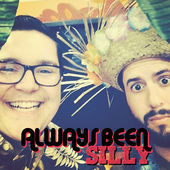 New York-based standups Brandon Scott Wolf and Anthony O'Connell how found a way to fill their off-stage hours. They've started the Always Been Silly podcast, where they invite fellow comedians to come on the show and tell some remembered silly story from their lives.
The latest installment features Casey James Salengo whose story deals with how, at the age of five or so, he disrupted the dance recital of a girl several years his senior that he had a bit of a crush on. He has vivid recollections of inviting himself on stage and proceeding to do a series of "dance moves" - which were nothing more than a collection of battle stances he picked up from watching Teenage Mutant Ninja Turtles.
Someone from the local paper was in attendance and wrote an extensive story on the incident. The rest of the show takes off from there, with the hosts Wold and O'Connell chiming in with stories that are brought mind by the guest's adventures. The episodes are not very long but they are, as advertised, always silly.
Calling all HuffPost superfans!
Sign up for membership to become a founding member and help shape HuffPost's next chapter