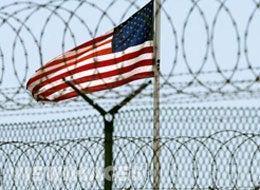 Jumah al-Dossari's life as an "enemy combatant" began when he was taken into custody by the Pakistani army while trying to leave Afghanistan. According to the testimony he gave Amnesty International, he was imprisoned, robbed, tortured, and then sold to American soldiers searching for potential terrorists. American intelligence officers eventually transferred him to the now infamous prison in Guantanamo Bay, Cuba, where he spent five years--the last four in solitary confinement.
Dossari's account of his time at Guantanamo, which he wrote while still a prisoner, is astonishingly brutal. It provoked an uncomfortable combination of outrage and skepticism in me, and I encourage you to read it yourself and draw your own conclusions. This excerpt is among the least appalling:
"They threatened us and they threatened me personally by taking out their weapons and pointing them at me. They threatened me that I would be killed if I went back to my country. Many things happened to me at this time... I do not wish to mention the horror of these attacks. During investigations, I was threatened with rape, attacks on my family in Saudi Arabia, my daughter being kidnapped, and my murder - assassination - by their spies in the Middle East if I went back to Saudi Arabia."
Dossari claims that life in the prison drove him to attempt suicide more than a dozen times. And he wrote the following poem as part of a suicide letter he sent his lawyer.
Take photographs of my corpse at the grave, lonely.
To the people of conscience,
Send them to the principled men and the fair-minded.
And let them bear the guilty burden before the world,
Let them bear the burden before their children and before history,
Of this wasted, sinless soul,
Of this soul which has suffered at the hands of the "protectors of peace."
In July of 2007, he was released to a "rehabilitation center" for former Guantanamo Bay prisoners in Saudi Arabia, where his current status is uncertain.
Dossari wasn't the only poet at Guantanamo. The art form flourished in the prison. For many prisoners, poetry became a way of preserving sanity in conditions where scores of men went mad. Others wrote for mental stimulation when little was accessible, and some wrote as a form of prayer.
Since prison authorities initially banned writing utensils, prisoners first carved their verses into Styrofoam cups with pebbles or their fingernails. After the first year, the Red Cross began providing pen and paper, and just recently, prisoners have been granted access to books.
They've also only recently been given something of a voice. Twenty-one poems written "inside the wire" at Guantanamo have been gathered together by Mark Falkoff, a lawyer and professor who represents many of the Guantanamo detainees. The collection, entitled Poems from Guantánamo: The Detainees Speak, was recently published by University of Iowa Press.
The path to publication has been difficult. American authorities delayed the release of many poems in the collection. A Defense Department spokesman explained that: "While a few detainees at Guantanamo Bay have made efforts to author what they claim to be poetry, given the nature of their writings they have seemingly not done so for the sake of art." Another spokesman stated that prisoners "have attempted to use this medium as merely another tool in their battle of ideas against Western democracies." In an interview with the Guardian, U.S. Authorities added that poems present a "special risk" due to their content and format. They are concerned that the poems could contain coded messages and might leak classified information about the camp.
Here's another poem from the collection. It's by a man named Abdulla Thani Faris al Anazi, and it's difficult to read it as a security threat.
Two years have passed in far-away prisons,
Two years my eyes untouched by kohl.
Two years my heart sending out messages
To the homes where my family dwells,
Where lavender cotton sprouts
For grazing herds that leave well fed.
O Flaij, explain to those who visit our home
I know your thoughts are swirled as in a whirlwind,
When you hear the voice of my anguished soul.
Send sweet peace and greetings to Bu'mair;
Kiss him on his forehead, for he is my father.
Fate has divided us, like the parting of a parent from a newborn.
O Father, this is a prison of injustice.
Its iniquity makes the mountains weep.
I have committed no crime and am guilty of no offense.
But I have been sold like a fattened sheep.
I have no fellows but the Truth.
They told me to confess, but I am guiltless;
My deeds are all honorable and need no apology.
They tempted me to turn away from the lofty summit of integrity,
To exchange this cage for a pleasant life.
By God, if they were to bind my body in chains,
If all Arabs were to sell their faith, I would not sell mine.
I have composed these lines
For the day when your children have grown old.
O God--who governs creation with providence,
Who is one, singular and self-subsisting,
Who brings comfort and happy tidings,
Grant serenity to a heart that beats with oppression,
And release this prisoner from the tight bonds of confinement.
Another poet in the collection, Abdul Rashim Muslim Dost, claims that writing poems kept him sane during his three year imprisonment at Guantanamo Bay. A scholar with some reputation before his arrest, having written and published 19 books, he was the only prisoner to have written poems before his incarceration. Like Dossari, he was arrested by Pakistani authorities and then turned over to the United States. He claims his arrest stemmed from his ties to Pashtun nationalists disliked by the Pakistani Government. Here is the official explanation:
"Many Afghans who had been involved in terrorist activities in Afghanistan had moved to Peshawar at that time...men were arrested and passed to the Americans. The U.S. has subsequently questioned them and established during the past three long years that they were, in fact, innocent." Here's one of his poems:
"Just as the heart beats in the darkness of the body, so I, despite this cage, continue to beat with life. Those who have no courage or honor consider themselves free, but they are slaves. I am flying on the wings of thought, and so, even in this cage, I know a greater freedom."
Dost claims to have written more than 25,000 lines of poetry during his imprisonment. He recently said, "I wrote from the core of my heart in Guantanamo Bay. In the outside world I could not have written such things."
His writing and the whole recent collection spurs us - if nothing else - to look more closely at the prison at Guantanamo and gives us the chance to see the prisoners in a more human light. At the very least, they seem far from the men Donald Rumsfeld decried as "among the most dangerous, best-trained, vicious killers on the face of the Earth."