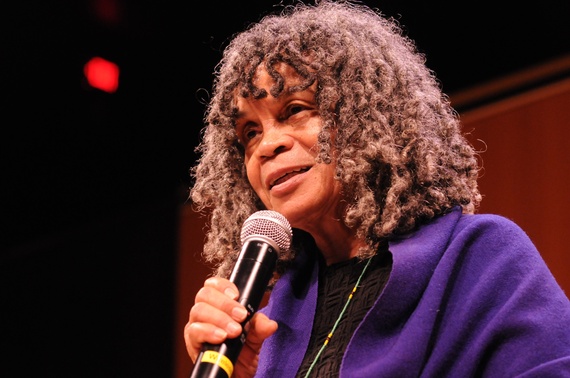 "Someone asked me, "'Why do you write?' And I said, 'Because I wanted to tell people how I became this woman with razor blades between her teeth.'"

Sonia Sanchez
Faced with teaching a lot of very white literature to classrooms full of brown and black teenagers, I would sprinkle some Sonia Sanchez on it to whet their appetites.
It set their souls on fire, those fighting words from a woman who looked and talked like them. They gobbled it up, made poetry of their own from it--and a poetry slam, one year. With hip hop music, break dancers and a wildly appreciative audience.
Sonia Sanchez can get under your skin like that. Those razor blades leave a mark.
The documentary, BaddDDD Sonia Sanchez, premiering Tuesday, March 8, 2016, at 8 p.m. EST on the World Channel's critically acclaimed series America Reframed, proves that those blades have not dulled over time.

It opens with 81-year-old Sanchez, one of the most important writers of 60s the Black Arts Movement, reciting Middle Passage accompanied by jazz music. The poem stutters its way through the harrowing experience of a woman traumatized by the cruelties of slavery. And as Sanchez speaks, the cadences remind us of something very familiar. Something many of us hear every day now.
"She made it possible for the hip hop generation to exist," spoken word artist Byronn Bain explains, adding that, "Sonia Sanchez not only kicked open the door, she blew off the roof."
And hip hop artist Taleb Kweli adds, "The revolutionary aspect of it has not diminished over time. Sonia's poetry still cuts."
Indeed, Sanchez herself believes that language, "is the most dangerous of professions." It can, "take our unexpressed thoughts and disgusts and desires and fling them with clarity and coherence on the wall, a screen, a sheet of paper or against the long silence of history," according to an unpublished snippet she reads from one of her journals.
But the firebrand we follow from reading to reading, story to story in this documentary was not impressed by the power of African American language and literature early on. A graduate of Hunter College, she was taught from the same very white literature anthologies my students read back when.
In fact, she says her reaction to a library devoted entirely to literature by and for African Americans, was to exclaim, "There must not be many books in here."
That "library" was Harlem's famous Schomburg Center for Research in Black Culture. And the woman who had explained its purpose handed Sanchez her three very important books: Souls of Black Folks, by W.E.B. DuBois, Up From Slavery, by Booker T. Washington and Their Eyes Were Watching God, by Zora Neale Hurston.
The Hurston novel was on top. And after reading a few pages of her rich, Black dialect, Sanchez wept.
"How could I be an educated woman and not have read this book?" she asked through those tears.
She made up for lost time very quickly, sharpening her own writing skills in classes taught by author Louise Bogan, poetry editor of the venerable New Yorker. And soon, enraged by the assassination of Malcolm X like many African American artists of her generation, she joined poet Amiri Baraka's legendary and incendiary Black Arts Repertory Theater, aka BART, to express that anger.

BART grew so popular that shows could pack New York's famous Fillmore East like rock concerts, its audiences studded with celebrities come to watch history in the making. Sanchez recalls that the audiences would scream and stomp before the shows began, impatient for the "music" to begin.
"It was like an explosion," Sanchez recalls. "And you understood the power of words."
And as a host of admirers attest--Roots drummer Questlove, the late great actress and activist Ruby Dee and author/colleagues like Amiri Baraka and Haki Madhubuti among them--she also found a particularly powerful and personal way of wielding those words.
"We had the freedom as a female to be on that stage and to use a voice that was mighty, it was loud, it was strong, it was saucy, it was mean," she says. "But it was also a female voice, you know? You would do a love poem, because that is just as radical as anything else."
Novelist Ayana Mathis loves those love poems as much as my students did.
"All the images of Black sexuality that you were seeing were so negative," she explains. "Libidos running wild. People with no self control. And there's no beauty in that. No romance. And she would write these beautiful poems about sex and sexuality that were so gorgeous and soft and lovely and empowering for women."
She would have a similar issue with the Nation of Islam. And her controversial college courses--she started the ethnic studies movement almost singlehandedly--cost her teaching jobs as well.
But she insists, "What has given me life has been my poetry. And I would also extend to that my politics."
Her dedication has not waned. Author of 16 poetry books and an endless stream of short stories, critical essays, children's books and plays she's still so relentlessly on the move that her children fear for her health.
But Sanchez is determined "to be engaged with a new generation of artists and activists" according to filmmaker Sabrina Schmidt Gordon, who co-produced the documentary with Barbara Attie and Janet Goldwater.
"She participated in an event not too long ago alongside #BlackLivesMatter co-founder Alicia Garza," Gordon said in an email tribute. "I hope that people will feel the way I do, that her talent, generosity, sacrifice, and enduring commitment to human rights and dignity for all people is an inspiration, and her greatest gift to us."
Photo credit: Raymond W. Holman, Jr. by permission of filmmakers and America Reframed, PBS
Popular in the Community