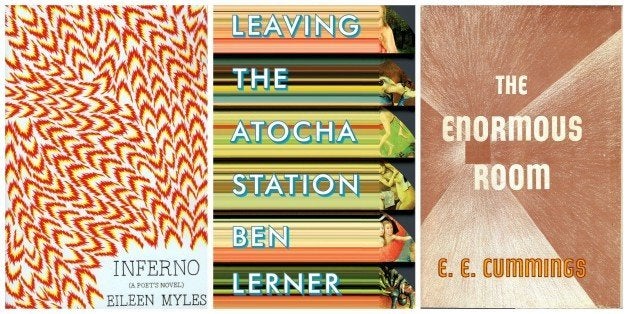 Ben Lerner's 10:04 has garnered praise for the author's psychological insight and deft wielding of words -- poet Maggie Smith called the writer's skills "intellectual, aesthetic, and empathetic." His focus on language could be owed to his background as a poet, and continuing interest in poetry -- Lerner said in an interview, "I read more contemporary poetry than contemporary fiction."
On the rare occasions that poets venture to expand their poignancy to fill book-length plots, the outcome is often rewarding. Lerner's first novel, along with these four other works of fiction by poets, are definitely worth adding to your TBR pile:
Leaving the Atocha Station by Ben Lerner
Lerner's recent success as a novelist may eclipse his reputation as a poet, but his fiction is very much focused on the lives of poets, and contains works of poetry within it. 10:04 features a poem composed while the author was at a residency in Marfa, and Lerner's first novel, Leaving the Atocha Station, includes a scene set at a poetry reading in Spain, during which the protagonist fumbles as his work is translated out loud. The poetry connection isn't merely thematic, of course. Lerner's writing dazzles on a sentence level, and his deliberate use of language, be it in more realistic scenes or experimental ones (the protagonist's Gchat conversation with a friend isn't gimmicky, but striking) is reminiscent of the days when he wrote lines-by-line rather than paragraph-by-paragraph.

Our review of Ben Lerner's latest novel
Silence Once Begun by Jesse Ball
Ball's story is ostensibly a thriller -- it involves a man who has been convicted of murder, and subsequently and inexplicably takes a vow of silence. His insistence on not speaking allows for those around him to inform the reader of his history, his tendencies and his character. It's a clever use of negative capability that fiction often lacks. Like Lerner, Ball devotes entire chapters to dialogue-driven interviews or various police records, making for a sort of mixed-media novel that's thoughtful and enjoyable.
Swimming Home by Deborah Levy
Levy's proven to be a jack-of-all-trades, as her recent short story collection and essays on craft have both garnered praise. In addition to poetry, she's penned radio plays and a Booker Prize-nominated novel, Swimming Home. An early take on the emerging sub-genre of sinister vacation stories, it follows a family's strange run-in with a guest they meet at their summer home. It's an atmospheric story that takes chilling, unexpected turns. Perhaps more importantly, Levy's ability to pen paragraphs that quickly undulate from insightful to creepy is rare.
The Enormous Room by e.e. cummings
Of course, Cummings is best known for his poetry, which employed avant garde techniques and creative uses of capitalization and punctuation. Influenced by Dadaists, his work is more concerned with spontaneous sound and expression than, say, calculated characters. But before he ever published a collection of poetry, he wrote an autobiographical novel about his imprisonment during WWI. The Enormous Room shows early signs of his inventive language.
Like Levy, Myles' label is difficult to pin down -- she's founded a Zen homeless shelter, she's toured as a performer, and she's written a slew of books, including several poetry collections. Inferno captures the same punk vibe as her poetry, but in novel form, making for a stream-of-consciousness style story, although the author would rather not to be defined by the term, preferring to highlight her "relaxed cadence."
REAL LIFE. REAL NEWS. REAL VOICES.
Help us tell more of the stories that matter from voices that too often remain unheard.