Since I was unable to attend the Woodstock Film Festival this year, Woodstock singer/songwriter (and ex-music critic) Charles Lyonhart covered the event in my place. The highlight of his week was meeting and interviewing Cuban troubadour Carlos Varela, often referred to as his country's Bob Dylan. On Sept. 30, Varela opened the festival's 16th edition with a concert at the Ulster Performing Arts Center featuring Jackson Browne, following a screening of Ron Chapman's documentary about Varela, The Poet of Havana. Here's Lyonhart's report:
I already knew Carlos Varela's music. After I heard Varela's song, Walls and Doors, on Jackson Browne's latest release, Standing in the Breach, I listened to as much Carlos Varela as I could get my hands on.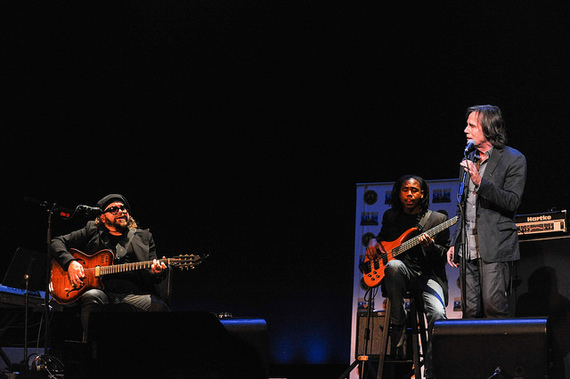 Cuban troubadour Carlos Varela, bass player Julio Cesar Gonzalez Ochoa and Jackson Browne open the Woodstock Film Festival
photo: Simon Russell
The poetry of Walls and Doors was of a caliber I had not heard in a very long time. Lines like: "Of what use is the moon if you don't have the night?/ Of what use is a windmill with no Quixote left who'll fight?" Or: "At some point on the horizon sky can be confused with earth."
Although Varela sings in Spanish, you don't have to understand his words to know what he is singing about. When I interviewed Chapman a couple of days after seeing his film, he agreed; he had had the same experience when he first heard Varela seven years ago in Havana. Chapman was in the Cuban capital at the time filming The Forbidden Shore, a music documentary that was to include more than 60 of Cuba's musicians. So taken was Chapman with Varela when they met, he halted production to make The Poet of Havana instead.
"Carlos's music touched and moved me so profoundly without knowing the translation, " Chapman, a musician and producer himself, told me, adding that Varela's lyrics transcend all language. "This guy is one of the most incredible songwriters that I have ever heard in my life."
Later that evening, Chapman phoned and invited me join him, Varela and the band at a Japanese steak house in Kingston. When I walked in the door, I spotted Varela immediately - he was dressed in black, wearing dark sunglasses and sporting his customary black beanie. As I approached the table, Varela jumped up in the middle of eating and walked towards me. Before I could utter a word he wrapped his arms around me and gave me perhaps the tightest hug I ever received. I hugged him back.
"Eat, join us please," he signaled me, speaking through his keyboard player, Aldo Lopez Gavilan, a jazz/classical virtuoso in his own right, who joined the band, according to Chapman, to learn from Varela. "It's wasn't about learning something musically for Aldo," Chapman explained. "It was to learn from Carlos the humility and the way of Carlos, how he gives to his people." Varela performs many free concerts in Cuba for his people; he believes he has a duty to make more than a living with his music.
Later, at the festival Directors' Party, we found a quiet room where we could talk. The party was extremely noisy, filled with "silly clowns," as Varela called the revelers. Varela lives on the razor's edge, as do the majority of Cuban performers. For many years, his songs were banned from the Cuban people. "Some of my music is still not played on the radio and there are many other Cuban artists who are still censored as well," Varela told me, through his translator, Evry Mann. "Many of these musicians, censored in the 60s and the 70s, decided to leave Cuba and for the Cuban government that's the easiest thing."
But Varela made the opposite decision to remain. "All of my blood relatives are dead, but I've got a lot of really good friends who are like brothers to me," he confided, looking deep into my eyes. He stays in Cuba because of his dedication to its people and his mission to be part of making a better life for Cuba.
Varela does not like being called "the Cuban Bob Dylan." "That's journalist talk, a label to put a style on you," he said. "I really like Dylan, but I'm not the Dylan of Cuba. We've taken very different paths and some very similar ones as well."
As the noise mounted and the party took off, we commiserated about how horrible some of the current music is in both our countries. "There is the universal law of the radio," he explained. "If you give people crap, they will eat crap," and we all cracked up laughing, knowing the truth in Varela's word. Chapman told me I was now officially accepted as a member of their family. In gratitude, I took out one of my CDs and gave it to Varela as a gift. He immediately reached into his bag and handed me his newest CD. Not even released yet, No Es El Fin translates as "It's Not The End." More hugs and Varela and I took pictures together.
Later, as I drove home listening to No Es El Fin, I somehow understood the lyrics even though they are in Spanish: "Not today, you don't feel sadness, you won't let yourself be fooled, break all your chains and let your soul fly." How true those words resonated for me as I felt the hope and inspiration this man conveys. Carlos Varela can change the world with his art. Of this I am certain.
---Charles Lyonhart, Phoenicia, NY
REAL LIFE. REAL NEWS. REAL VOICES.
Help us tell more of the stories that matter from voices that too often remain unheard.