Poetic Pilgrimage isn't just a rap group -- it's a statement about Islam, women and what it means to belong.
Muneera Williams and Sukina Owen-Douglas, both born and raised in Bristol, England, to Jamaican migrant parents, make up Poetic Pilgrimage, a rap duo that explores topics of gender, faith, citizenship and heritage. The women, now in their 30s, met in high school and discovered a shared love of music when they joined the choir together. They enjoyed discussing things like history, spirituality and the representation of black women in the media, Williams told The Huffington Post. These were the seeds for Poetic Pilgrimage, which Williams and Owen-Douglas formed when they moved from Bristol to London for college.
The women converted to Islam in 2005 after being introduced to The Autobiography of Malcolm X in a college class. The decision "sparked a journey," Williams said, which has confounded some.
"Sukina (my band member) and I often joke about performing to new audiences and how it takes about three songs before they get over the shock of hijabis running across the stage, telling them to throw their peace signs up," Williams wrote in a February blog post on HuffPost UK.
But for Williams and Owen-Douglas, hip-hop music provides the perfect outlet to express their complex identities -- and their voices need to be heard, Owen-Douglas said, "whether the [Muslim] community accepts it or not."
"Hip Hop began as the voice of the underdog, the voice of the ones whose story is never told, of those who are spoken about but not spoken to," Owen-Douglas wrote in an email to HuffPost. "With two turntables and a mic these pioneers became narrators of life on the poverty line, storytellers of those who are victims of an oppressive system. That initial purpose of this art form fits us like a glove."
In their song "Land Far Away," off their 2010 Star Women Mixtape, the women paid homage to their Jamaican roots by reimagining the famous reggae track "Satta Massagana" by the Abyssinians. They shot the music video for the song in the Shepherd's Bush neighborhood of west London because of its historical significance for the city's Caribbean immigrant population, Williams said, and to "celebrate our Jamaican heritage and highlight the inclination toward spirituality that is naturally cultivated through the use of reggae music."
Williams and Owen-Douglas infuse reggae, jazz, world music and spoken-word poetry into their sound, highlighting the multiple ethnicities and nationalities they represent and solidifying Poetic Pilgrimage's place as a crossroads of cultures.
Poetic Pilgrimage is the subject of a new short documentary from Al Jazeera English. The film explores how the duo engages with various cultures and challenges "a plethora of dearly held convictions from all sides of the cultural spectrum," filmmaker Mette Reitzel wrote in Al Jazeera earlier this month.
"Sukina and Muneera continue to question and challenge ingrained attitudes and beliefs within the Muslim community, but also within themselves and Western society at large," Reitzel wrote. "Expressing these observations through rhymes, poems and songs is their way of making sense of the world, and as a side effect they are creating a bridge between two seemingly opposed camps."
Poetic Pilgrimage creates this bridge by presenting an alternate image of Islam, a religion that has been "painted with a really broad brush" in the wake of the Islamic State and other extremist groups, Rutgers University professor Sylvia Chan-Malik told HuffPost. Chan-Malik researches the intersections of gender, Islam and hip-hop and said she sees Poetic Pilgrimage "challenging the norms in every circle they exist in."
"You have two black, Muslim, first-generation women who are converts expressing themselves through the vein of black popular culture... drawing upon a very diverse set of influences and history," Chan-Malik explained. "What they show is the incredible diversity and range of Islamic identities."
Not everyone is comfortable with what the duo represents, Owen-Douglas said, and the women have received their fair share of criticism. But they do not see themselves as tragic figures.
"Ours is not a story of sorrow, we are not women wounded," she said. "Rather, we have found strength in what may seem strange to others, and we wouldn't have it any other way."
Related
Before You Go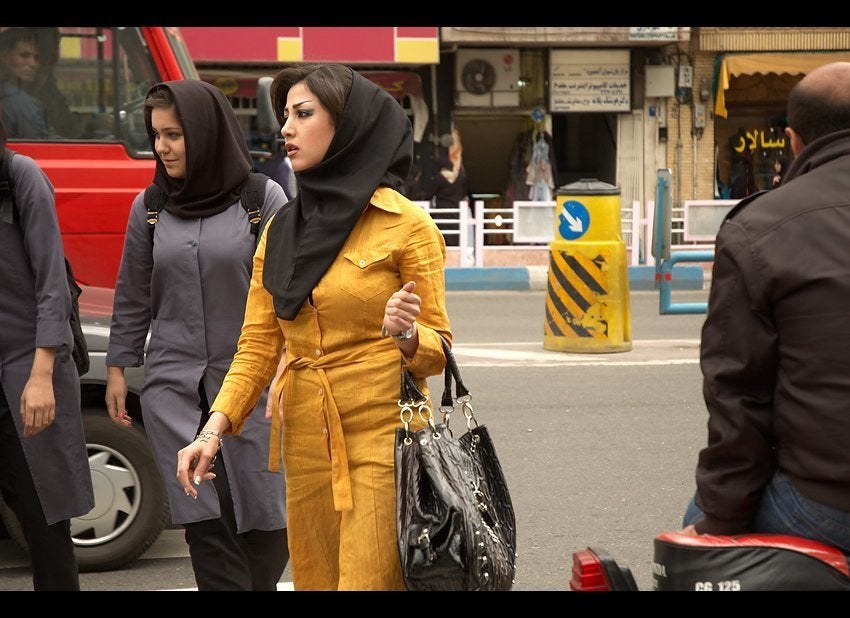 Hijabs, Niqabs, Burqas: Know Your Muslim Veils
Popular in the Community