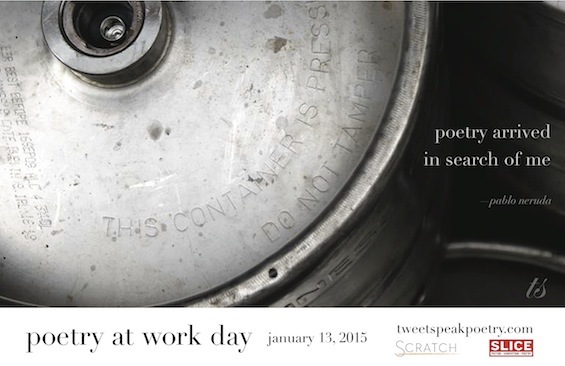 Have you heard about Poetry at Work Day? The third annual celebration is coming on Tuesday, January 13, 2015, and will be celebrated around the world.
An international day, it's been featured by The Huffington Post and Book Patrol, and last year the Scottish Parliament and Britain's Virgin Trains participated on Twitter, along with ABC newscasters and many smaller news outlets and businesses across the U.S.
The book can be quite helpful as part of celebrating, because it speaks to the very heart of why it makes sense to take poetry to work (and find the poetry that's already there). As one reviewer noted, it builds on the conversation begun by Dana Gioia, David Whyte, and Clare Morgan--a conversation that could still be taken further in the ordinary workplace.
So come celebrate in January with Slice, Scratch, Tweetspeak Poetry, and workplaces across the world. And bring your free e-book along.