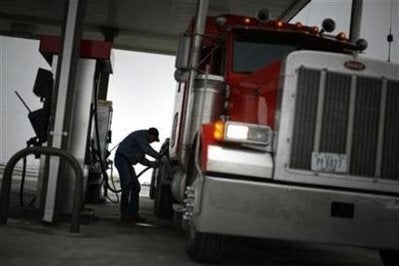 Truck drivers in Australia are seen as "amphetamine-taking, abusive types who drive at speed and cause a lot of road accidents and kill animals". That's according to Johanna Featherstone, artistic director of a Sydney poetry group called The Red Room Company.
Exactly the attitude to expect from an arty snob, you might think. But Red Room actually believes that not all long-distance drivers enjoy barrelling through the Outback, squashing kangaroos with their "road trains". It is looking for the sensitive hearts beneath those tattooed chests and stained blue singlets, hoping to find three truck drivers to write about life on Australia's roads, in collaboration with three mainstream poets, for its Dust Poems project.
Red Room, which specialises in unusual projects - last year it commissioned poems to be strapped to the back of racing pigeons - agrees that the men (and women) wrestling tons of metal across the continent are not conventional literary figures. But Ms Featherstone is convinced that their job is a rich source of poetic inspiration.
"We don't think of truck drivers as poetic souls, particularly in Australia," she said. But 10 have got in touch since a call was put out through a hauliers' association and local radio.
"I've been really excited by the response," she said. "There's such a lot of interesting and imaginative minds out there... some see poetry as a way to share their stories, or they identify with poetry because of its natural link with song. Also the notions of solitude and loneliness and infinity and dust are very popular themes in poetry, and truck drivers know all about that."
Ms Featherstone points out that Australia has a tradition of "bush poetry" dating back to Henry Lawson and Banjo Paterson in the 19th century. Lately, singer-songwriter Slim Dusty penned ballads such as "Dieseline Dreams".
Budding lorry-driver poets might also draw inspiration from an American singer, Tim White, who recorded an album called The Possum Tapes. One song begins: "My children are hungry, my dog ain't gotta bone/ Ain't got no job and I'm just travellin' on/It's an hour after sundown, what to my delight/There's five pounds of possum in my headlights tonight."
The six poets' work will be exhibited in March at suitably macho locations: construction sites, and car parks at Sydney's former Olympic site.
Related
Popular in the Community