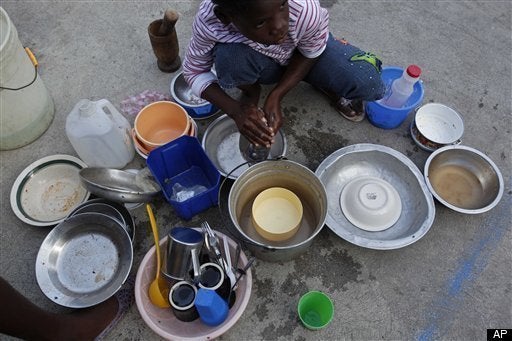 Two hundred years of words, I will need to describe the destruction my eyes have seen.
Those are the words Jean-Dany Joachim used to describe a visit to his home country of Haiti after the quake, which looked, as he put it, like a country "with its guts open." Joachim, the "poet populist" of Cambridge, Massachusetts, used his poetic talents to help digest the emotion flooding through him. Here's an excerpt from his poem, "To Hear And To See Are Two Different Things, That's True."
I went and I am back, tande ak we se de
It was like in a dream,
or one of those movies that show the after world.
Two hundred years of words I will need to describe
the desolation my eyes have seen.
Two hundred years of memory to heal the scars
many years of labor,
and many more years of relearning.
I saw Port-au-Prince with its guts open,
its bare bones exposed to nothingness.
I saw tangible fear.
I could feel the anxiety and the anguish of the survivors,
but also I saw life waking up slowly.
That reminded me of ants,
coming out of their holes after a heavy rain.
By the poem's conclusion, Joachim, like the survivors, is waking up. And he finds himself feeling tied to Haiti again.
I woke up at the first cockcrow,
a familiar sound that brought back
memories of my childhood.
It was four o'clock.
The fresh odor of morning caressed my face,
as I unzipped my tent's door and got outside.
There were still plenty of stars in the sky,
and the moon was slowly stepping out.
The sun still had a couple more of hours before making its appearance.
I got ready. I suspected that everybody else was sleeping.
I went for my first walk through the new Port-au-Prince.
Life was waking up slowly.
I became part of it.
Joachim isn't the only Haitian American using poetry to help understand, digest, or just witness the disaster. Three such poets took part in a recent "Poets for Haiti" event at Harvard University to benefit the relief organization "Partners in Health."
A high school student named Fabienne Casseus captured her struggle for understanding in her poem "Reflector." Here's a striking excerpt, in which she personifies Haiti in the form of a woman looking in the mirror:
You hung over, unbalanced
Wrenching your belly for support
Willing yourself to strength
But it was too late for a new beginning
Too soon for redemption
You had made yourself death
Your fingertips retraced everything
As if reassuring their existence.
Marilene Phipps-Kettlewell, born and raised in Port-au-Prince, read from an untitled poem that tied her religious upbringing to the city's (literal) downfall.
I was a child, always gazing at the sky...
Yet, on January 12,
the port au prince sky let go of its Christ,
God the father let go of his son's hands
and let him take the fall.
The roof over all saints who long ago had watched
over my first communion vows at The Sacred Heart
collapsed over the whole city.
The roof over all saints watching over the whole city
collapsed over us all.
Patrick Sylvain, a professor at Brown University, was scheduled to be in Port-au-Prince for a conference during the quake, but bowed out when his wife began experiencing labor pains. She experienced great pain on the day of the disaster, and two days later they lost the baby. One of his cousins was also killed in the quake. His pain drove him to write poetry for the first time in years. He described that need to NPR: "I had to write, because poetry for me is a releasing valve, compiling those fragments of emotions into something that could make sense without theorizing about it, because it's pure emotion."
Here's an excerpt from the poem he wrote, called "Ports of Sorrow,"
Early January afternoon, I stand in my own port of pain
Intertwined with my wife as we moan death-like an incision
To the core. Barbed notes in a soprano's throat.
Port-au-Prince has become an archipelago of open tombs
Consumed slowly by the sun and forming an ever lasting covenant.
This unrelenting port is a cup of their blood. May the sins
Of the prince be forgiven and forgive those who have trespassed
Against "the wretched of this earth."
Port-au-Prince has neither port nor prince,
As tempests incessantly sweep through,
1804's bright filament becomes faint and sad,
Dimming like a dying firefly. Life mocks us
With sadistic laughter. I feel burdened by death,
Losses and corpses swarming in my chest.
I need a stronger port to anchor their souls.
Joachim wrote of his first night sleeping in a tent in Port-au-Prince, "my heart was so close to this earth that trembled." And for some, at least, using poetry to get that close can help.