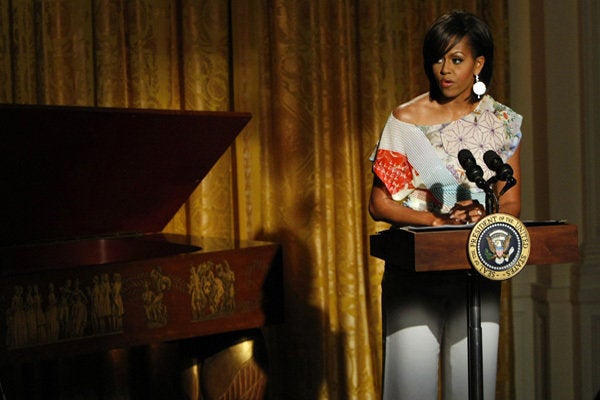 As part of her remarks introducing the first ever White House Poetry Jam, Michelle Obama said of democracy, "It has room for lots of voices, which sometimes take us out of our comfort zones, but that's what makes it so meaningful." One could say the same thing about poetry, and the art's big tent was certainly on display Tuesday night at an event that placed spoken word poets alongside a reading from Othello.
The great James Earl Jones read the Shakespeare monologue, but the slam poetry was performed by three relative unknowns: Mayda Del Valle, a native of Obama's hometown of Chicago; and two finalists in HBO's Brave New Voices Spoken Word Poetry competition: Jamaica Heolimeleikalani Osorio and Joshua Brandon Bennett (HBO will be rebroadcasting the event).
Chicago native Mayda del Calle read a poem about a grandmother she never got the chance to meet:
Some say faith is for the weak or small minded
but I search for your faith everywhere
I need it to reassemble myself whole from these shards of Chicago ice and island breezes so I can rewrite the songs of your silence and pain.
It was a poem that Barack Obama, a product of "Chicago ice" and "island breezes," and who lost his grandmother just before the election, no doubt could relate to.
One could, in fact, find ties to Obama in all three of the young poets. Jamaica Osorio is Hawaiian, and her poem "1893" -- featured on HBO's Brave New Voices website -- is a passionate plea for the preservation of Hawaiian culture.
But I'll show you my pride...
Who my loyalty is tied to,
what nation my heart sings to
I'll sing for you
I'll chant continuously to show you that I am Hawaiian
I will stand, fight and chant and never be compliant
because the second I start worshipping the red, white and blue
pledging allegiance to a nation that turned out eyes red
people white, and eyes blue
is the second I know that the fight is through
Josh Bennett, finally, is an African American attending the "elitist" (in election-speak) University of Pennsylvania. Here's an excerpt from his poem "Carbon Copy":
My father is no hero
He's a postal worker
A Vietnam vet with a jim crow education
Six children and enough regrets to fill a casket with
Sometimes sleeps with his eyes open
As is he's looking for 3AM redemption from whatever
Insomniac angels may still be watching over him
And with all of his flaws, I still love him.
The administration invited local college students to attend the event, seeing it as an opportunity to open up the white house to the DC community. But they opened up the white house to the poetry community as well. Obama described the evening as a chance to "celebrate the power of words and music to help us appreciate beauty, but also to understand pain... to lift us up out of our daily existence, even if it's just for a few moments." It's sure nice to have a President who appreciates that.

Popular in the Community