We're past the halfway mark, but happy Poetry Month, anyway. It's still April after all. And while taxes (for most of us) are done, poetry is still going strong.
And what a busy scene we have here in Detroit. All month, my poetry plate has 'runneth-ed' over. On April 13th, I heard Thomas Lynch celebrate what would have been his good friend Nobel laureate Seamus Heaney's 75th birthday at Detroit's historic Scarab Club, thanks to Kim Hunter and The Woodward Line. The following Friday, another Woodward Line-up featured Hunter himself memorializing another legend -- Detroit jazz great Faruq Z Bey. And on April 19, at Salt & Cedar letter press studio in the Eastern Market, iO's own francine j harris (yes, we still claim her) gave us Detroit as only she can, serving up its grit and funk and tragic beauty from her prize-winning first book allegiance.
On the iO front, poetry has been kicking out the jams as well. This weekend saw the first of four poetry segments to air on WDET as iO's Citywide Poet Kennedie King shared her brilliant poem curated and enhanced by Laura Weber Davis with specially chosen sound effects. Midweek iO hosted 125 Detroit teens at our 4th annual "Who Understands Me But Me?" high school writers conference, with 2011 Kresge Eminent Artist Bill Harris giving the keynote address. You can hear the irrepressible Kennedie and her charming, sassy poem "Church Folk" here.
It was a personal honor to have Bill, a Detroit cultural icon, address the students. Bill served on iO's founding board. He was an early inspiration as I began my career teaching and writing poetry, and we have remained friends. He reminded the youth that "a whole cadre of people is invested in the project of making you writers. Not because they like you or because you have shown particular ability in that regard, but because we need writers. We need writers (often) more than we need music, or art, or stupid politicians. We need writers so we can continue to exist."
For me, Bill's words are a wonderful echo to a comment from another poetry great that I continue to hold close. "Poetry is about saving the way, that lives are saved, from the inside out," writes the beloved Lucille Clifton. (1936-2010) I remember the karmic shiver I felt when I found Clifton's words, about five or six years after founding InsideOut, but in the light of Bill's remarks, the message resonates anew.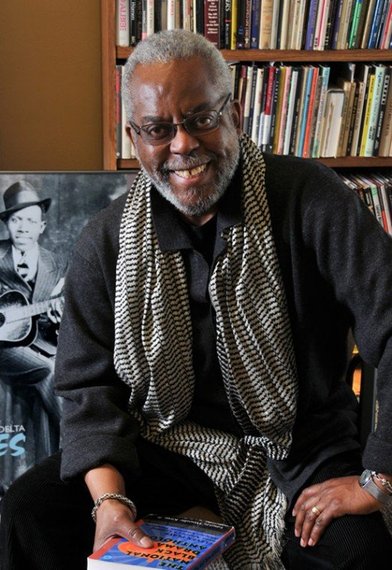 Yes, indeed, Bill. More than ever, Detroit needs writers so we can continue to exist! The gap between our haves and have-nots gets ever wider, and whole swaths of the city have disappeared. With the national spotlight increasingly on Detroit and with the influx of new populations and new energies, our youth need to know how to respond and how to claim their place in the city that is so rapidly shifting all around them. And to do this best, they need to know where they come from. They need to be confident in themselves and in what they have to say, and I think that poetry delivers an important piece of that.
I say this as a teacher, because I have seen how in the classroom poetry strengthens students. Others -- policy makers in particular -- who scoff at poetry, asking, isn't it just a frill, a time waster? Don't our youth have many, many more pressing needs? Would we do well to heed the words of Principal James Hearn of Detroit Public Schools Marcus Garvey Academy, about three minutes into this clip that featured iO on the PBS NewsHour. Mr. Hearn had some of the same reservations, but when he saw how enthusiastic "even his football players" were about poetry, he became a convert.

iO writers like Peter Markus featured in the video bring weekly "doses" of poetry and enthusiasm for language into over 120 classrooms per year, and we see again and again how children benefit, for even one hour per week. Most teachers don't have the luxury of a guest poet and face the tight demands (dare I say shackles?) of testing mandates, but I know there are many teachers who love poetry and will not be deterred. I love how sensitive and brave the fifth graders in this video are in writing and sharing poetry, and how, as their teacher Linda Gray says, poetry builds confidence and helps their enthusiasm for words and interest in reading to grow. She takes care to make poetry special, and you can see the eyes of the children shine.
And as a teacher, I return to my own students -- one, in particular, about whom I have written before here. Over the three years that he was my student, I saw Shysuaune take more risks with his writing. One example is poems about his grandmother, who I learned, after he graduated high school, was a drug dealer. She figured in poems he wrote for me each year, and it's interesting to consider the way his portrayals of her evolved. In Grade 9 she has a smile like a "warm summer sun" and she is sweet "as gingerbread," predictably sentimental. In Grade 10, a poem about her drug house does not mention her at all, but it features a gun pressed against his temple, and the repeated refrain of police car lights "red blue/red blue//red/blue/red/blue." By his junior year in 1996, her personality becomes clearer, somewhat satirized and a bit edgy. In "Grandma Speaks Musik" the first line is "Grandma takes a toke." At age 19, Shysuaune finally confronted head on the devastation caused by his grandmother's life of crime.
BLACK BOY BLUES

baby black boy
learns his a,b,c's
baby black boy
learns his a,b,c's
A.B.C.R.A.C.K. recipes
Boiling water, baking soda
Burning broken wire hangers.

mama don't know granny is into plague retail
mama don't know granny is into plague retail
Watch baby black hands trace
deadly outlines of overdosed
souls quivering on the floor

Baby black boy eyes watch
dream smoke rise
from glass
pipes

Baby black boy eyes watch
dream smoke rise
from glass
pipes

Burning away bills, food, hungry baby mouths

baby boy black learns his 1, 2, 3's
baby boy black learns his 1, 2, 3's
1, 2, 3 ounces of Cocaine
to be made into
rock
crystallized
worlds

baby boy black learns his 1, 2, 3's
baby boy black learns his 1, 2, 3's
1, 2, 3 ounces of Cocaine
to be made into
rock
crystallized
worlds

sing the song of make believe baby boy black
sing the song of make believe baby boy black
as you watch the gun
being put to granny's head
and she
clicks
and she
clicks
and she
clicks

make believe
you are unaware
make believe
you are not scared
make believe
you don't know the recipe
for
horror
Writing well takes time, and so does developing the courage to confront the hardest sides of life. Shysuaune was a successful teen poet and took many local and statewide awards. In high school, and beyond, he developed the craft and courage to write this poem that, thanks to poet and editor Betsy Franco, found a home in the widely distributed You hear me?, Poems and Writings by Teenage Boys, which she edited. "Black Boy Blues" is one of the stand-out pieces in this award-winning anthology and lives on, on line and elsewhere, despite the fact that Shysuaune did not live to see its success.
His death was a tremendous loss, but in the courageous risk he took to express himself, he left us quite a gift, a poignant reminder of what our youth are capable of when given the opportunity to mine their lives for the kinds of stories that, when shared from the inside out, enrich us all.
REAL LIFE. REAL NEWS. REAL VOICES.
Help us tell more of the stories that matter from voices that too often remain unheard.