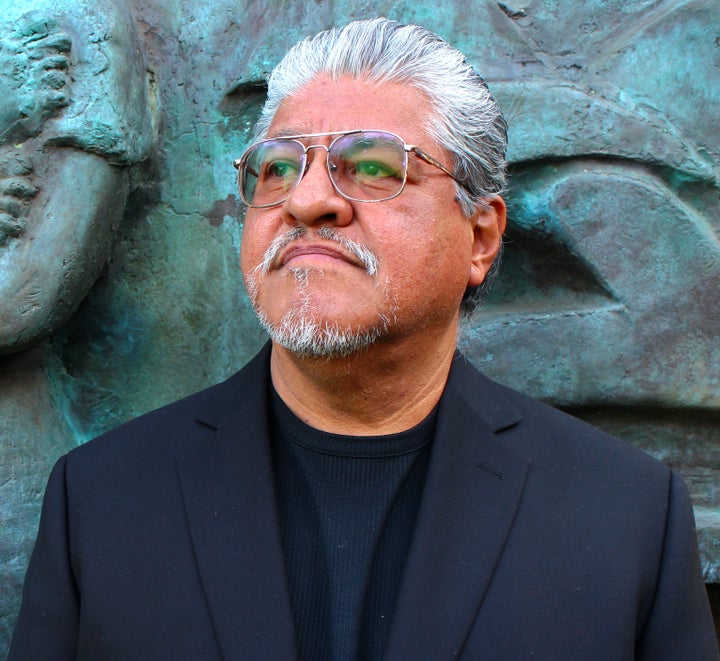 When I was named the first Youth Poet Laureate of Los Angeles, I had the honor of working with LA Poet Laureate Luis J. Rodriguez. Rodriguez joined his first street gang at age 11 but now, decades later, has become not only the Poet Laureate of Los Angeles but also an established figure in contemporary Chicano and American literature. He has published 15 books in various genres, all the while dedicating himself to the enrichment of underserved communities and speaking to more than 10,000 people during the first six months of his tenure. While many know him as the revolutionary author of the best-selling memoir "Always Running: La Vida Loca, Gang Days in L.A", or the co-Founder of Tia Chucha's Centro Cultural and Bookstore, I know him as the man who always greets me with a smile on his face and a book in his hand. I took the time to interview the man who simultaneously is sagacious, gentle, warm, and profound, as he finishes his tenure as Los Angeles Poet Laureate.
You've made a long journey since your gang days when you were a teen. Now, as laureate, what would you say to your past self?
As a youth in gangs and on drugs, I could not imagine a life beyond my teens. Such limitations came from fragile families, limited surroundings―for instance poverty―and lack of school and work options as well as whatever debilitating ideas fed into this. The social movements of the 1960s, and my own search for creative and expressive endeavors, eventually opened up my mind, my heart, to new possibilities. Art and writing was key to this. It was my own hungers and angers that saved me. I wish I could tell that narrow-minded and mind-imprisoned young man to wake up, expand his thinking and spirit to the immense possibilities he already had inside him. The social order and its ingrained "injustice" system would place barriers along my path, but also new doors would open up for learning and growth. The bigger the dreams, the bigger my own capacities would grow to meet them. For too long, I was stuck on ugly, violence and stupid. I wish I had learned earlier that there is more beauty, bounty and good. This would have saved me from many losses, many heartaches. Still I'm blessed to be here. Somehow that lost young man found a way.
There have only been 2 Los Angeles Poet Laureates EVER―you and Eloise Klein Healy. Do you feel pressure knowing that your are making history, and that your are pioneering this unpaved path?
At the first meeting with the city's Department of Cultural Affairs and the LA Public Library, I was told to carve out what it means to be poet laureate. I welcomed that challenge. We decided to begin the tenure as of January 1. Since then through the end of June, I've spoken at, read or taught in some 70 venues such as schools, libraries, museums, festivals, book fests, and graduations to around 10,000 people. Millions more were reached through English and Spanish language media. I've read poems at two City Council meetings and even took part in rallies against gentrification and police violence. I'm also helping edit an anthology of L.A.-area poets for Tia Chucha Press called "The Coiled Serpent: Poets Arising from the Cultural Quakes & Shakes of Los Angeles." And we've only started―this is a two-year assignment.
3. Following on that last question, what do you hope to add to the meaning of the laureate title during your tenure?
I hope to celebrate poetry by drawing out the existing poets and venues for poetry as well as help make poetry an everyday, every occasion thing. This means engendering new generations of poets with workshops and readings in schools and even juvenile halls, No community should be overlooked: From Skid Row to Rodeo Drive; from the Harbor to the Valley; from South, East and West L.A.; from San Gabriel Valley to San Fernando Valley. From the ocean to the desert. Poetry, like all art, is a way of knowledge. One of humanity's first expressive art forms was oral storytelling such as the early African Griots, to Homer and the 1,000 years his stories were told aloud in verse before being written down, to the Persian poet Rumi, who even today, some 800 years later, is one of the world's most popular poets. Today we have Hip Hop poets, Slam Poetry, performance poetry, formal poetry, free verse, and more. All are valid. Page and stage. Poetry needs to move to the center of our culture. Instead of violent battles, we should do poetry like the ancient Irish tribes used to do. We should have Flower and Song festivals, like the pre-conquest Mexikas (so-called Aztecs) and Mayans would do. We should incorporate the new technology with the ancient impulses for poetry. All renewed. All engaging.
What projects have you worked on this year? What goals do you have for the rest of your tenure?
Besides the L.A. poetry anthology, I just finished a chapbook of new poems for Curbstone Press/Northwestern University Press out of Chicago, for publication in spring of 2016, hopefully in time for the Associated Writers and Writing Programs (AWP) Conference to be held in Los Angeles in late March, the largest gathering of writers and teachers of writing in the U.S. The new book is called "Borrowed Bones." I will also have reprints of my previous Curbstone Press poetry books like "The Concrete River," "Trochemoche," and "My Nature is Hunger." Early on, I finished a "Love Poem to Los Angeles," which I've read all over and on public radio. I've written half a dozen blog posts for the L.A. Public Library website. I've judged Urban Word's Youth Poet Laureate contest as well as panels for AWP, which is expected to bring in 12,000 people to the city. My plan includes a poetry walk, or several, beginning with one downtown. Perhaps a low-rider poetry extravaganza. Maybe a "poetry locomotive" using subway trains and local venues. I also hope to have published a bigger poetry book when I'm done. And I continue to create poetry collections through Tia Chucha Press, our most recent writers include African American Peter J. Harris, Native American Deborah Miranda, and Salvadoran American Leticia Hernandez-Linares.
How do you go about including/embracing youth voices as you elevate the voice of LA?
I work with youth-oriented poetry organizations in the schools like Get Lit Players, Say Word, Write Girl, LA Poetry Society, Street Poets, and more. I plan to do work with Inside Out Writers, which does workshops and festivals in juvenile lockups. The cultural space I helped create, Tia Chucha's Centro Cultural & Bookstore, is also active in schools and community with all the arts as well as poetry. We hold the only outdoor annual literacy festival in the San Fernando Valley called "Celebrating Words." Tia Chucha's has one of the few weekly Open Mics in the L.A. area. We also have a youth empowerment project called Young Warriors that utilizes the arts, healing and indigenous cultures to positively impact the community. And I'm on the board of ArtWorxLA, which brings all the arts to the most forgotten youth in continuation high schools in the L.A. area. I'm over 60 years old, but I stay connected with young people as friend, teacher, mentor, and fellow creative person. My best-selling memoir "Always Running, La Vida Loca, Gang Days in L.A." is one of L.A.'s most checked out books―and one of the most stolen. I'm constantly asked to speak in schools because of this. And I will work closely with the L.A. Youth Poet Laureate, a wonderful program that includes finalists in the Urban Word contest as youth ambassadors of poetry and performance.
How have you grown during your tenure?
Every experience shifts something vital in me. This includes mistakes and missteps. We can learn from anything. So far I've grown as a poet, teacher and social being in the first six months as poet laureate. It's been fantastic meeting so many people, hearing their stories, listening to their deep soul talk, traversing the expansiveness of this city and its fascinating diversity. There are around 250 languages in the L.A. area. We are first in population outside places of origin for Mexicans, Salvadorans, Guatemalans, Cambodians, Thais, Armenians, Koreans, Japanese, Oaxacans, and more. I've always suspected, but now I'm convinced, we are in one of the most invigorating metropolitan areas of the world. We have all the problems―income inequality, homelessness, gangs. But we also have immense potential to show how things can be different, and better, for everyone.
This has been an explosive year, what with the focus on police brutality, the shooting in South Carolina, and much, much more. Have these news stories served as any turning points, or as influences, for you?
I've lived these stories most of my life, having grown up in Watts, the poorest sections of the San Gabriel Valley, and East Los Angeles. Police abuse has been rampant since the 1960s, mostly against the black and brown communities, but also against homeless whites and other dispossessed. I lost 25 friends before age 18, four of them to police killings. Earlier this year, I took part in writing People's Sonnets for an event in New York City through the Bowery Poetry Club. They video streamed many poets' work including mine. My sonnets, done in the Shakespearean style, addressed issues of war, poverty, injustice, and homelessness. One was published in the Brooklyn Rail magazine. These sonnets appear in my upcoming book "Borrowed Bones." I also took part in a reading for "Black Lives Matter" and in a National Public Radio conversation with Michel Martin on police and community relations. I recently returned from teaching at a school of resistance in New York's Hudson Valley with activists from throughout the United States, including Ferguson, Missouri; Chicago; Albuquerque; Cleveland; Florida, and more as well as from Brazil, Mexico, South Africa, and Palestine. The social and class struggles of this country and the world will always inform my poetry. I ran for California governor last year, endorsed by the Green Party and other organizations, to continually bring to light these issues and their resolutions.
Favorite laureate memory so far this year?
Of course, I've had many. But one that stands out was the "Endangered Languages" reading and performances at the Hammer Museum about the hundreds of languages being eradicated everyday in the world. I read ancient Nahuatl poetry―Nahuatl is Mexico's largest indigenous language outside of the Mayan languages―while others performed or read in Welsh, native Hawaiian, Garifuno of Honduras and other coastal lands, and more. Truly instructive and transcendent.
My favorite poet is the Chilean poet Pablo Neruda, the most important poet of the 20th century. I can say that without diminishing the countless great poets we've had in the world the past 100 years. But Pablo's work resonates the deepest and longest with me. My favorite U.S. poets run the gamut―William Stafford, Joy Harjo, Mary Oliver, Allen Ginsberg, Amiri Baraka, Jose Montoya, Adrienne Rich, Juan Felipe Herrera... I can go on and on.
There's a wonderful Theodore Roethke poem I love called "In a Dark Time" with one of the most powerful lines in poetry: "What's madness but the nobility of soul at odds with circumstance."
What do you think of fellow Californian Juan Felipe Herrera being named the first ever Latino US poet laureate?
Chicano letters, which has produced many great writers like Herrera but also Sandra Cisneros, Lalo Delgado, Jose Montoya, Francisco Alarcon, Ana Castillo, and others, has been highly marginalized in the United States. Chicanos are the self-identified political and expressive poets of Mexican descent. Add to this the great input of Puerto Ricans, Dominicans, Cubans, and Central Americans poets. Still, we've been pushed to the periphery of what people see, hear and get exposed to, battling to find our voices in publishing, MFA programs, magazines, and the national consciousness. Yet our peers―the poets of all nationalities and backgrounds―have long recognized our contributions. Chicano poets who are now poet laureates, beside myself, include Alejandro Murguia of San Francisco, Alberto Rios of Arizona, Laurie Ann Guerrero of San Antonio, and, of course, Juan Felipe Herrera, our most recent California Poet Laureate and now for the whole country. As our numbers grow, and our importance in the country, so will our poets and storytellers. I'm honored that Juan Felipe Herrera is this country's first Latino poet laureate. It's about time. And we have more to do in the future.
At times art, especially poetry, is not viewed as important―even in L.A. we don't always see the potential in poetry. What are the ways you have and plan to challenge this notion?
For one, it's not easy to commodify poetry. This is why it's barely breaking through the entertainment and commercial world. And LA is at the center of this world. Hip Hop has been appropriated, although it still has its radical core at the street level. But Slam Poetry and other forms have yet to be marketed and spread through the mass audience packaging. I'm glad. This means we can be true to poetry, but moreover to the truths that poetry must convey. Official art, which I also consider commercial art, is always suspect. Always selling you something. With poetry, the art has to stand on its own two feet (or metered feet, as the case may be), on its word play, images, metaphors, and authentic voice, but also on ideas. Again it's deep soul talk, what we rarely see in blockbuster books, movies, billboards, ads or even news publications. I'd like to draw more attention to this, without poetry becoming a tool for an industry. The current "Po Biz," of lauded poets, MFA curricula, canons, fellowship recipients and award winners―almost always white men of privilege―doesn't interest me. I want to be recognized, of course, and I work hard on my art and presentations for this. I'm glad to be in this poet laureate position since for poets, who don't get paid well for their art, audience and community recognition are our main currency. Although we should be able to make a living or at least get our work done and out there, I don't want to commodify my ideas and poetry-making for commercial success. This is the crux of the current dilemma for poets. My efforts will continue to be grass roots, community based and oriented to new audiences―without selling out or compromising the heart of what we do. There's much room for this. Schools, libraries, festivals, workplaces, and more are everywhere―and all can be fonts of great poets and writing. Even homeless encampments and prisons. I've done them all. My very existence as poet laureate is to show that poetry matters, is life affirming, but should not be appropriated, commercialized or institutionalized. The blood and marrow in poetry is not so much its appeal, which is significant, but in its endgame―the awakening of mind, heart and spirit to the full blossoming in nature, our natures, and of society.
*You can follow Luis Rodriguez on Twitter @luisjrodriguez.
Amanda Gorman (@amandascgorman) is the Inaugural Youth Poet Laureate of the West and Founder of the literary organization One Pen One Page. Her first collection of poetry, 'The One For Whom Food Is Not Enough', is distributed by Penmanship Books.
Related
Popular in the Community