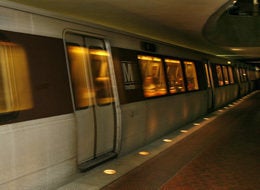 Spreading an appreciation for poetry isn't easy in a country that doesn't read as much as it used to and doesn't value the arts as much it should. Let's face it: unless Maya Angelou is on Oprah, we poets don't tend to register on the national consciousness. It's partly our fault. We can be a little out of touch what with our satchel bags and gratuitous berets (wink). We trumpeted the 2002 anthology Poets Against the War as if it were a movement--as if people were sitting around the water cooler saying,
"Did you see that poets have finally weighed in?"
"I did! You know, I so thought they'd be for it."
That's why I'm so bullish for my city, Washington DC, to emulate a move by Glasgow, Scotland last week and join a growing list of cities to scatter poems around their subway systems. It's a terrific idea: not only can a poem add some culture to a commute, but it can give poetry a larger place in a city's identity and consciousness. Plus, it's easy to find a poem that's compact enough to slide in over that ad for dental school.
London was the first city to sponsor subway poetry with its popular Poems on the Underground program, which has been running since 1986. Melbourne, Paris, Stuttgart, Barcelona, Athens, Moscow and Shanghai have adopted variations of it. As you New Yorkers know, New York has had its own Poetry in Motion program since 1992.
Like London's program, Poetry in Motion draws from contemporary poetry and the classics. Here's "A Little Tooth" by Thomas Lux:
Your baby grows a tooth, then two,
and four, and five, then she wants some meat
directly from the bone. It's all
over: she'll learn some words, she'll fall
in love with cretins, dolts, a sweet
talker on his way to jail. And you,
your wife, get old, flyblown, and rue
nothing. You did, you loved, your feet
are sore. It's dusk. Your daughter's tall.
And an excerpt from Whitman's "Leaves of Grass":
STRANGER! if you, passing, meet me, and desire to speak to me,
why should you not speak to me?
And why should I not speak to you?
(You can read more recently featured poems here.)
As a regular on DC's metro system, I really wish we could get a little of this. DC isn't exactly a cultural hotbed. It's homogenous. People notice if the sleeves are rolled up on your dress shirt. One of my coworkers was genuinely surprised to learn that I loosen my tie before I get home. I mean, if a city ever needed a little Allen Ginsberg...
As a poet, I'm obviously more biased than your standard commuter, but as a Metro regular, I know the following things to be true:
1) Metro riders are usually very bored.
2) Being bored, they will read absolutely anything.
I have read and re-read the train evacuation instructions, the prohibited activities poster, and the stations on the metro map. Just this morning I read an ad for an air quality survey (I'm not sure why it needed an ad) and studied another for a novel called Just Too Good to Be True, trying to figure out why the word "true" was bright red (I couldn't). I'll often read a couple of pages of a novel over someone's shoulder. And when I've got a book or the paper, I know people are reading over mine.
Poetry on every Metro (or POEM) could be the next big DC thing. We could start with something political--you know, to ease 'em into it.