In the days following the not guilty conviction of the police officer who fatally shot 22-year-old Rekia Boyd in Chicago, no one said her name.
At least that's according to Porscha Olayiwola ― a writer and teacher from Chicago who won the National Poetry Slam in Oakland this year after performing a poem dedicated to Boyd.
"Last night, no one showed up to march for Rekia Boyd," Olayiwola said, referring to a night within the days after a judge found Boyd's killer not guilty. Olayiwola expressed anger and frustration about the neglect over police killings of black women.
The poem is dedicated to Boyd, the 22-year-old Chicago woman who was shot and killed with an unregistered firearm by off-duty police officer Dante Servin. Servin fired at Boyd and her friends, from his car out of "fear" that Boyd's boyfriend pulled out a gun, which was later revealed as his cell phone. Servin was later found not guilty on charges of involuntary manslaughter.
Boyd and her premature death are among a long list of unarmed black women and girls who have died at the hands of police including Tanisha Anderson and Aiyana Stanley-Jones. Yet these stories consistently receive less attention than the stories of black men who are killed, Olayiwola reminds us.
"I guess all the protesters got tied up," Olayiwola continued. "I guess all the black folks were busy making signs saying stop killing our black boys. I guess no one hears the howling of a black girl ghost in the nighttime. We stay unheard."
Olayiwola isn't saying that the deaths of black men shouldn't get as much attention as they currently do. She's saying that the lack of attention on other black deaths is unjust. She's saying that all black lives matter, while pointing out how society ignores the incarcerated, abused, queer and transgender black women.
"Dead black girls receive tombstones too soon and never any flowers to dress the grave so we fight alone."
"If a black girl gets killed by police and the killer goes free, does anyone notice?" the poet said. "Do you still call it a lynching? Is her rally just a rehearsal? Ain't that why no one ever shows up?"
Correction: An earlier version of this story incorrectly stated that Renisha McBride died at the hands of a police officer. Since McBride actually was killed by a citizen and the nature of this story deals with police brutality, her name has been removed.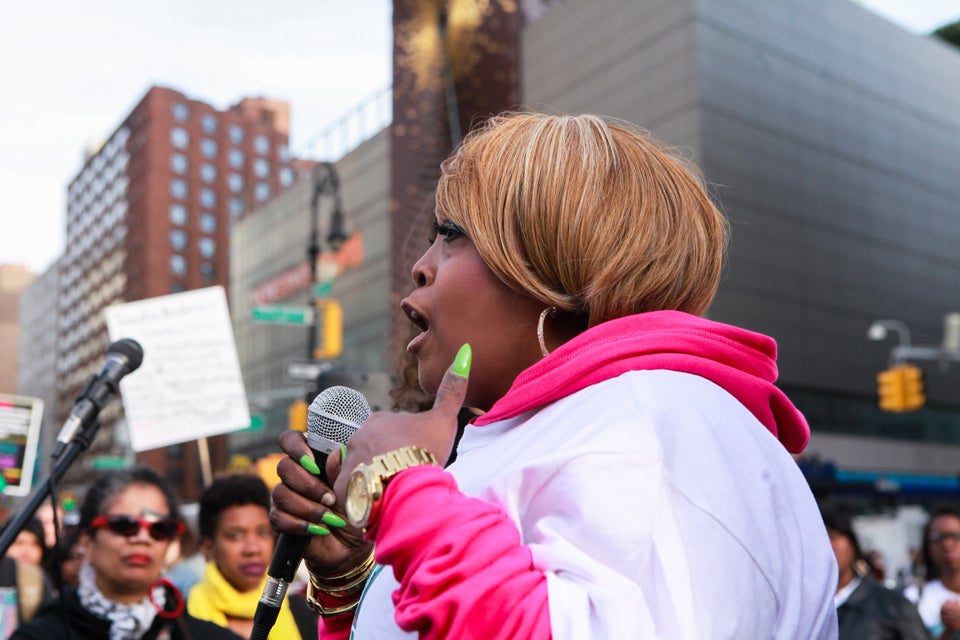 #SayHerName Vigil
Popular in the Community