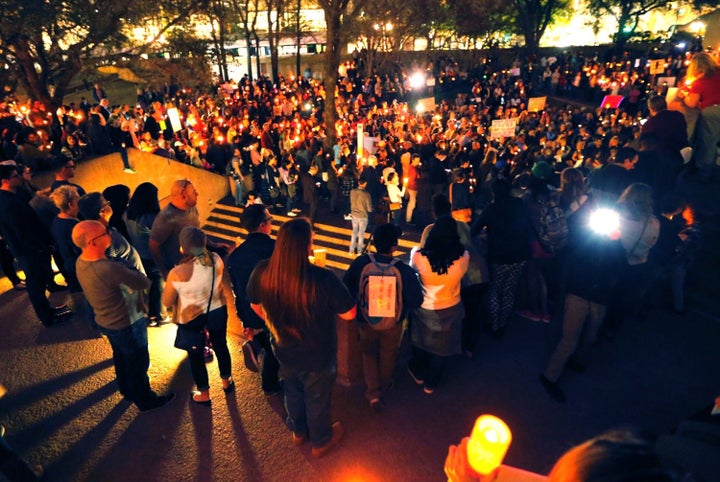 Creative writing is one of the many artistic endeavors supported by NEA grants, and a group of poets are planning to fight for the continuance of the agency by holding a vigil for the institution outside Trump Tower on March 15.
Earlier this year, reports surfaced that the Trump administration planned to axe the NEA, along with the National Endowment for the Humanities, as a budget-shrinking measure. Arts advocates quickly pushed back, arguing that the agencies boast relatively minuscule budgets (the NEA's annual budget is currently just $148 million) while providing vital support to local arts organizations and boosting economic productivity in the arts arena. Activists mobilized with petitions and phone calls to representatives.
Anxiety about the NEA's fate continues to swirl in the arts community as President Trump's initial budget proposal looms. Local arts organizations and other advocates have spoken out in recent days about the severe impact a shuttered NEA would have on the arts in their communities.
In response to these fears, a group of poets organized the vigil as "a direct action against Trump's attack on American literature, art, expression," according to the event's public listing. According to Publishers Weekly, the event, which is not officially associated with or endorsed by the NEA itself, was planned by Brittany Dennison, co-director of publicity at New Directions Publishing, as well as poets Christopher Soto, Erin Belieu, and Kyle Dacuyan. The vigil will feature readings by poets including Sam Sax, Rachel Zucker, and Yesenia Montilla.
The vigil was born after a meeting Soto organized for poets to discuss anti-Trump activism. "The potential dissolution of funding for the NEA came up repeatedly, so we chose that as our first point of action (hopefully among many!)," Dennison told HuffPost in an email.
"Poetry is not considered a profession in this country. But poets, like all people, need to eat and house themselves," she pointed out. "Cutting off government funding for the arts would do absolutely nothing for the national economy ― it would be a purely symbolic gesture, yet that funding puts food on the table for so many writers and artists. "
For those who want to join the vigil, protesters will be gathering outside Trump Tower at 6 p.m. on March 15 "to mourn the proposed death of the NEA." Participants are urged to bring candles and poems "to leave at the altar."
Here's hoping the poet's pen is mightier than the budgetary axe.
Calling all HuffPost superfans!
Sign up for membership to become a founding member and help shape HuffPost's next chapter
BEFORE YOU GO
PHOTO GALLERY
Quarter-Life Crisis Poems And Illustrations