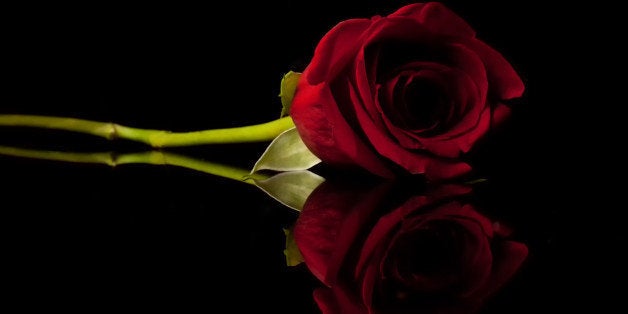 Innovation. Passion. Spontaneity.
If these aren't words that come to mind when we think of ballet, it is time we revised our definition: These are the things, coupled with exceptional technique, that leave us at the edge of our seats, hands poised to contribute to thunderous applause and begging for more.
But how does a new ballet capture the hearts and minds of an audience? What attracts creators, and us, as audience members, to certain stories?
Over the past several months, I have followed Artistic Director of the Joffrey Academy of Dance, Alexei Kremnev, as he and his team created a new, short-length story ballet based around one of the most riveting love affairs in history, Coco & Igor. The result is an intriguing look at the point of attraction, how behind-the-scenes, through studios and loose sketches of ideas, innovators and artists, attracted to the same story and vision, come together.
Coco & Igor premiered during three sold-out performances of the Joffrey's captivating Winning Works program by the dancers of the Joffrey Studio Company and the Joffrey trainees. In addition to translating a slice of history onto the stage, Coco & Igor brought together fashion, makeup, and music seamlessly, making it a study in how great ballet is created, and why we are attracted to it.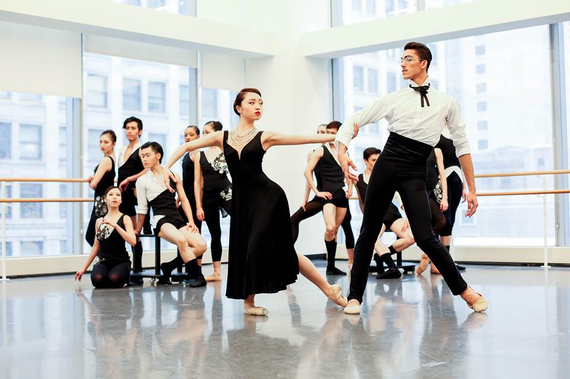 (Photo: Angelika Poletaeva. Dancers: Yuka Iwai, Jackson Ferreira.)
Our story begins with Kremnev's initial draw to the tale of Coco and Igor, about which he notes: "I think everything in life is about attraction and passion. That's what makes us human beings," continuing "we all know how revolutionary the Ballet Russe, Stravinsky and Chanel were so I took a great opportunity to learn more about their lives, trying to imagine who these two people really were."
How do you create two of history's most unique artistic presences and bring them alive onstage? Costume designer Gabriel Brandon-Hanson observes that costumes are a "parallel narrative that aid in telling the story, even if abstract. As soon as the curtain comes up, they tell their own version of this story." Indeed: From the moment we see Coco with her jacket draped chicly over her shoulder and Igor in his bow tie, their presence is electric. Brandon-Hanson also comments on the meta-connection between Coco Chanel as a character, and Chanel's influence on the costume design:
A big point of inspiration was Lesage, the famous house of embroidery in Paris. It was acquired by Chanel recently and the work that they do, the beading and embroidery, is extraordinary and modern. We have used that as a major point of inspiration for the women's costumes, the techniques.
In similar fashion, makeup artist for Coco & Igor and founder of Make Up First ® School of Makeup Artistry, Jill Glaser said "a working knowledge of historical references is essential insofar as wardrobe, hair, and makeup reflect what was taking place during that particular time in history." Glaser also remarks that "the costumes, hair and makeup, designed for Coco & Igor reflect an updated look of the 1920's, a period when women entered the workforce," and explained that this freedom manifested itself in wardrobe. In creating the look for Coco & Igor, Glaser said: "The design created is bold, sensual and sophisticated in its use of color, tone and shapes."
There is an enthrallingly heightened sense of story-telling in this story and collaboration, with Kremnev observing that ballet is currently populated by abstract works, while in this work, he wanted the audience to be "excited, fascinated and be truly engaged in what they see and how they feel." The art, history, and intellectualism of Coco & Igor are grounded in a divinely choreographed blend of delicate athleticism and intimateness.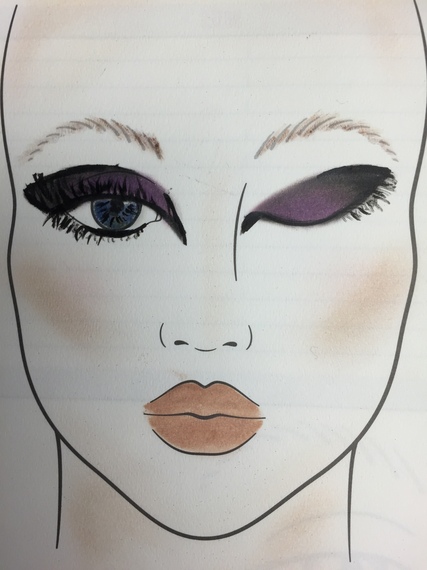 (Face chart: Jill Glaser)
Joffrey Ballet Studio Company dancer Derek Drilon and Joffrey trainee Taylor Fikes, who performed in Coco & Igor, explained that they spent at least fifty hours working on this piece, with Taylor noting that they began cast selection for Coco & Igor in September. Meanwhile, Derek stresses the complexity of learning a new work, stating that: "The most rewarding thing about working with a new choreographer is the fact that a new piece is being set on you and that you are one of the first people to be in a new work." This sentiment is echoed by Fikes, who elaborated: "A new work is like a baby, it's something never before created or seen; therefore, you often have to have a very open mind. There is nothing more rewarding than bringing a new vision to life."
Life: That's what the end result of Coco and Igor felt like--we, in the audience, felt the story, we felt the power of attraction between two fierce forces of nature, and we felt awe in the seemingly-effortless dancers who poured soul into the story. At the heart of it all is the conception of choreography that breathes new life into ballet: This collaboration is a physical manifestation of the best parts of imagination, defying expectations, bursting with feeling about what it means to be human, and utterly enchanting to see under stage lights. During a post-performance discussion, Peter Toub, Performance Program Director at the Museum of Contemporary Art where Joffrey's Winning Works was held, observed that he would like to see Coco and Igor transform into a much longer work, perhaps a full-length ballet.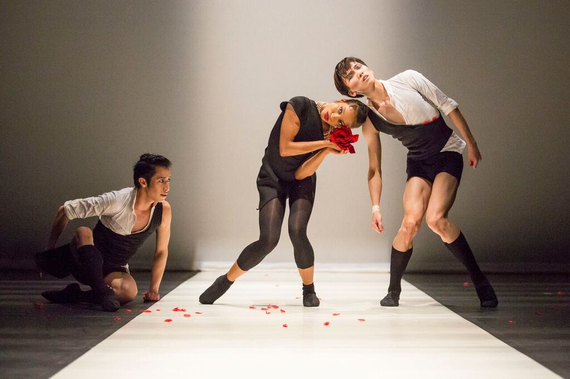 (Photo: Todd Rosenberg. Dancers: Taylor Fikes , Israel Garcia Chenge, Taiyu He.)
What does this tell us about the making of a ballet? It confirms that we're attracted to a story, to seeing life, history, and love unfold onstage. It tells us that the stories we love are crafted by writers of all forms, who make masterful art with the wave of a pen in the form of a step or a sketch.
Through how light hits a face of makeup, the detail on a costume, dancers who toil away in the studio, a ballet is born, but these artists create more than that. We're attracted to what we feel. They create feeling.
Calling all HuffPost superfans!
Sign up for membership to become a founding member and help shape HuffPost's next chapter