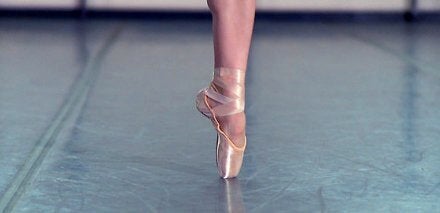 A baseball player has his bat, a photographer his camera -- every pro has the perfect piece of equipment that helps them excel at what they do. Ballerinas and their pointe shoes are no different. "Pointe Shoes" is a short video documenting the importance of the shoes, and the time and attention that goes into finding the right pair.
The video follows Megan Fairchild, a principal dancer for the New York City Ballet, and her search for the perfect pointe.
"I think every girl in the company would say their shoe is the most important part of the performance," Fairchild said. "You want to make sure you don't have to worry about any extra things besides your dancing."
The ballerinas often have their shoe custom-made. And on top of having tailored-made shoes, the ballerinas then have a process that include busting, breaking, shaving and sewing the shoes to make them ready to wear. Even after that, the ballerinas tape their toes to prevent blisters from up to eight hour work days.
Due to the importance of shoes, the New York City Ballet even has their own ballet shoe supervisor. Angel Betancourt is the expert of the pointe shoe and is in charge of all of the ballerinas' feet in the dance company.
Despite the amount of time dedicated to each pair, they do not last for long. The ballerinas use a pair of pointe shoes per day, Betancourt says in the video. At $67.50 per pair, the company spends $500,000 per year on pointe shoes alone.
"When people put them on, they create miracles," Betancourt said.
"Pointe Shoes" was directed and edited by Galen Summer for the New York City Ballet.
Watch below for "Pointe Shoes:"
Popular in the Community