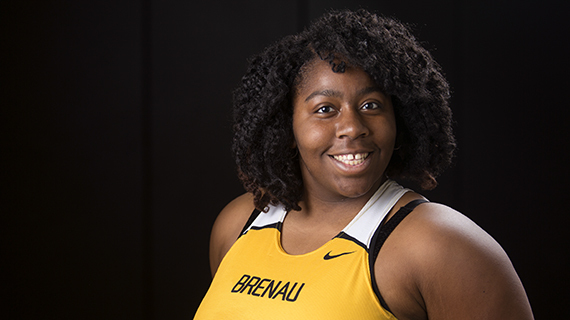 Growing up, Andrea Holloway enjoyed volunteering at senior centers. She found this experience endearing as well as enlightening. The practical advice received from residents served her well: "I've learned some insightful things about how to respond to life. My demeanor became calmer and my direction was forward."
Parlaying this interest into a career, Andrea is well on her way to making an impact on older adults. As a 2015 graduate from Brenau University Women's College in Gainesville, Georgia, she majored in Health Sciences (Pre-Occupational Therapy) and decided to continue in a Masters in Applied Gerontology at Brenau University. Now that classes are over, she's looking forward to December 17, 2016--the day when her graduation ceremony takes place.
Andrea feels that her alma mater prepared her well. In addition to providing knowledge-rich and relevant courses, the program also helped develop her critical thinking and communications skills, while providing her with an opportunity to explore and excel in the world of track & field. Andrea was successful at combining academics with athletics throughout her college years and served as the team's thrower. Notably, she was the first graduate student to compete on an award-winning team. And she was thrilled when faculty members nominated her in 2015 for membership into The Honor Society of Phi Kappa Phi.
Having spoken with Andrea, I was impressed by this young woman and her career choice. Here's what she said:
"I'm aspiring to be a social gerontologist, a subfield of gerontology. Social gerontologists focus on the interactions of older adults with other age groups. They need to have a good understanding of people's behaviors in all age groups. Social gerontology fosters effective interactions between the families, health professionals, friends, and their older loved ones.
As our older population increases, the need for social gerontology also will increase. People are living longer lives, and social gerontology can help younger generations adjust to the changing demographics.
Many social gerontologists are advocates for the older population. Any positive way that a person can support the idea of growing old aligns with the advocacy of gerontology. In particular, a person helping to change the negative attitudes and stereotypes about aging to a positive outlook aligns with social gerontology.
Social gerontologists also can assist older adults by helping them plan for the longer retirement periods. Some plans may include helping elders find a new career, providing information on healthcare services, offering therapy programs, and providing effective ways to communicate with others. These are a few things they are able but are not limited to do for older adults. Their occupational goal is to increase the quality of life for the older population while helping others to understand the different aging experiences.
I believe there are many ways to overcome the issues and concerns older adults may have in their life courses. I want to soon be able to implement many of my ideas into my profession and continue to be innovative in older adults' well-beings.
My goal is to help people understand at least what I knew about resilience in old age, tolerance for failure, and wisdom. As an aspiring social gerontologist, I plan to help address elders' issues and resolve them nationwide. I remain focused on becoming a social gerontologist because it's necessary and the hard work is worth the outcome."
There's no doubt in my mind that this first-generation college graduate will succeed in her healthcare career. Educated and empowered, Andrea is poised for success; she followed her interests, decided on a college that could help her achieve her goals, and set her sights within an occupation offering many career options.
Andrea now appreciates how when she was considering college options, she decided to learn more about single-sex colleges, and discovered that a women's college was the best fit for her. Andrea benefited from the supportive learning environment and leadership opportunities afforded to her at Brenau University Women's College.
Women's colleges provide women with the opportunity to follow their passions--graduating educated and empowered women poised to bring about change in our society. With so many young women wanting to make an impact and improve various social situations, I'm not surprised to see an increase in admissions applications at women's colleges. Many such institutions are reporting record numbers of applications. Clearly, women's colleges are the new college cool.
To learn more about women's colleges, visit Diane's blog, Advantages of a Women's College, where a complete listing of all women's colleges in the United States is provided.
Photo Credit: Nick Dentamaro/Brenau University
Related
Popular in the Community