Why is theater? Why does it exist? Why has it endured? These existential questions rose up in the back of my head and crashed in a wave on the forefront of my mind. And as that foamy wave receded, an answer was illuminated: communication. There is a primal, human need to communicate. Theater, and all art for that matter, is an extension of the desire to make a connection. It's a greater form of conversation. Poison Apple is a play about that same principle.
Sean Galuszka's one-act play was inspired by true events that took place in New York City's Hell's Kitchen, but ultimately it is about how people relate through conversation (verbally or otherwise). A poignant point being the effects that missed connections can have on a person's psychology. Loneliness and an un-nourished need for attention can lead to tragic circumstances.
When asked what the most important message he wants the audience to walk away with, Galuszka responded simply, "Trust your instincts." He went on to explain how mass media and intrusive technology dulls our senses and make people more susceptible to dangerous situations. An obvious example is cellphones and driving. The fact that laws must be instituted to regulate cellphone use while driving proves what a detriment technology can be. When a cellphone rings, we have an instinctual reaction to it. We then interpret the barking device as unhazardous (despite it being annoying). The end result is a conditioning of our bodies to ignore the primal instincts that protect us. Technology is teaching society to neglect red flags. Smart phones are making people dumb.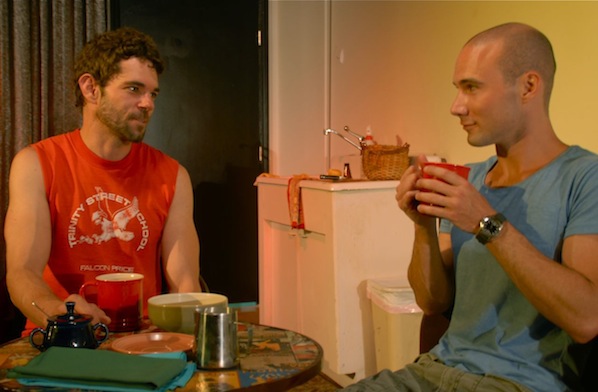 Technology also makes communication faster and easier, which causes people to be lazier. In turn, it is much more difficult to facilitate meaningful connections. The true triumph of the characters in Poison Apple is that they do develop a genuine connection. They grow closer and closer as the tension grows more and more intense.
Galuzska plans to take his psychological play to new audiences as an off-Broadway production in the hopes of having it published. It is scheduled for an intriguing performance inside an actual apartment near Pershing Square in downtown Los Angeles. The audience would, in fact, follow the protagonist from the nearby train station into his apartment to employ an authentic, fly-on-the-wall perspective.
In efforts to commercialize their product, playwrights and producers often try to increase the appeal to a wider audience. The issue with making art accessible is that, more often than not, the deeper insights and long-term interest of theater's credibility as an art form suffers. In actuality, distinctive works are much more affecting works. It is refreshing to be challenged by entertainment every once in a while. And if nothing else, Poison Apple produces a definite challenge to its audience.
Poison Apple hits New York City in the fall of 2012.
For all updates, follow the link to the Poison Apple Facebook page.

Related
Popular in the Community