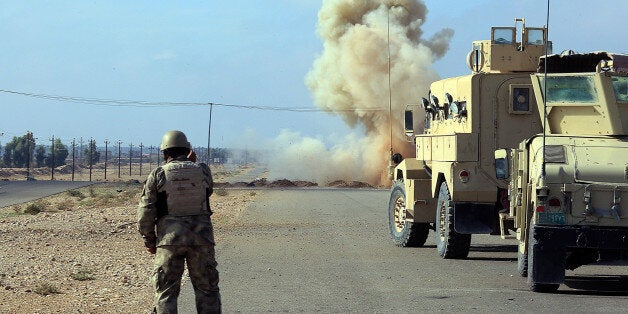 By Maria LaHood and Matt Howard
Birth defects and cancer rates seem to have skyrocketed in Iraq in the last 15 years, and mounting evidence indicates that depleted uranium (DU) munitions could be responsible. DU is a radioactive and chemically toxic substance the U.S. military uses in armor-piercing weapons. DU burns upon impact, and if DU dust is inhaled or ingested or if there is exposure to DU fragments, radioactive material can be absorbed into skeletal tissue and organs. Depleted uranium is a genotoxic agent that has been linked to the development of cancer and other diseases and that may lead to increasing public health issues if genetic damage is passed on to children. The U.S. military exploded at least 440 metric tons of DU in Iraq (and maybe four times that) during its 1991 and 2003 invasions. Even as the Iraqi government still struggles with the toxic legacy of the use of DU in those wars, the U.S. recently delivered A-10 aircraft armed with DU to the Middle East for the U.S. bombing campaign against ISIS.
Increasing health problems are linked to contamination stemming from heavy use of DU in densely populated areas and subsequent exposure by people in surrounding communities to contaminated scrap metal sites. In Hawija, surveys indicate that one quarter of newborns are suffering from disabilities. Doctors at a maternity hospital in Basra reported a 60 percent rise in birth defects since 2003. The health crisis is so acute in Iraq that expectant parents live in fear of having a child born with defects. The U.S. government has yet to take any meaningful action to help address this health crisis or decontaminate affected areas.
While Iraqi civilians are bearing the brunt of the crisis, U.S. servicemembers and veterans are also at risk. A 2001 survey of 30,000 Gulf War veterans found that their children were 1.8 to 2.8 times more likely to have birth defects. The children of veterans of the 2003 war may likewise be at higher risk of being born with defects.
Yet our government is still dismissing evidence of DU's harms and ignoring international calls for regulation and assistance in cleaning up contaminated areas. Yesterday, the United Nations General Assembly passed a resolution that calls for member states to assist countries affected by the use of DU weapons, in particular by "identifying and managing contaminated sites and material." One hundred and fifty nations voted in favor of the resolution and 27 abstained; only the U.S. (the single largest user of this poisonous weaponry), the U.K., Israel, and France voted against it.
Last month, Iraq Veterans Against the War (IVAW) and the Center for Constitutional Rights (CCR) delivered a petition with over 16,000 signatures to Secretary of State John Kerry and Samantha Power, the U.S Ambassador to the U.N., urging them to stop opposing U.N. action on depleted uranium. IVAW and CCR also submitted a report to the U.N. Human Rights Council in advance of its review of the U.S. next year, urging the U.N. to press the Obama administration to provide funding and research to combat any ongoing health impacts of DU and other toxic war munitions on Iraqis and U.S. servicemembers and veterans.
Effective clean-up efforts in Iraq will require U.S. transparency about the exact locations where DU weapons have been deployed. These data are also critical to limit civilian exposure to contaminated sites. Our organizations are currently trying to collect this information from various U.S. government agencies through Freedom of Information Act requests. Congressman Jim McDermott, who refers to depleted uranium as this generation's Agent Orange, has also urged Secretary Hagel to release the GPS location data for DU strikes in Iraq and facilitate clean-up efforts.
The last thing the U.S. should be doing is sending more DU to the Middle East. It is long past time for the Obama administration to acknowledge that the U.S. has a legal and moral obligation to make reparations to Iraqis and U.S. servicemembers and veterans for the toxic legacy of the Iraq War. The least the Obama administration can do, if unwilling to lead the clean-up efforts, is to provide information so that others can.
Matt Howard is Communications Director of Iraq Veterans Against the War. He served in the Marine Corps from 2001 to 2006 and completed two tours in Iraq.
Related
Popular in the Community