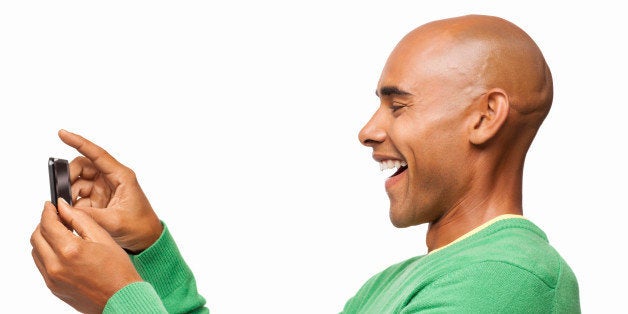 The phenomenal success of Pokemon Go has inspired me. I have developed a new game for the gay male community that combines the best features of the augmented-reality game Pokemon Go with gay hook-up apps like Grindr. I call it Pokemon Gay.
To start, the gay player must choose his avatar. In early testing, I discovered that almost every gay man chose the same look: young, white, shirtless, pronounced chest and arm muscles, tattoos, tight shorts. There are many options to choose from when creating your avatar, but these men all gravitated to the same basic look. I am hopeful that, as the game becomes more successful, a wider variety of avatars may start to emerge.
The genius of Pokemon Gay is that, while the player is using his phone, he must walk around the real world to "capture" other gay men (or pogaymon). Social media and gay apps have separated and isolated the gay community; Pokemon Gay will bring us face-to-face with each other!
There are many species of pogaymon to capture: Bearisau, Twinkichu, Leathidadder, and so on. Most gay men today tend to stay in their own silos, but Pokemon Gay encourages gay men to interact with others outside of their "species." This could be a boon to the gay community. A young gay man will speak to a 50-year-old, a buff muscle boy will approach someone who is overweight, etc.
As you walk around in the real world, your avatar will move around on a fabulous map (full of rainbows and stardust!) using GPS. Just like Grindr, you will be notified of the distance between you and a pogaymon. Follow the directions (i.e.: walk east for 237 feet, turn left, walk 7 feet, turn right, he's there standing under the Starbucks sign) to find your man.
Instead of hurling balls at a pogaymon to capture him (too violent), a player must capture a pogaymon by looking him in the eyes and engaging him in a conversation. At first, this may be awkward and scary for many gay men, but with practice they should become more adept at human interaction.
Pogaymon can be found anywhere. This is a surprise to many people who assume that pogaymon can only be found in places like Provincetown and San Francisco. Anyone can play this game, whether you are in a small town in Idaho or on an island in the Pacific.
Although you will find singular pogaymon just about anywhere, there are pogaystops where you will find a greater concentration of these creatures. Pogaystops include such places as gay bars, hair salons, Ikea, the fashion district, and closets.
[Note: there are a few kinks that I still need to work out. I have been denied access in some locations for this game. A variety of churches, some bakeries, and the Republican National Convention do not want pogaymon in their venues. It may take years, but I am hopeful that we will eventually gain access everywhere.]
If you invoke the Lure Module, you will increase the chance of wild pogaymon finding you. It works similar to taking a pack of cigarettes from your pocket. Within moments, a wild pogaymon will appear asking to bum a cigarette off of you. Look him in the eye, ask him where he is from and - voila! -- you have captured him.
Once you have collected a good amount of pogaymon in your backpack, you are at Level 5. Time to go to the Gym! Pogaymon Gyms are actual gyms. Unlike Pokemon Gyms, there are no battles or violence associated with these areas. Instead, when you take your pogaymon to the Gym, you unpack your captives and train with them. Rigorous work-outs and aerobic exercises follow, until all of you break out into a good sweat. Afterwards, you take a steam together, shower, and hang out in the locker room. In some locations, massages and mani-pedis are available.
From here, upper levels allow you to achieve different goals. For instance, in Level 12 you can get married. Level 27 allows you to pee in any bathroom you want. Level 39 grants you protection in employment and housing. Level 178 gives you complete equality. No one has reached this level yet.
I am looking for backers now. Not surprisingly, vodka and condom companies are interested in investing. I am thankful for that, but I would also like to full-fledged support from gay men.
Pokemon Gay could revolutionize the gay community. Once we start talking and bonding with each other at lower levels, we will gain strength to achieve greater feats in the upper levels.
Calling all HuffPost superfans!
Sign up for membership to become a founding member and help shape HuffPost's next chapter