The Pokémon franchise is venturing into augmented reality for the first time, Nintendo announced Thursday, so soon you'll be able to catch 'em all in the real world.
The offering, called Pokémon GO, will function as an interactive game that lets players use their iPhones or Android devices to "catch" Pokémon as they go about their lives.
"Pokémon GO will use real location information to encourage players to search far and wide," a press release says. "Pokémon GO's gameplay experience goes beyond what appears on screen, as players explore their neighborhoods, communities, and the world they live in to discover Pokémon alongside friends and other players."
The whole concept sounds a little like Pokémon meets geocaching, the interactive treasure-hunting game whose finds are hidden in the real world.
Part of the newly immersive experience will involve wearing Apple Watch-like tech called the Pokémon GO Plus. Users can keep the Bluetooth-connected device on when their phones are stashed away, and it will vibrate and flash if a virtual Pokémon is nearby.
The Pokémon GO Plus looks a little like a Happy Meal toy in the official photos, although The Verge has some close-up shots from a Nintendo press conference in which it seems a bit nicer. It's unclear how much the device will cost.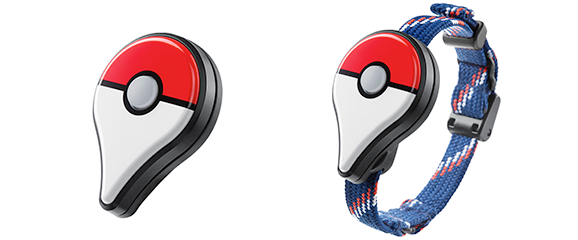 This isn't the first version of Pokémon on smartphones. Nintendo partnered with Japanese game-maker DeNA earlier this year to bring original titles featuring its famed characters to the iPhone. The first Pokémon installment, a puzzle game called Pokémon Shuffle, was released in early September. 
The move to smartphones is a notable departure from Nintendo's past strategy, which relied heavily on selling its own game consoles and devices. The Japanese company has struggled over the past few years after disappointing sales of the Wii U.
Pokémon GO will be available for free in the App Store and through Google Play. The game will permit in-app purchases, a big moneymaker for some other apps. Players of the free Candy Crush Saga spent more than $1.3 billion on in-app features like extra lives and moves in 2014. 
Calling all HuffPost superfans!
Sign up for membership to become a founding member and help shape HuffPost's next chapter