The famous phrase from Joseph Conrad's novel, Heart of Darkness, comes to mind when I think about Pokémon GO. During part three of Conrad's story, the main character, Kurtz, utters the memorable phrase, "The horror, the horror," which refers to the traumatic events he faced during his escapade in the Congo.
"The horror, the horror," is a phrase that could also be used to describe society's new obsession with Pokémon GO. The location-based augmented reality game for iOS and Android devices has caused quite a stir since its release in July 2016.
Despite mixed reviews, Pokémon GO has already become one of the most popular mobile apps, racking up more than 100 million downloads worldwide. While some people can't seem to get enough of the game, others are experiencing tragic outcomes that have resulted in car crashes, robberies, and even deadly situations.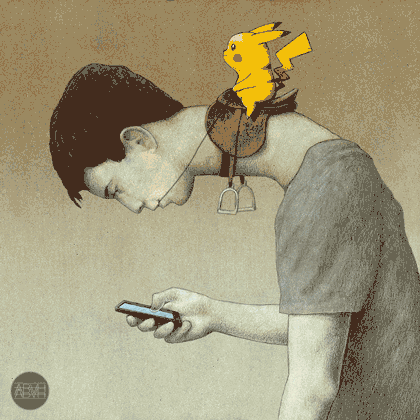 I've labeled Pokémon GO as 'Pokémon NO.' Here are 3 crucial reasons why you should never play (or even waste time downloading) Pokémon GO:
If you Google the phrase, 'Pokémon GO car crashes,' you will be confronted with multiple news stories that discuss car crashes happening as a result of people playing Pokémon GO.
The first story to appear under my Google search occurred less than 24 hours ago and is entitled, "Pokémon GO to blame? Honda crashes into railing in Queenstown while trying to overtake car". It shouldn't come as a surprise though that the driver of the car lost control of the vehicle and crashed into a railing while playing Pokémon GO.

Keep in mind that playing Pokémon GO while driving is just as bad as texting while driving. However, texting while driving has been banned in 46 states, as well as the District of Columbia. Pokémon GO, on the other hand, is still considered a legal practice (though not recommended) while driving.
Bottom line - If you want to avoid car crashes, you should ban all contact with your smartphone while driving. Pokémon GO should especially be avoided, as this game proves to capture its users full, undivided attention -- yikes.
Pokémon GO related robberies have become a major topic of discussion following the game's release in July. It's been noted that suspects can easily target potential victims through the app's geolocation feature.
Robbers are now able to anticipate the location and level of seclusion of Pokémon GO users. Armed individuals are also targeting victims by waiting at popular "Pokestops," areas where players visit to gather supplies like "Pokeballs."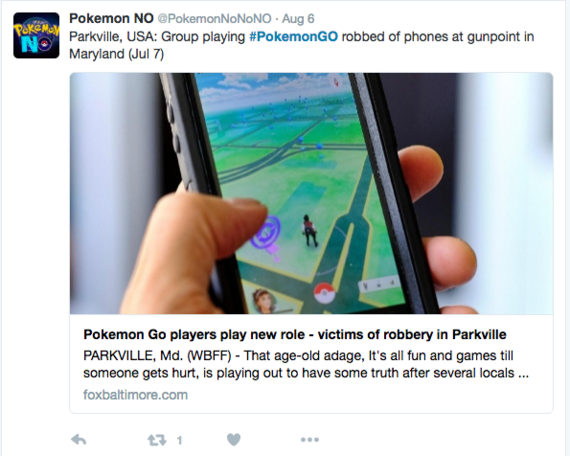 In order to raise awareness, the Pokémon Company International and Niantic, Inc. released a statement in regards to the alleged robberies, stating:
"We are aware that some incidents have occurred involving fans playing Pokémon GO. We encourage all people playing Pokémon GO to be aware of their surroundings and to play with friends when going to new or unfamiliar places. Please remember to be safe and alert at all times."
Bottom line - Play it safe by NOT playing Pokémon GO at all.
3. To avoid a deadly situation
The main reason I'm even writing this post is in response to a recent article that I read about a 20-year-old man who was shot and killed in San Francisco while playing Pokémon GO.
The victim was walking along San Francisco's popular tourist destination, Fisherman's Wharf, when he was gunned down and killed. While the motive for the shooting remains unclear, it has been noted that the victim was indeed out searching for Pokémon at the time of the tragedy. Of course, these two events could be unrelated, but it still goes to show that playing Pokémon GO has unsafe consequences.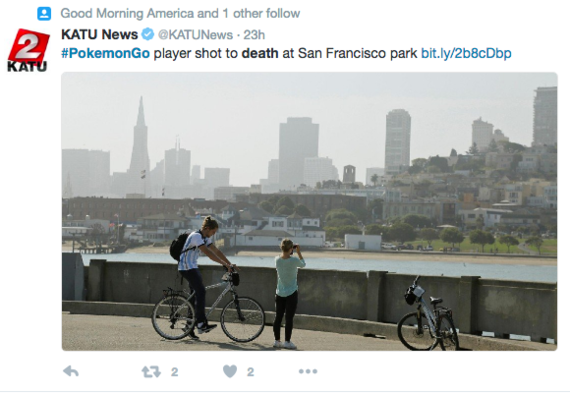 "Last month, two men focusing on the smartphone game were robbed and carjacked in Northern California. In Fullerton, two former Marines helped nab a man wanted for attempted murder in Sonoma County. And in San Francisco, a brother and sister were robbed of their smartphones while playing "Pokémon Go," the article noted.
Bottom line - There have been too many tragic and unsafe consequences that have occurred while playing Pokémon GO. Protect yourself by not getting involved in the first place.
While car crashes, armed robberies and deadly situations appear to be the most extreme consequences of playing Pokémon GO, there are other "minor" mishaps that often occur.
For instance, it's common to see Pokémon GO users walk into other people while they are playing the game. I've also been out with friends who spend the entire evening looking for Pokémon rather than socializing (this always makes for a fun night). I've even heard stories of people running late to interviews, business meetings and first dates due to their Pokémon GO obsession.
Fortunately, new safety measures are being taken as more awareness is raised around the dangers involved with Pokémon GO. For example, Iran has become the first country to ban Pokémon GO due to security concerns. It's been noted that users are visiting landmarks and unsafe destinations to catch Pokémon and to collect in-game items. Places ranging from military bases to Holocaust Museums are being overrun with Pokémon GO players.
Multiple statements regarding safety concerns while playing Pokemon GO have been issued in The U.S. However, the best way to avoid dangerous situations is by not playing Pokémon GO at all. It's time to raise awareness around the tragedies that are occurring with this addictive game, before it's too late.
Calling all HuffPost superfans!
Sign up for membership to become a founding member and help shape HuffPost's next chapter