For me, my revelatory, door-opening, light switch-on, "you've got to check this out" Pola Negri moment came in 2016 when I saw the actress in A Woman of the World, a 1925 comedy screened at the San Francisco Silent Film Festival.
Of course, I had known of Negri beforehand. I had seen countless images of this Polish-born vamp who made a name for herself in Germany before coming to the United States. I had also seen a few of her movies, movies like The Spanish Dancer (1923), Hotel Imperial (1927), and A Woman Commands (1932). In those films, she played passionate characters who could slay you with just one look. She was gorgeous, exotic, stylish, and temperamental. She was a femme fatale.
But in A Woman of the World, playing opposite sad-sack funnyman Chester Conklin, she seemed something else. In A Woman of the World, Negri poked-fun of her image. And she succeeded brilliantly. She was light, funny, witty and charming. That film made me want to see as many of her other films as I could. And, to learn more.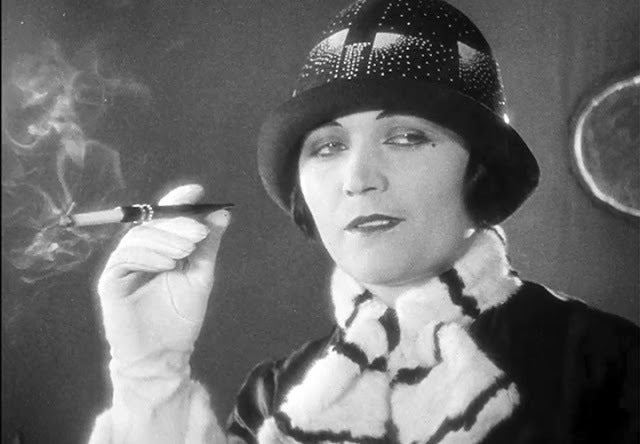 To date, there have been a handful of books on this singular silent film star. In 1926, future director Robert Florey penned a small book for a French publisher; this hard-to-find title has yet to be translated into English. In 1970, Doubleday published the actress' own Memoirs of a Star, an unreliable book in which the actress embellished certain aspects of her life. Some even called it "fiction" at the time of its release.
In 2014, the University Press of Kentucky published Mariusz Kotowski's Pola Negri: Hollywood's First Femme Fatale, a translation from the Polish of his 2011 book, Pola Negri: Legenda Hollywood. It broke new ground, but leaned in the direction of the actress' European career. Kotowski's book was followed by Sergio Delgado's Pola Negri: Temptress of Silent Hollywood, from McFarland, in 2016. It too is worthwhile, but leaned in the direction of Negri's Hollywood career.
Now comes Tony Villecco's self-published Pola Negri: The Hollywood Years. As the author states, his book is "not intended to be a complete historical retrospective or analysis of Pola Negri's films. Rather, it offers today's readers and film fans an intriguing glimpse into the life, times, and persona of a 'silent' star who lived at full volume during the Golden Era of film." In this regard, it succeeds. It is a good read, full of fascinating information.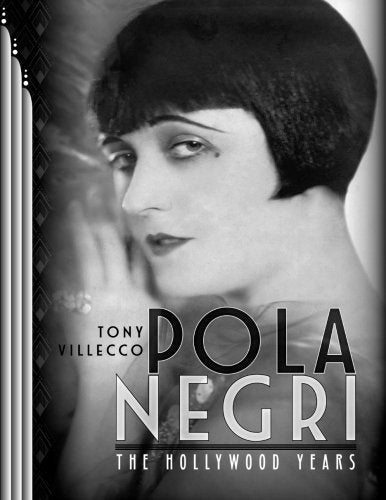 Negri was born Apolonia Chalupec in Poland, then part of the Russian Empire, in 1897. She acted on the Polish stage, and quickly became a star. At the age of 17, she went to Berlin and was soon teamed with German director Ernst Lubitsch. Together, they made a number of popular films, including Madame DuBarry (1919); it was optioned for exhibition in the United States, and renamed Passion. The film was such a success (despite American misgivings for German films following WWI) that by 1922 she and Lubitsch were both offered contracts to work in America.
Negri was the first European film star to be invited to Hollywood, and in the early 1920s, she became one of the most popular actresses in America. A string of hits and near-hits followed, including A Woman of the World. And so did sensational headlines.
There were love affairs with and reported engagements to Charlie Chaplin and Rudolph Valentino, as well as a marriage to a self-styled prince. (Negri herself claimed to be of minor Polish nobility.) Tempestuous relationships with colleagues—including Gloria Swanson, with whom she had a rivalry and reported feud—kept Negri's name in the news. Both had a penchant for publicity.
However, Negri's American film career began to fade with the coming of sound. There was the lingering perception, at least in some quarters, that her mourning for Rudolph Valentino was less than sincere—while others thought it over-the-top. And too, her thick Polish accent didn't go over well in English-language sound films.
In Pola Negri: The Hollywood Years, Villecco (the author of an earlier collection of interviews, Silent Stars Speak), shares what has become lifelong fascination with the actress. Along with chapters on Negri's time in the United States, there are also sections on her American films, including her final screen appearance, the 1964 Disney film, The Moon Spinners. All this is supplemented by accounts drawn from magazines and newspapers of the time, reminiscences by Negri's colleagues and friends, and more than 100 photographs, several of which Villecco notes were never before available to the public.
Pola Negri: The Hollywood Years is a book anyone interested in the actress will want to own. It is, in the words of Valentino biographer Emily W. Leider, "An engaging, well researched biography of one of the silent screen's most luminous stars."
Related
Popular in the Community