In a surprise move, Polish President Andzrej Duda said Monday he was vetoing two judicial reform laws that cleared the nation's Parliament Saturday that would have allowed the ruling Law and Justice Party (PiS) to consolidate power over the judicial system.
"I have decided to send back to Parliament ― in which case to veto ― the law on the Supreme Court, as well as the law on the National Council of the Judiciary," Duda said in a news conference.
The proposed laws "would not strengthen the sense of justice in society," he said, claiming they would instead amount to appropriation of the courts. "These laws must be amended."
The legislation would have allowed the PiS to force the resignation of all of Poland's Supreme Court justices and appoint its own members, as well as increase the party's power over personnel decisions by the judiciary council.
Duda was widely expected to approve the bills, given that he hasn't strayed far from the PiS' populist, nationalist policies since he won the presidency as its candidate in 2015. He oversaw the passing of a law in late 2015 that hampered the country's system of checks and balances.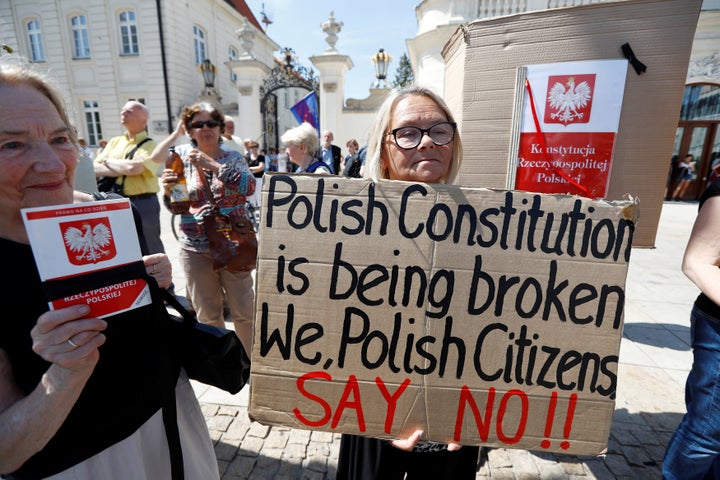 Signs of resistance to the bills abounded. The European Union offered a stern warning about them to Poland last week. The European Commission's first vice-president, Frans Timmermans, said approving them would "ruin the already tarnished view of Polish democracy." He threatened the use of Article 7, which would suspend Poland's voting rights within the EU.
The State Department warned on Friday that "the Polish government has continued to pursue legislation that appears to undermine judicial independence and weaken the rule of law in Poland."
Poles protested the bills in more than 100 cities across the country on Saturday, and thousands took to the streets in Warsaw again on Sunday night.
Duda's decision "has pulled Poland back from the brink of all-out assault on the rule of law," Amnesty International said in a statement.
REAL LIFE. REAL NEWS. REAL VOICES.
Help us tell more of the stories that matter from voices that too often remain unheard.