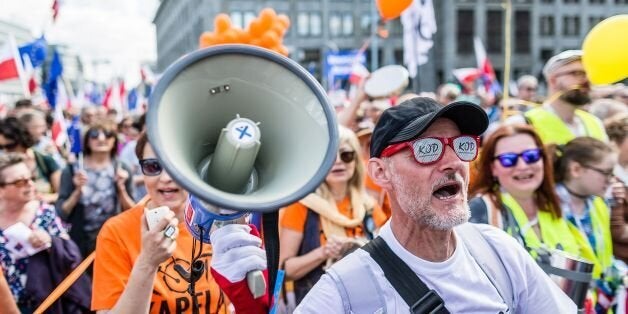 LVIV, Ukraine -- In the past few months, alarm bells have been raised in Poland as critics of the country's new ruling party, Law and Justice, or PiS, speak out against what they believe are dangerous infringements on democracy and a wave of conspiratorial panic in the country. The accusations of cronyism, authoritarianism and an overall surge to the right don't just come from far-left activists however.
Just last week, three former Polish presidents published an open letter featured in one of Poland's largest newspapers denouncing the new government for what they believe is a "usurpation of power" over existing laws and institutions. Amongst them were Lech Walesa, a Nobel Peace laureate who became modern Poland's first freely elected president.
"The new government is pursuing policies which both disrespect law and justice, which is ironic given that the party is named Law and Justice," said Piotr Maciej Kaczynski, a former research fellow at the Centre for European Policy Studies, a Brussels-based think tank.
'The new government is pursuing policies which both disrespect law and justice.'
The de facto leader of PiS is Jaroslaw Kaczynski, the brother of former Polish President Lech Kaczynski who tragically died in a plane crash in 2010. Jaroslaw's reign has thus far been characterized by rapid, dramatic changes and the perpetuation of conspiratorial thinking.
Kaczynski, the PiS leader, still insists that the Russian government orchestrated the death of his brother Lech. He delivers inflammatory speeches claiming Muslim migrants and refugees carry dangerous parasites, which panders to his devout Catholic and Muslim weary audience. He has also helped to paint liberalism as a monumental threat. Throughout it all, Kaczynski has found time to spark a constitutional crisis in the country.
PiS has tried to paralyze the constitutional courts of the country from making any decision that could halt his vision. The maneuvers sparked backlash from the European Union and the court's tribunal responded by declaring that attempts to paralyze the court are contrary to the constitution of Poland. Kaczynski then declared that the court tribunal is inciting "anarchy" in the country and suggested revamping the constitution entirely.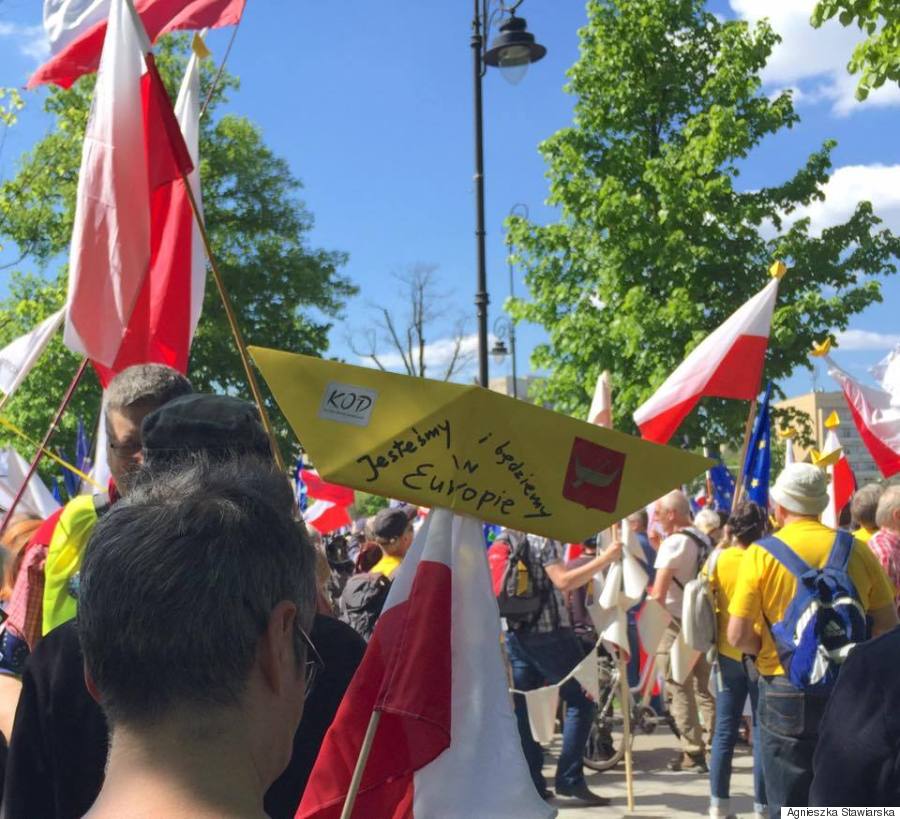 A protester holds a Polish flag with a sign echoing the slogan for the May 7 anti-government rally, 'We are and will remain in Europe!' (Agnieszka Stawiarska)
His actions indicate that the party wants full control of the constitutional court said Krzysztof Izdebski, a Warsaw-based lawyer and policy director at Fundament, an NGO which promotes the rights of citizens. "They want to introduce laws which are inconsistent with the constitution," he said. "They're taking the country in an authoritarian direction endangered by corruption and nepotism in which human rights are treated as post-modernistic fairy tales."
One example of this erosion of rights occurred in early April, when a citizens' initiative to abolish the abortion rights in Poland received the public backing of both Poland's Prime Minister Beata Szydlo and Kaczynski. Currently, Polish law only allows abortions to take place if a woman has either been raped or subject to incest, might die during the birth, or is carrying a severely damaged fetus. Outraged Poles took to streets across the nation to express their utter shock.
"We were the party that organized tens of thousands of people across Poland the moment that there was this proposal to ban abortion completely. It's barbaric what they are trying to do," said Joanna Bronowicka, who ran for Polish parliament with the left-wing Partia Razem party. "They took three months to do what it took Orbán in Hungary years to do," referring to the oft described "strongman" leader of Hungary. Orbán is notorious for being combative against the EU while pushing through reforms which have widely been seen as undermining democracy.
'They're taking the country in an authoritarian direction endangered by corruption and nepotism in which human rights are treated as post-modernistic fairy tales.'
Her major concern with PiS' actions is that she sees Poland's position in Europe moving rapidly away from being seen as an emerging leader and champion of European values.
"Poland was on the right course to be a main influencer and decision maker in Europe," she said. "The economy was doing well, and politically we were growing, and now we're going to be isolated. We could have been the country to re-energize Europe, but PiS destroyed the image of Poland in just a few months."
Her concerns are being echoed today during a large left-wing protest in Warsaw Saturday aptly named "We Are and Will Remain In Europe," which is being staged by an organization called The Committee for The Defence of Democracy, or the KOD. The protest has reportedly brought over 200,000 people out onto the streets of Warsaw. Polish public broadcaster TVP is calling it "the largest demo in Poland since the end of communism in 1989."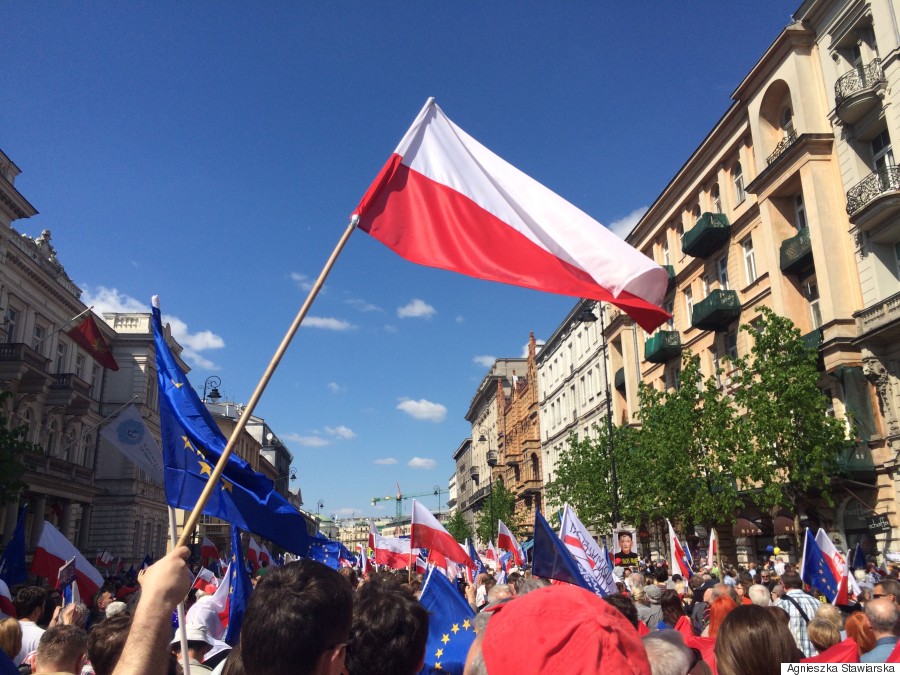 A protester waves a Polish flag as Poles march against the country's ruling party in Warsaw. (Agnieszka Stawiarska)
It remains to be seen what impact the protests will have, but the wave of enthusiasm for the protests has brought together nearly all major parties of the left into a coalition called "Liberty, Equality and Democracy." According to KOD leader Mateusz Kijowski, the stated goal is "defend the rule of law in Poland and its place in the European Union."
A spokesman for KOD, Martin Mycielski, said this is just the latest in a string of major rallies by concerned Poles.
"The first issue that rallied the masses was the two new 'media bills,' which put direct government control over public broadcasters and let PiS appoint political puppets," he said.
'We could have been the country to re-energize Europe, but PiS destroyed the image of Poland in just a few months.'
Reporters without Borders cited these bills as the reason for Poland's precipitous drop in its recently published 2016 World Press Freedom Index. It now lists Poland in 47th place, a drop of 29 spots.
Poles will likely begin feeling the effects of changes in their wallets soon as well, as the Polish currency begins to tumble and shares of state-owned companies fall as a result of investor worries over the direction PiS is taking the country.
Barbara Nowacka, the co-chair of the left-wing party Your Movement, said that she's also worried about what she believes is an attempt at changing the education system in order to develop what she calls "a new patriotic Pole." They would share values with the far right, "values which are not shared around Polish society," she said. This shift could entail a deeper acceptance of the interwinding of the Catholic Church and state, as well as giving the green light for open xenophobia.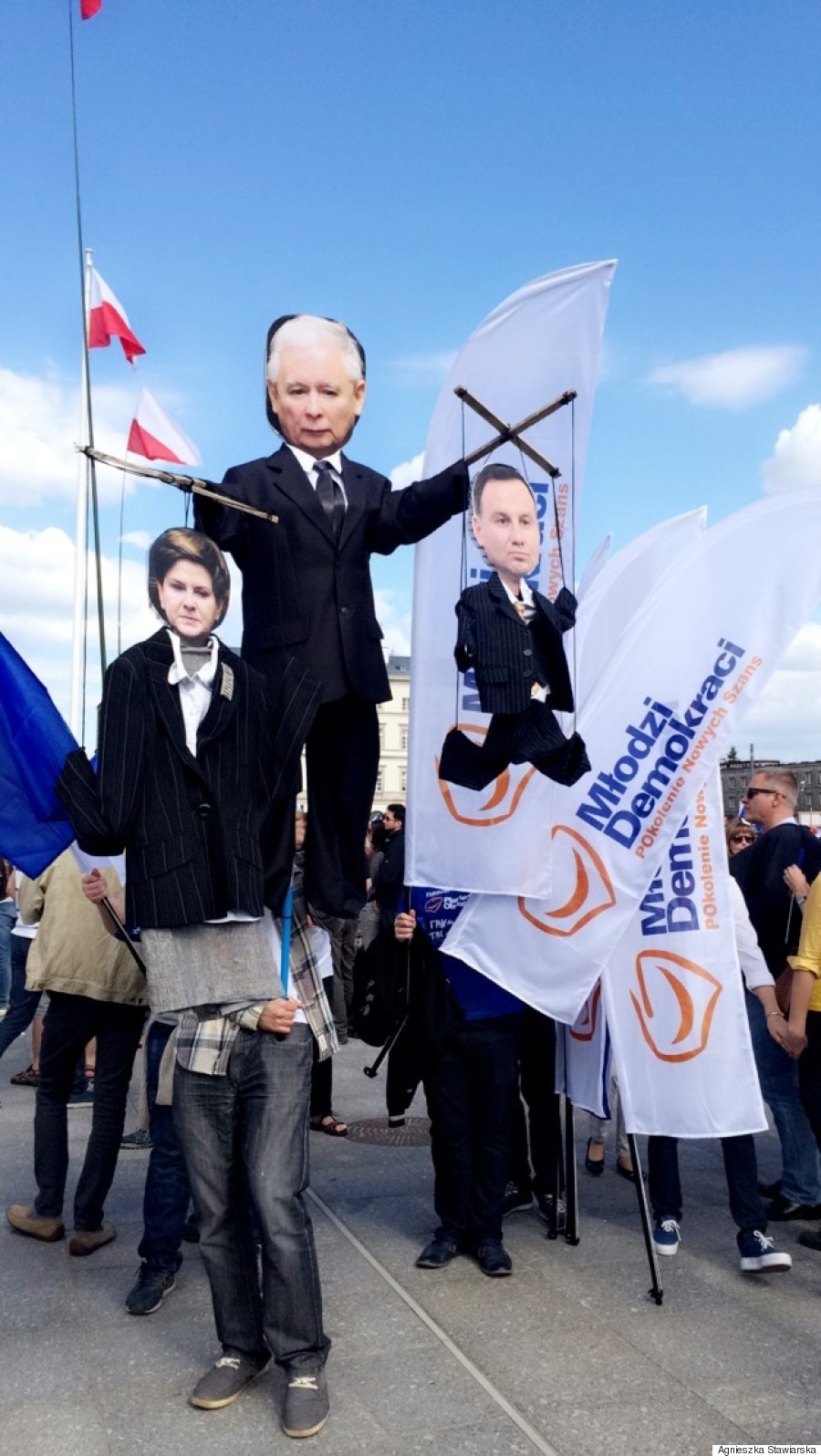 A protester holds a display mocking de-facto ruling party leader Jaroslaw Kaczynski, Polish Prime Minister Beata Szydło, left, and Polish President Andrzej Duda, right. (Agnieszka Stawiarska)
Reports of racism are springing up often in Polish media and PiS seems to have given its critics plenty of ammo to work with this week by quietly abolishing an anti-racism council. However, there are those who believe PiS' critics are not only over exaggerating, but also quite hypocritical themselves.
Roch Baranowski is the young CEO of a Warsaw-based company and readily admits that as recently as three years ago, he wouldn't have imagined himself as a PiS supporter, but said that he now admires Jaroslaw Kaczynski's vision for Poland.
He is part of an unexpected wave of voters who helped bring PiS to power. Mycielski from KOD acknowledges the changes and said that "until the last elections the PiS support base was symbolized by the older, more Catholic people from lower classes," but now says that, "an analysis of the last election results revealed large backing coming from younger -- often first-time -- voters." He attributed this in part to a conservative and nationalistic shift caused by the migrant and refugee crisis, but also to a skillfully run election campaign from PiS.
'The new direction established by the Law and Justice is the road to Polish authoritarianism.'
"They managed to shift the blame for any and all of people's troubles to the previous Civic Platform government, which wasn't itself free of sin, and offering younger generations a 'good change,' with nothing short of free money in the 'Family 500+' program," Mycielski said.
Baranowski's thoughts largely echo Mycielski's analysis. He feels that the so-called "liberal elite" of the former ruling party, Civic Platform, were more concerned with appealing to their foreign partners and the EU than building a prosperous country for regular Poles.
"Western companies accessed Poland to exploit low cost labor and sent the profits back to their own countries," he said. "Polish people didn't see the benefits of the past 25 years of GDP growth. That's why PiS was elected. The promise to build strong Polish companies that foster innovation and help regular Polish people, not just call center jobs."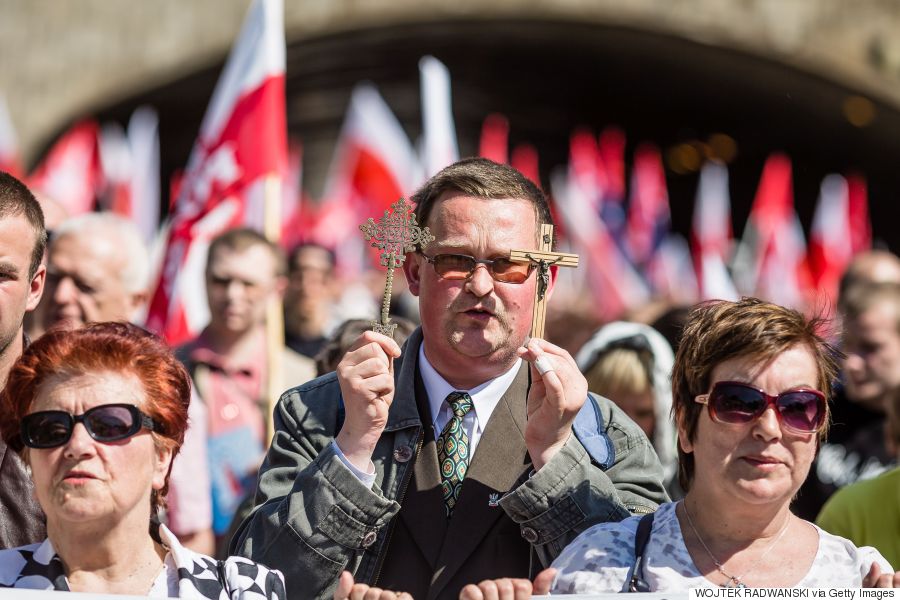 Polish nationalists, right-wing supporters and ultra-catholic activists demonstrate in support of government before beginning of anti-gov't protest. (WOJTEK RADWANSKI/AFP/Getty Images)
A young Civic Platform MP named Kinga Gajewska feels her party did an exceptional job during its years in power, but acknowledges that it hasn't been appreciated by some.
"Civic Platform made a big leap of civilization," she said. "It built thousands of kilometers of roads and highways, unemployment fell below 10 percent and the Polish economy grew. Poland made it through the global crisis without serious complications. Polish society grew rich and the meaning of Poland in the international arena was growing."
Unfortunately she says that those who couldn't see the larger picture were easily swayed by PiS. Although Gajewska points to her party managing to bring the unemployment rate below 10 percent, the rate of unemployment for people under the age of 25 was "well above the OECD average of 15 percent."
'At best, this government will isolate Poland, but at worst they can be quite harmful for Europe.'
"Part of Polish society did not feel like the beneficiaries of this leap, and they were incited by populist and nationalist slogans," she said. "The new direction established by the Law and Justice is the road to Polish authoritarianism."
It's too early to tell what the impacts of PiS changes thus far will be because they are all so fresh, albeit happening at a rapid pace. The party's moves, however, do seem to be bringing the country firmly to the right.
One thing is clear: as long as Jaroslaw Kaczynski remains behind the reins in Poland, the country will continue to surprise its allies and partners, which Piotr Kaczynski says is dangerous because countries need to be able to anticipate what their partners will do.
"We can't foresee what will be the next steps internationally," he said. "At best, this government will isolate Poland, but at worst they can be quite harmful for Europe."
PHOTO GALLERY
PEGIDA rallies
Calling all HuffPost superfans!
Sign up for membership to become a founding member and help shape HuffPost's next chapter