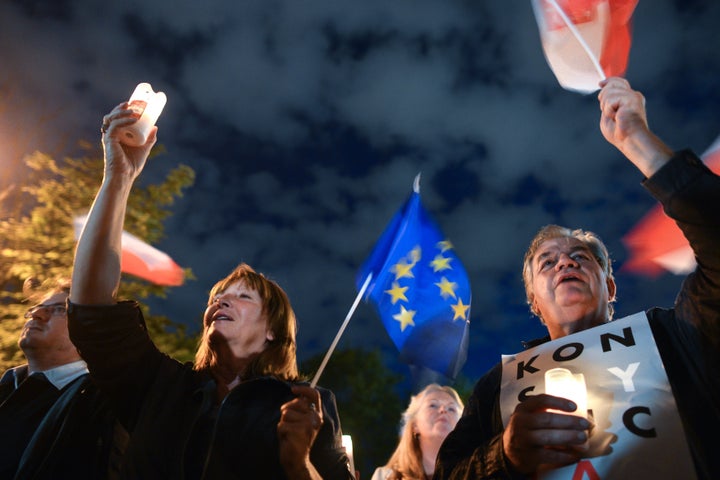 WARSAW — Poland's ruling Law and Justice party and its leader Jarosław Kaczyński have been rightly described as authoritarian populists by most Western politicians and media. Their July legislative blitzkrieg, which aimed to completely overhaul the judiciary system, including the forced retirement of Supreme Court justices, was an essential part of the ruling party's long-term strategy of dismantling democratic checks and balances and introducing de facto one-party rule.
This process started in December 2015 with the unconstitutional replacement of justices in the Constitutional Tribunal and the government's refusal to publish the tribunal's rulings denouncing these actions as unconstitutional. Purging public media of independent journalists, dismantling civil service and defunding critical non-governmental organizations have been just some of the policies aimed at expanding the control of the ruling party over Poland's public life and institutions.
The Law and Justice party, which is known by the acronym PiS, first came to power in 2015′s parliamentary elections, securing a narrow majority of seats in the Parliament (in spite of receiving about 38 percent of the popular vote). This majority in the Sejm (the lower chamber) as well as the control of the Senate and the presidential office allowed the party to pass controversial — and unconstitutional — legislative acts by sidelining the opposition, disregarding public consultation and holding notorious late-night voting sessions. The controversial legislation on the judicial system was pushed through Parliament in blatant violation of existing parliamentary procedures.
Mass protests against PiS policies started in late 2015, when the first steps toward control of the Constitutional Tribunal were taken. Since then, protests continued with varying intensity in major cities across Poland. So far, with the notable exception of the so-called "black protests" against a total ban on abortion, the protests did not reverse the ruling party's actions, although they arguably slowed them down. For example, it took PiS more than a year and several successive legislative acts to finally gain control of the Constitutional Court. In all cases, President Andrzej Duda failed to veto these legislative acts in spite of the nearly unanimous opinion of experts, scholars, legal associations and the Venice Commission, the group within the Council of Europe that is charged with assessing threats to the rule of law in member states.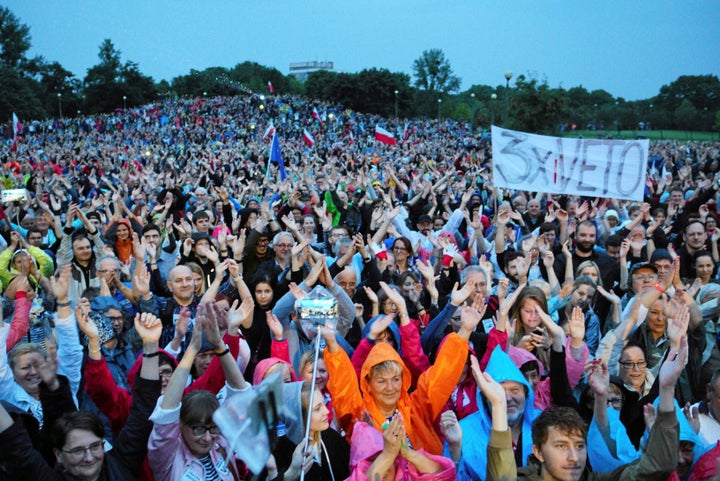 PiS leader Jarosław Kaczyński maintained course toward illiberal democracy —or demokratura (an anagram of the Polish words for democracy and dictatorship) as it was aptly called in Poland — in spite of strong criticism from Poland's key partners and the European Union. The European Commission twice issued formal warnings about the possibility of legal action against Poland based on Article 7 of the Treaty of the European Union, which permits sanctioning member states that violate key EU values, such as the rule of law. The criticism from Brussels was met with feigned indignation from Polish officials, including Prime Minister Beata Szydło, who vowed to defend the sovereignty of Poland against foreign meddling in domestic affairs, a phrase strongly reminiscent of Communist propaganda for older generations of Poles.
Kaczyński's resolve to press on with the changes was most likely strengthened by PiS's clear lead in opinion polls. The PiS polled, on average, around 36-40 percent, outpacing the main opposition party Civic Platform by 12-14 percentage points, while Duda has enjoyed approval ratings near 60 percent. Pro-PiS commentators used the data to argue that the ruling party has a mandate to press on with its radical agenda. This is hardly the case. In most polls, the number of government critics is slightly higher than those who approve, and a large part of society remains undecided. Interestingly, government supporters tend to point to popular social policies, such as generous child benefits or lowering the retirement age.
"Poland's right-wing ruling party is aiming to expand its control over the country's public life and institutions."
In spite of protests and controversy, another way PiS has been able to maintain its lead is by emphasizing identity politics. Since 2010 (when Kaczynski's twin brother Lech and 95 others died in a plane crash in Russia), PiS rhetoric became unapologetically nationalistic and ultra-conservative. The party found an ally in the increasingly conservative and Euroeskeptic Catholic church, which came to regard Kaczyński and his party as allies in turning Poland into a stronghold against what is seen as decadence and moral relativism coming from "post-Christian" Europe.
PiS became skilled at creating panic on issues such as LGBTQ and women's rights, which were presented as threats to traditional Polish values. Like other European populists, especially the Fidesz party in Hungary, PiS presents itself as the last line of defense against migrants from predominantly Muslim countries. This stance definitely helped the party win the election and is clearly regarded by Kaczyński and his colleagues as a universal response to any political crisis. This was also the case with the recent protests — PiS-controlled state television said the protests were part of a plot to bring "Muslim terrorists" to Poland.
The recent legislation undermining judicial independence and giving the justice minister (who is also the prosecutor general) the key role in appointing and dismissing judges, including on the Supreme Court, was more far-reaching and radical then any previously adopted controversial pieces of legislation. It is now clear that, when deciding to use this sledgehammer, Kaczynski underestimated the resistance and expected protests to wither away, as happened before. He was wrong.
"Kaczynski underestimated the resistance and expected protests to wither away, as happened before. He was wrong."
These protests were different in a number of ways. It was not just the sheer number of people but the geographical scope — protests swept Warsaw and other big cities and even smaller towns. Even more crucially, the demographic mix of protesters was strikingly different, with an unexpectedly large turnout of young people, who until recently had stayed away from the protests.
These young people sent a strong signal to Duda, who largely owes his unexpected victory in 2015 to anti-establishment young voters. Duda, in a surprising U-turn, announced that he would veto two out of three contested acts. The decision came as a shock to Kaczynski, who swore to press on with his "reforms" in spite of this temporary setback. Some prominent PiS officials denounced the president as a defender of the post-Communist status quo.
The protests and the vetoes demonstrated the limits of Kaczynski's ability to control the political process and revealed cracks in the PiS establishment. One of the small parties allied to PiS (and providing it with precious votes in Parliament) announced that it agreed with the president rather than with the PiS leadership. If this split becomes permanent, PiS may lose its absolute majority of votes. Clearly the ongoing political crisis in Poland has entered a new and uncertain phase.
Before You Go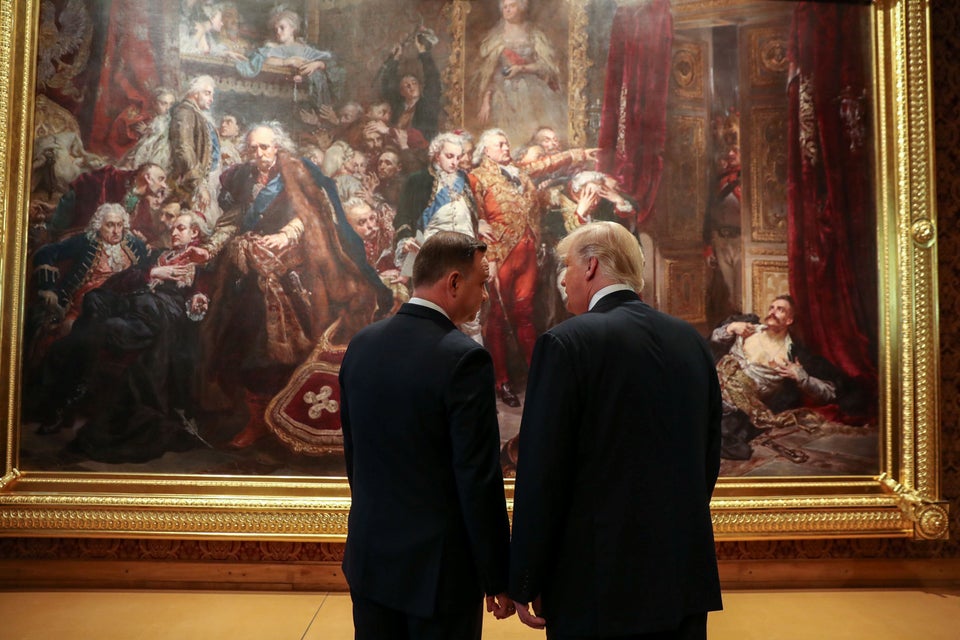 Trump's Poland Visit
Popular in the Community