UPDATE: Nov. 18 ― A viral video of a polar bear petting and nuzzling a chained canine at a sled dog sanctuary in Manitoba, Canada on Saturday was not as sweet as it seemed.
After the video went viral this week, it was discovered yesterday that a polar bear killed and ate one of the sled dogs at the Mile 5 Dog Sanctuary. It's unclear if it was the same dog seen in the video.
CBC News reports that Brian Ladoon, who owns the property and runs the sanctuary, had been feeding the wild polar bears. The dog was killed when Ladoon reportedly did not leave food out for the bears one night last week.
He's accused of feeding polar bears, a violation of Manitoba's Endangered Species and Ecosystem Act.
"Conservation officers had to immobilize a bear in that area last week and move it to the holding facility because it killed one of his dogs," the spokesperson told CBC News.
"A mother and cub were also removed because there were allegations the bears were being fed and the females' behavior was becoming a concern."
Ladoon also told CBC that he takes "care of bears" and admitted he has been "charged with everything … under the book" in regard to his dogs.
Experts warn against feeding wild animals, especially carnivores like wolves and bears.
Jim Mamalis, a park warden supervisor at Yoho National Park in Canada, says the act is illegal and is dangerous to both humans and the animal. He told the Calgary Sun that feeding wild animal makes them comfortable around humans.
"They can become used to people and used to vehicles and comfortable beside the road, comfortable on the road and thinking of the road as a potential food source," he told the paper. "And down the road, as they become food conditioned, the next thing they do is start wandering into campgrounds ... breaking into people's coolers and ripping open tents, posing obvious danger to people."
The cuteness factor in this video is pretty un-bear-able.
A polar bear was caught on film petting and nuzzling a sled dog in Manitoba, Canada, on Saturday.
David de Muelles was leading a bus tour for Northstar Tours and had parked near a sled dog sanctuary when he witnessed the unforgettable sight.
"This big bear had just woken up from a cat nap and stopped right by the dog," de Muelles told ABC News. "The bear then just started gracefully petting the dog like a human."
De Meulles, who was born and raised in the area, told CBC News he typically sees polar bears around, but he's never seen anything like this before.
"I've known the bears to have somewhat friendly behavior with the dogs," he told the outlet. "But for a bear to pet like a human would pet a dog is just mind-blowing."
Before You Go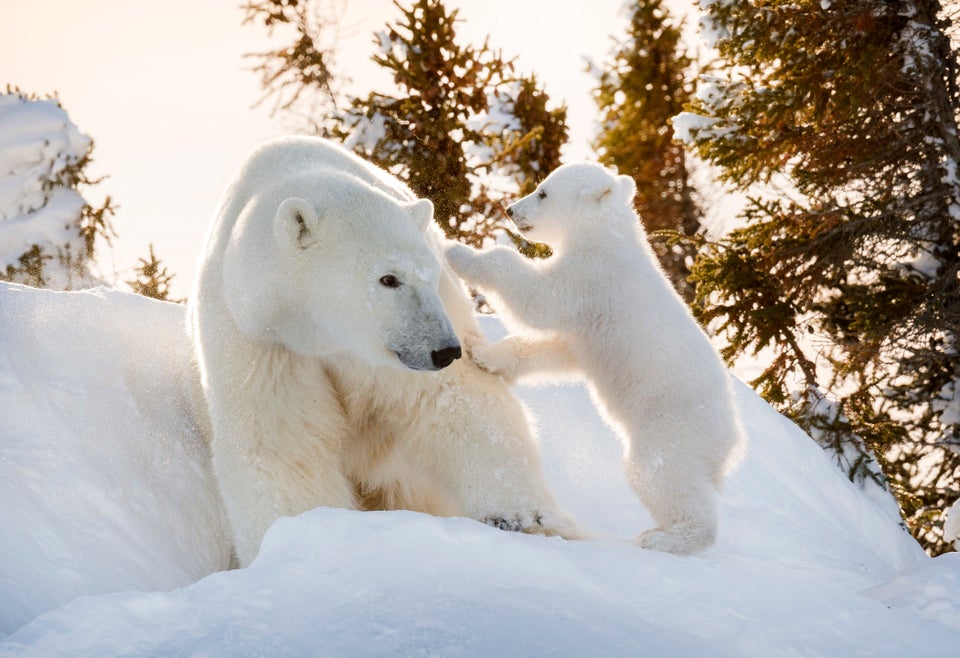 Polar Bear Steps Out For The First Time
Popular in the Community