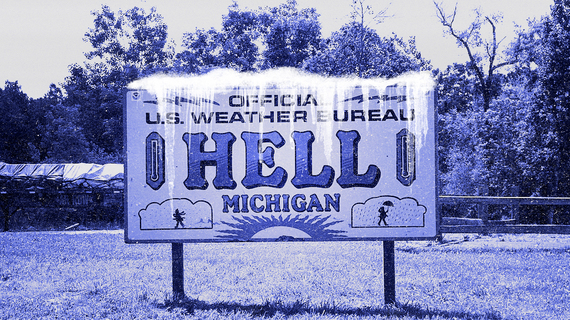 Hell has frozen over. Hell, Michigan that is. Hell is a charming little hamlet an hour outside Detroit, near Ann Arbor. Established in the 1840s, around the same time Michigan last experienced such hellish weather.
Hell was home to a sawmill, gristmill, distillery and tavern, all of which were owned and operated by George Reeves. 
Here's a few interesting facts about Hell:
Reeves was quite the entrepreneur. When the taxman came a-callin' he hid his whiskey in barrels and sunk them in a pond to hide them. 
In the game, Twisted Metal III, the demon Minion "wishes to spend eternity in Hell. In standard Twisted Metal fashion the wish is turned against him and he is sent to Hell, Michigan." 
The slasher-comedy, Santa's Slay takes place in Hell Township. 
Today, tourists visiting Hell have a chance to be the Mayor of Hell for a day.
---
REAL LIFE. REAL NEWS. REAL VOICES.
Help us tell more of the stories that matter from voices that too often remain unheard.