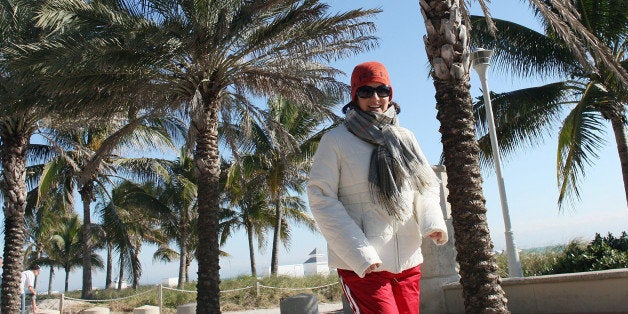 But for about 24 hours, we'll have to hold our tongues: the frigid "polar vortex" will bring chilly temps to South Florida Monday night, with overnight lows in the upper 40s.
That's still considerably warmer than the midwest, where the vortex -- a swirl of frigid moving over the North Pole sent south by the jetstream -- will send wind chills plummeting as low as -60 degrees, with snow hobbling major cities. And it's better than shivering in neighboring Georgia and Alabama, where Tuesday's highs may not even reach double digits.
But Miami being Miami, expect panicked locals and Lincoln Roaders to be wearing every single article of winter clothing available: Monday's high of 81 will at night give way to a blast of cold air bringing a low of 49, according to the National Weather Service.
Though Tuesday should see a high near 62, the wind chill means it could feel as low as 43 when you wake up Tuesday morning.
By Wednesday, things should be back to normal for the Magic City: NWS forecasters predict it'll be partly sunny, with a high near 74. So we're still on top! Only now with one day for sweaters.