When most people hear pole dancing, their minds immediately jump to images of a seedy underworld complete with stripper heels, drunk old men and "downtrodden" young women. So when myself and HuffPost reporter Laura Stampler decided to try out a pole dancing workout class for HuffPost Healthy Living's "We Tried It" series, you can imagine some of the reactions we received from those around us -- as well as our own slight discomfort.
"I wonder if the instructor will be a former stripper ..." "Did they make you wear high heels?" "Were you totally embarrassed?" "I bet some of the girls only do this for their boyfriends." "Was there house music playing in the background the whole time?"
The blogosphere is full of pole dancing detractors, especially since a recent LivingSocial survey revealed that consumers were more likely to purchase a discounted pole dancing class than a discounted gym membership. A post on The Stir, entitled "You Shouldn't Quit the Gym for This Dirty Little Fantasy," epitomizes these sentiments: " ... I would choose [the gym] over gyrating my hips and slithering up and down a nasty stripper's pole any day of the week," writes the author.
Even Ryan Gosling's character in "Crazy, Stupid, Love" weighs in on the subject. "The war between the sexes is over. We won the second women started doing pole dancing for exercise," he declares.
To be honest, we too were fully prepared to feel uncomfortable. But to our surprise and delight, the Absolute Beginner Pole Class at SHOCKra Studio absolutely defied our preconceived notions.
First of all, SHOCKra Studio is the least intimidating place I've ever been. The studio itself has a very laid back vibe and feels immediately inclusive (with a tagline of "anyone can dance!" it seems only appropriate). We walked into a small studio that included eight poles, clad, not in stilettos and bustiers, but loose-fitting workout clothes and $2 Duane Reade headbands. Even though we rushed into the class a few minutes late (damn you, 6 train!) our instructor Keisha (pictured below) was all smiles -- and ready to get down to business.
When we asked her about the kind of clientele she saw in her classes, Keisha replied that it was quite diverse. She spoke animatedly about the 65-year-old woman in one of her six-week workshops who "does her thing." Keisha herself has been dancing since she was 8 years old, although she only took up the pole about six years ago.
The Workout
To begin with, it was a killer workout. Two days later every muscle in my body was still sore -- and it felt kind of great. For someone like myself who danced for over ten years but has been out of practice since the end of high school, Pole was actually a really fun way to combine my dancer sensibilities with some new skills. The class began with some hip, shoulder and chest isolations as well as 15 solid minutes of core exercises. After the warm-up I was already grinning from ear to ear.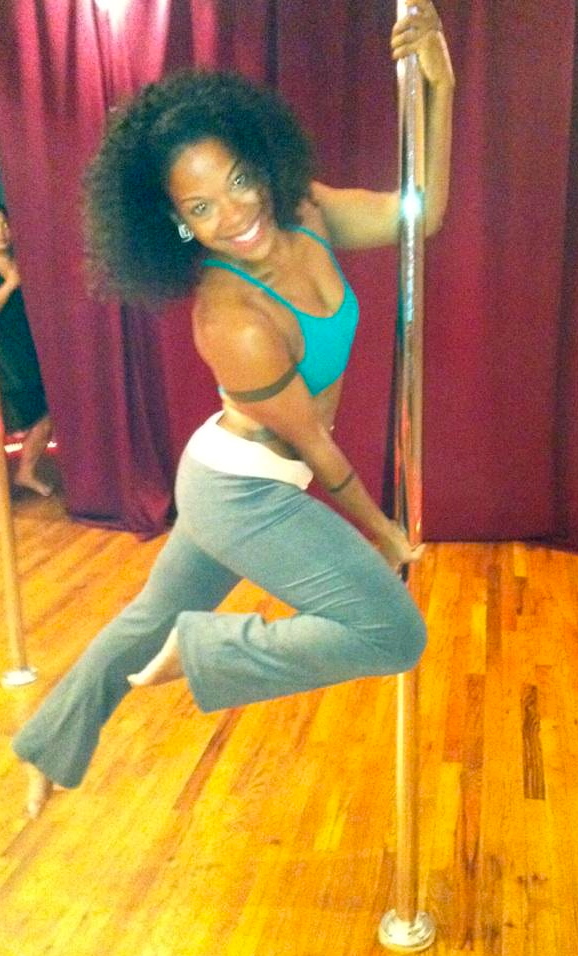 After we were good and warmed up, Keisha began teaching us some simple choreography. We learned how to walk in proper form around the pole, do some well-timed body rolls and even a few spins. Every move had a fantastically silly name, from the quintessential "fireman" spin to the one-leg-out "martini" spin (any move named after a cocktail sounded good to us).
Since the class only consisted of Keisha, myself, Laura and one other woman, there was no need to feel self-conscious or competitive. (Besides, we were all too busy worrying about the placement of our hands and feet to even look at how the other two were performing.) The choreography was fairly low-impact but each part of it still managed to work our legs, abs and arms. As I was dancing my pants off -- and I don't mean that literally -- I was having a lot of fun and even felt at times (dare I say it?) sexy. Laura and I spent the class making eye contact every few minutes, mouthing "I love this!" to each other in surprise.
After we had the routine down and Keisha had kindly reassured us that we were by far not her worst beginner group, it was time to attempt the seemingly impossible ... climb the pole. After a moment of panic in which I had a flashback to my disastrous attempts at climbing the rope in elementary school gym class, I followed Keisha's instructions and voilá! -- I actually got up there with ease! Both Laura and I even managed to do the slightly more complicated "champagne" spin dismount.
Honestly, the only negative we could pick out about this workout was what Keisha termed "pole burn" -- and it is no joke. Luckily I made it out with only minimal bruising and some very sore muscles. (Laura fared slightly worse.) Though Keisha assured us that over time your skin adjusts to the pole, this may be important to consider if you decide to do this as a bachelorette party activity -- which the studio advertises on their class material. While we love this idea for a bachelorette party event, the bride-to-be might not want to sport bruised thighs in all of her honeymoon photos.
The Takeaway
Even with our bruises and tender muscles, we had a blast. After the class we wondered aloud where we would practice our newfound skills. "Maybe on the subway?" we quipped. Although it's unlikely that you'll see us spinning around an NYC subway car anytime soon (at least during peak hours), we -- and our muscles -- will always take pride in being able to do "the champagne."
Below are some photographs of more advanced pole dancing classes at SHOCKra Studio: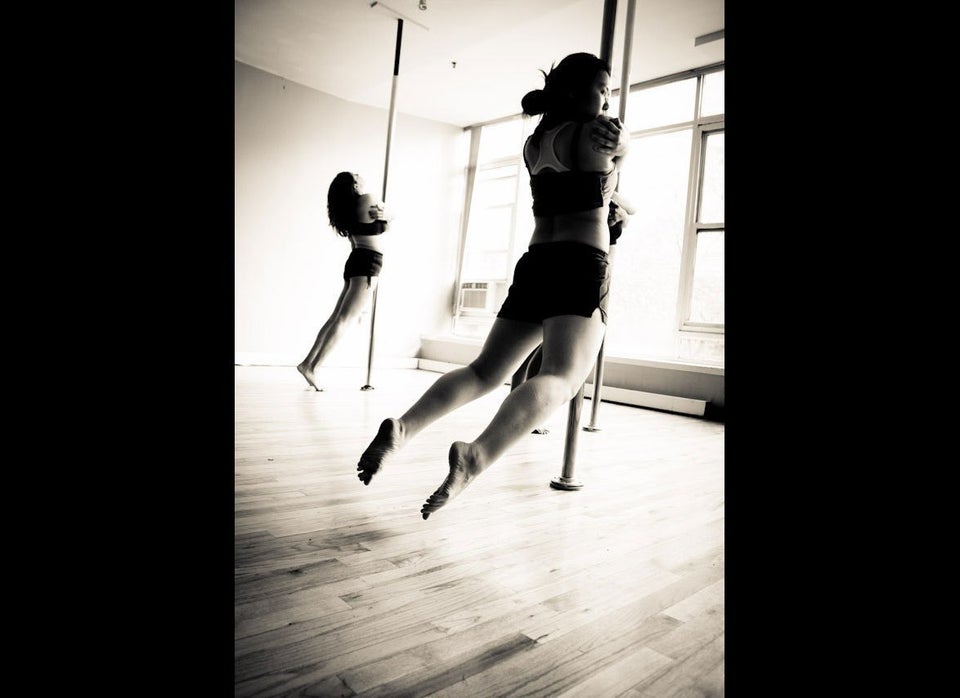 If you too want to learn the art of the martini, fireman and champagne, there are a number of studios that offer Pole workout classes. We went to SHOCKra Studio in New York City's Gramercy neighborhood. Some other big names in the Pole Dancing world include The S Factor, New York Pole Dancing and Body & Pole. A simple Google search should turn up studios in your area.