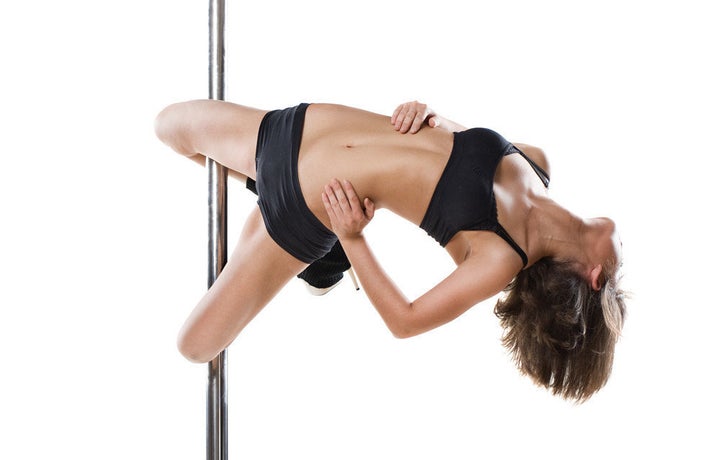 She bends forward, her long, silky platinum blond hair falling in waves as she secures the strap of six-inch high heels around her ankle. Flattening her back, she gives her muscular legs and ample butt, barely contained by colorful boy-shorts, a deep stretch before hitting play on the remote control.
The beat of grinding rock music throbs from speakers as she struts across the room, the metal-tipped heels of clear-bottomed platform stilettos making determined clicks on the hardwood floor.
"Whoosh!" With a flick of the wrist, she swings shut the heavy curtain blocking the room's only window. Dark red velvet pools on the floor. No voyeurs allowed.
The class I've come to observe hasn't even started and I'm already awestruck that the instructor Jessalynn Medairy, world-renowned pole dancer and founder/owner of the award-winning Pole Pressure studios, can even walk in those shoes. I'd take a class for that alone. Nothing kills a look quicker than not being able to walk in your heels. But Jessalynn does more than walk in hers -- she twirls, kicks, straddles and hangs upside-down from a pole.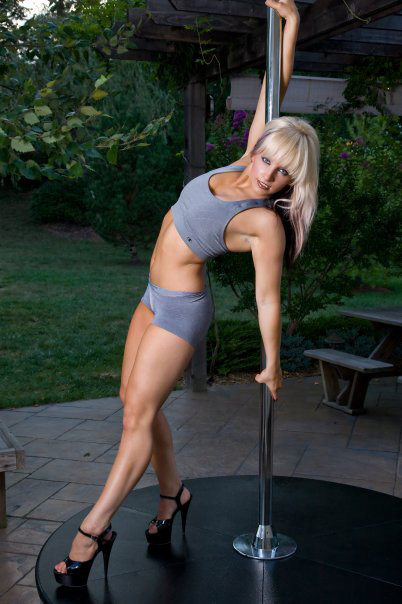 "We (at Pole Pressure) are telling you to free yourself," explains Jessalynn, "... free yourself from feeling put down, free yourself from feeling like you have to look like a magazine. We want you to be comfortable with you."
Her pole-dancing class is part workout and part erotic performance. Sexuality is integral to the class. So is a close shave. And it's one reason many women come to pole dancing -- to rediscover or to challenge preconceived notions of their sexuality. (The close shave is just a bonus.)
That's why Lisa Molinaro, a lean, bookish woman with glasses, is here. As a yoga teacher, the physicality of pole is within her comfort zone. It's the erotica that doesn't come so naturally.
"Where I do a lot of learning is watching myself move in a way that feels sexy to me. (I want to) totally embrace my sexiness for who I am and nobody else," shares Lisa. "Pole dancing has been such a positive challenge in that way. And that's why I really love Jessalynn's classes. Her warm-ups and routines all make me feel empowered and sexy which is hard to find in a pole instructor."
D.C-born Tiffany Kirkland, on the other hand, wanted to learn how to better seduce her boyfriend. But after eight months, she has shed 50 pounds along with her former perception of beauty.
"For me, it's no longer about being thin. Now I'm the girl with the muscles. It's about strength and dedication because you need both to learn pole dancing. Women feel empowered by this," she says, slipping into her sky-high heels.
Another student, Aida Asady, has studied many types of dance but pole is different.
"Well, for one thing, you're upside down on a pole," she jokes. Aida fell so hard for pole, figuratively, that she bought one of her own. I want to ask if installing a stripper pole requires a special permit, but she's too excited about sharing her turning point.
"Once I went upside down on the pole, I was hooked. All of us are hooked," she says, waving her hand toward her fellow dancers.
The women who fill the studio to capacity are diverse with varying body types. All wear skimpy gym shorts or bathing suit bottoms. Some are barefoot while others strap on their own stilettos. My feet encased in very sensible riding boots start to itch. Feeling self-conscious as the only one fully clothed, I hike up my tweed mini-skirt to show more thigh, a ridiculous attempt at solidarity. But the women are welcoming and don't mind my watching in the least.
They prepare for class by wiping down the metal floor-to-ceiling poles that stud the studio, sharing a bottle of Windex. There's great camaraderie among them. When one completes a Fireman Shimmy up the pole, a milestone reached, Jessalynn hands her a Sharpie so she can write her name at the top while the other women cheer. Gyrating hips into figure eights and making sexy head twirls, they give each other advice like "work it" and "stick your butt out more." Then they all face an intimidating expanse of mirror as Jessalynn begins.
"Push your butt up. Now knee bump in. Big arch with your back. Leg up. All the way up. And flat back down."
These moves resemble yoga. Except R-rated. And nobody is concerned about their cosmic oneness. (The Universe and I are good. But how does my ass look?) Pole dancing is more Old School than New Age. And athleticism aside, it is not completely divorced from its progenitor. Stripping. I realize this when a stretch evolves into a slow, spread-eagle kick in my general direction. Embarrassed, I study my notebook and ponder if "spread eagle" is hyphenated. The women are unfazed. Focused. Totally in their bodies.
"Pole dancing is all about body awareness," explains Jessalynn. "It teaches you to be very body aware. The laws of gravity do apply in the studio. So, if you're not aware, you're going to fall."
And as much as the pole is a partner in fighting gravity, keeping dancers up for spinning Fan Kicks and Cradle Spins, the mirror plays antagonist.
"I realize how important the mirror is when I go into an introductory class. They're new and there's an intimidation to seeing their body this way," she explains, adding that some pole studios don't install mirrors for that reason.
But these women face the mirror head on, completing an original routine choreographed for them. Before class ends, Jessalynn demonstrates a very cool move where she holds her body out from the pole and air walks back in, seemingly defying gravity. Not only does she look hot, she's able to give instructions while doing it. "Don't do this too fast or it looks goofy." Landing lightly back on terra firma, a challenge itself, she finishes the move without missing a beat. "Playboy Kick it down. Give a little head twirl. Don't hit your head on the pole."
With the squeaks of skin slipping on pole, everyone is sweating. It's a great workout. It's a chance to perform. To feel sexy. Powerful. And Jessalynn knows first-hand how dance can empower.
"I suffered terrible panic attacks in high school. Just awful," she confides. "I would get to school and throw up. I was so embarrassed and afraid. So, I'd cut all the time and almost dropped out. Then I found an after-school dance program. And that's how I got through high school."
Now at age 25, she has successfully combined her love of dance with a degree in business strategy to create Pole Pressure, a studio voted "Best Pole Fitness 2011" by CityPaper and "One of the Top Alternative Fitness Workouts in D.C. of 2011" by Washingtonian Magazine.
With class over, we sit on a modular white leather sofa outside her studio and talk about the empowerment issue. Jessalynn keeps it simple.
"I can't empower you. That just seems to happen naturally with this class," she says. "Some who come here have a lot going in their personal lives. Some may have had a bad day. You come in here... see a smiling face and just escape while getting a good workout. It's a world of welcome."
Those who want to judge pole dancing as skanky or to relegate it as a seedy sub-culture might be surprised to learn who in their social circle has taken a class at one of Pole Pressure's four locations.
"We get an amazingly diverse clientele," says Jessalynn. "In our downtown studios we see new people every day. Many international clients and younger women ... even some men. At our Cleveland Park location, it's mostly women who are a bit older. Many are mothers."
And when I finally ask about the connection to stripping, she's the first to admit that pole dancing may be uncomfortable for some.
"Pole is not for everyone. But nothing is," she says. "And taking a class once is enough to know if it's your thing or not."
It helps that her classes are so affordable. For a good workout, a lesson in body awareness or a chance to dirty dance in stripper shoes, $20 per class is a steal. The stilettos on the other hand ... those will cost you.
Calling all HuffPost superfans!
Sign up for membership to become a founding member and help shape HuffPost's next chapter