My career as a wildlife and travel filmmaker and photographer has taken me to many extreme environments over the last twenty-five years, some inhospitable and potentially dangerous. But now, with several decades of experience under my belt, I'm fortunate to find myself on some assignments which are certainly considerably more comfortable than camping on the Arctic ice, sharing a tent with three men for a month, as I once had to do on a previous shoot!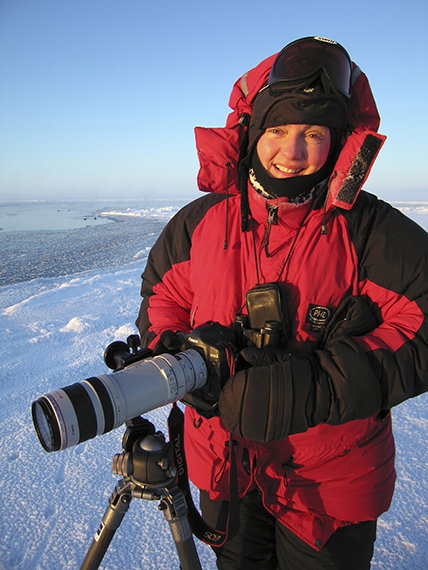 And so, instead of reluctantly tucking into a rather revolting pot of instant noodles in my tent for the umpteenth time that week, I find myself enjoying one of the most delicious and memorable meals I've experienced in the last five decades.
I close my eyes, slowly savouring the Inverurie hogget, Scottish lamb, which melts in my mouth, accompanied by a perfectly -matched Rioja. Delicious food, wine, surroundings and the man I love at my side. Perfection! I'm dining with my husband, Chris, at Michelin-starred restaurant "Number One" at The Balmoral, Edinburgh.
We are here in Scotland to join The Royal Scotsman, Belmond's iconic train, for a journey around the Scottish Highlands. It's a trip I've wanted to do for decades and it doesn't disappoint. We are thoroughly pampered, enjoying world-class food and service from the dedicated crew on board, sipping champagne in the observation car as the train travels through some of the most stunning scenery I've ever seen. Utter bliss! It's easy to forget just how beautiful some parts of the British Isles are when you live here, especially the western Highlands. I vow that I will return as soon as possible.
However, this luxury seems a distant memory as just three short weeks later my next assignment takes me to the Canadian high Arctic, to Baffin Island. Over the last 20 years I've been fortunate to have had many shoots in the Arctic and Antarctic. I love the polar regions and they were the basis for my first book Cold Places. Indeed, later this year I'll be camping in an emperor penguin colony to photograph what is surely the most photogenic creature on the planet, with the possible exception of George Clooney.
I slowly remove my eyeshade, only to be dazzled by the early morning sun streaming into my tent. I'm camping on the ice in Lancaster Sound, north of Baffin Island, in the Canadian high Arctic for the next few weeks. I'm here to photograph the region's stunning wildlife above and below the waves; Beluga whales, narwhals, and the bowhead, not only the Arctic's largest whale, but also the world's longest-living mammal - a bowhead can reach over 200 years old! And, of course, the marine mammal that is the King of the Arctic, Nanuq, the Polar Bear. No matter how many polar bears you are fortunate enough to see, the thrill is always there. The Inuit even have a special word for the excitement you experience when you see a bear.
During the last twenty years on assignment for various BBC Natural History Unit filming trips, I've spent many months camping in the Canadian High Arctic, privileged to live alongside the Inuit guides, without whom I'd be lost!
But this time is different. I'm returning to the Arctic in a very different place and state of mind from the last time I was here in 2006. Last time, I was very unhappily married . In the ten years since my last visit, I found the strength to leave my ex-husband, divorce him and move house (on the same day - not to be recommended). I sadly lost my mother to cancer, then remarried an old school friend last August. It's been an emotional rollercoaster, for sure.
This time, I'm returning to the Arctic as a much happier and calmer fifty-something and see things from a different perspective, ever grateful for the wonderful opportunities to explore this planet of ours, but with an enhanced sense of wonderment.
On my first night in Arctic Bay I visit Qapik, one of the most wonderful people I've ever met. She featured in a documentary I made for the BBC about 15 years ago, A Boy Among Polar Bears. She turns 96 later this month and I found her sitting sewing in her hut, looking just the same as when we last saw one another. It was thrilling to converse with her with the help of her daughter Kataisee, who was able to interpret from English to Inuktitut. Qapik reminded me how I'd brought her a gift of a thimble from my mother, specially chosen for her by my Mum as it had belonged to my great-grandmother who, like Qapik, was an incredible seamstress. A memory all the more poignant now that my mother is no longer here.
Whether it's champagne on ice in the Scottish Highlands or camping on Ice in the Canadian High Arctic, variety IS the spice of life and never a day goes by without my appreciating it. And now, in my fifties, as time seems to race by, I'm all the more aware of making the most of these opportunities while I can.
It's this diversity that makes my career so enjoyable, and I'm utterly privileged to be able to enjoy some once-in-a-lifetime experiences several times in a lifetime!
Carpe diem.