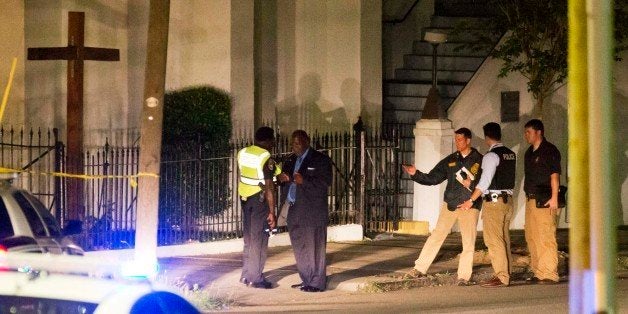 The suspected racially motivated massacre at Emanuel AME Church in Charleston, South Carolina by alleged shooter Dylann Roof drew shocked gasps, rage and a renewed focus on hate violence in the country. That's fine. But it doesn't focus on the continued greater danger. And that's that hate crimes, and especially crime violence, still remain grossly under-reported and prosecuted.
The Department of Justice's Bureau of Justice Statistics tracked hate crime reporting and violence from 2003 to 2011. Its findings were appalling. It found that a huge portion of hate crimes are never reported to law enforcement. It found that a significant number of the hate crimes that are both reported and un-reported have resulted in serious injury or death to the victims. In fact, the study found that victims of hate violence are more likely to be injured than victims of ordinary crimes of violence.
The even greater problem is that often when hate crimes are reported as such the perpetrators often evade full punishment. This has nothing to do with the First Amendment, but rather muddled, confused, and outright lax enforcement and prosecution of hate acts. Even when the FBI and local law enforcement agencies ID individuals for their propensity for violence their hands are still tied.
Federal prosecutors are often loath to step on the toes of police and prosecutors in criminal cases no matter how badly the crime is tainted by race, gender or religious hatred. Federal prosecutors flatly say that the hate perpetrators are more likely to be convicted and get stiff sentences in state court. This makes good legal and political sense -- if they're prosecuted locally and, if there's a hate crime enhancement which is far from assured.
Yet, that's not the only reason for their hands off of many hate criminals. Except in the highest profile cases, they see these prosecutions as no-win cases with little political gain, and the risk of making enemies of local police, DAs and state officials. Hate crimes may be horrific but they are largely seen as common crimes and are treated as such. Few state prosecutors will chance inflaming racial passions and hatreds by slapping a hate crime tag on a case except in the most heinous and high-profile cases.
There's also the belief that hate crimes are mostly a thing of the past. When they do occur, they are isolated acts committed by a handful of quacks, and unreconstructed bigots, and that state authorities vigorously report and prosecute the perpetrators of these crimes. This is a myth.
When Congress passed the Hate Crimes Statistics Act of 1990, it compelled the FBI to collect figures on hate violence. But, it did not compel police agencies to report them. Record keeping on hate crimes is still left up to the discretion of local police chiefs and city officials. Many police departments still refuse to report hate crimes, or to label crimes in which gays, Jews and minorities are targeted because of race, religion or sexual preference as hate crimes. Still other police departments don't bother compiling them because they regard hate crimes as a politically loaded minefield that can tarnish their image and create even more political friction. The official indifference by many police agencies to hate crimes prevents federal officials, even if they wanted to more aggressively enforce civil rights laws, from accurately gauging the magnitude of civil rights violence.
This problem has bedeviled the FBI over the years. So much so that the Bureau of Justice study found that the real numbers of hate crimes nationally are a staggering 25 to 40 times higher than the FBI totals.
The slaying of nine innocents at the Emmanuel AME church allegedly by Roof almost certainly will be classified as and prosecuted as a racially motivated hate crime. It is simply too shocking not to treat it as such. However, this will still be the rare exception. This laxity allows just enough space for the Roofs of America to run loose.
Calling all HuffPost superfans!
Sign up for membership to become a founding member and help shape HuffPost's next chapter