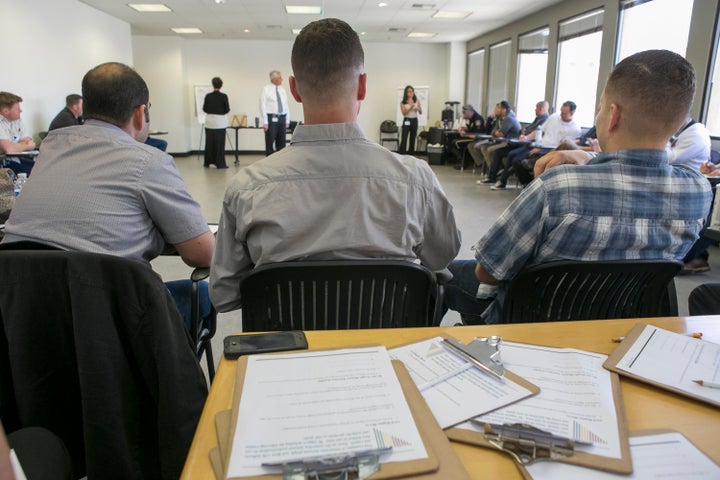 Lorie Fridell is an incredibly busy woman.
An associate professor of criminology at the University of South Florida, Fridell is the mastermind of an in-demand training program for police departments looking to address their officers' implicit biases and unconscious sources of prejudiced behavior.
In recent months, Fridell has been fielding more inquiries than ever before -- at least once a day -- from departments across the United States and Canada. To date, the trainings, which are partially funded by the Department of Justice, have reached about 350 different agencies. Among them, departments in Detroit, Philadelphia, Milwaukee and Baltimore.
The surging interest in her program, which is titled Fair and Impartial Training, has left her scrambling to train more instructors so that she can keep up with the demand. Right now, 11 trainers -- all of whom are either current officers working during their vacation time or retired officers -- are facilitating the trainings, while many others are still in the process of trying out to land a spot on the team.
"There's a lot of chiefs and sheriffs looking for answers and their quest for answers has increased," Fridell told The Huffington Post. "They identified that this seems to be the model that makes the most sense."
Following the high-profile incidents of police-involved killings of black males in Ferguson, Missouri, as well as New York, Cleveland and elsewhere -- and the continued impact of the Black Lives Matter movement -- the call for improved, less biased policing in the U.S. continues to be heard.
Many communities have lost faith in the police entirely. A Gallup poll released this summer found that Americans' trust in the police has hit a 22-year low and communities of color remain particularly leery of law enforcement officers. Programs like Fridell's have been touted by some as a promising step departments can take toward regaining that trust.
The trainings offered by Fridell's group are intended to help police personnel understand the nature of their unconscious biases and how they can impact their policing. They also introduce tools to help officers recognize their biases and modify their behavioral responses to them in the interest of policing their communities more fairly.
But does it work? Fridell admits the majority of participants are "somewhere between defensive and hostile" to begin with, though she believes they "make the sale" with about 95 percent of those who take part, based on responses to the evaluations trainers distribute at the end of each session.
"There are absolutely people who won't buy it, that 5 percent. I have nothing more to say to them than what we say in the training: 'This is you, these are your biases, this is science and this is what you need to do,'" Fridell said. "We also get comments like they came into the training kicking and screaming and now they wonder why they didn't get the training 20 years ago. That, to me, shows a transformation."
Despite Fridell's confidence in the program, there isn't any evidence that it is having a real impact noted Joshua Correll, a University of Colorado psychology professor specializing in the study of bias. The trainings, he said, simply have not been tested in any significant way.
"I don't necessarily question that [these departments] want to do the right thing, but I think there is a reasonable concern about these trainings and their real potential to undo bias or erase bias," Correll told HuffPost.
Tony Greenwald, a psychology professor at the University of Washington and the principal investigator at Harvard University's Project Implicit, agrees that it is "plausible" Fridell's and other similar police trainings accomplish nothing at all. As police departments have rarely been transparent about the trainings they are undergoing and what changes they may inform, he remains suspicious.
"These [biases] are things that are very long-ingrained and I think the secret in trying to deal with this is figuring out how to live with them and prevent them from interfering with doing proper work in a police setting," Greenwald said. "There's lots of talk but very little action about police operating more in the public eye."
While Correll said that biases can prove malleable in a laboratory setting, they can return just as quickly outside of the controlled environments of trainings and workshops.
"Just as they can be changed or temporarily erased in the lab, they can be rebuilt in society, in a real world that rebuilds stereotypical affiliations," Correll added. "And guess what? The bias comes back, like they were never touched."
Biases are particularly prone to return in stressful situations, such as a police officer being engaged in a potentially life-or-death encounter, and that setting could not be more different from that of a lab.
Correll doubts anyone will take the time to figure out how to bridge that gap, because it would be time-consuming and expensive.
"If there were real political will from funding sources and from police departments, we could do this study to try and figure out which interventions work," he continued. "But it's an illogical approach to try to generalize from one population and one situation to a totally different one."
Given that there's little evidence that the trainings work, this raises the question of whether departments are genuinely interested in improving their policing -- particularly when it comes to communities of color -- or are simply looking for a public relations boost from media coverage of their efforts, to push back against recent criticisms.
Dennis Parker, director of the American Civil Liberties Union's racial justice program, told HuffPost he believes it's too early to tell what the impact of such trainings will be. He sees the issue of police biases as part of the much larger problem of "broken windows" policing as well as a lack of transparency and accountability among police departments.
A valid solution, Parker explained, would need to consider those other factors as well.
"It's a significant first step but it's a step that could lead to nowhere," Parker said. "This training is not like an inoculation you take once and you're protected for life from unconscious bias. The effort to deal with this has to be continuous and reinforced."
For her part, Fridell insists that the overwhelming majority of departments have a sincere interest in doing better and don't simply "need a check mark for their communities." She also argues that her training is not a cure-all when it comes to both abusive policing and explicit, racist biases, but is adamant we have to start somewhere.
"It takes a lot of work sometimes to break down those walls," she said.
Popular in the Community