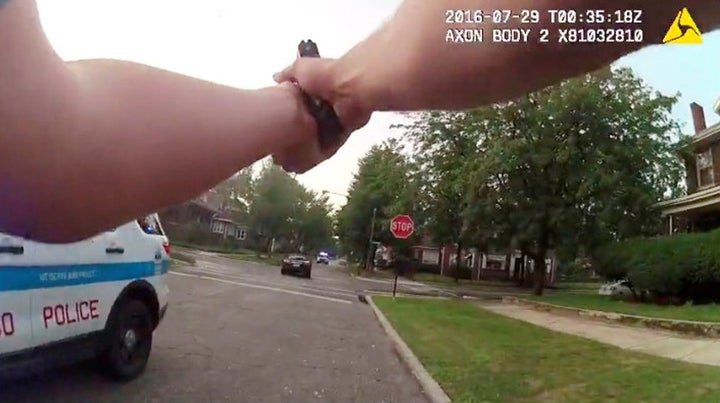 Police-worn body cameras were supposed to be the savior of transparency.
The police killings of Eric Garner and Michael Brown in 2014 led the Obama administration to push for body cameras at law enforcement agencies across the country. In the two years since, a U.S. Department of Justice program has handed out more than $40 million for that purpose ― a move that should, in theory, take the job of recording police activity out of civilians' hands and make officers more accountable.
The theory breaks down at every level. Lawmakers, police unions and officers themselves are working hard to make sure the public has limited, if any, access to that footage, even as more body cameras hit the streets.
Laws Keep Footage Away From The Public 
The problem starts with local and state legislators. Several jurisdictions that have adopted body camera laws have also passed laws that block the footage from public view.
Kansas showed us a prime example of how lawmakers can render body camera laws useless. Earlier this year, SB 18 ― a bill penned by Democratic state Sen. David Haley that requires all officers to wear body cameras ― was torn apart by a Republican-controlled state Senate and regurgitated as a substitute bill that would make all of that footage exempt from state open records law. SB 18 was later stricken because the legislature didn't hit certain deadlines during an election year.
Haley is vowing to try again with new-blood Democrats in the state Senate. But he still faces a huge roadblock: There's no golden standard for body camera law, and an ever-growing number of ways to skirt the laws already in place.
"Everyone agrees that there should be more functioning body cameras in appropriate circumstances in law enforcement," Haley told The Huffington Post. "But we have to identify a best practice for them. I haven't seen one. That's a problem."
[We as a nation] were a bit naive to think this would be a quick and easy process.

Jay Stanley, American Civil Liberties Union
Best practices are a must, because body cameras are inevitable. Recent statistics on how many departments use them nationwide are hard to come by. (A 2013 National Institute of Justice study found that 75 percent of departments did not use them, although that's changing.) Yet surveys conducted this year have found that a majority of departments plan to use them eventually, and police departments and citizens alike find them valuable.
The American Civil Liberties Union has released several reports with suggestions for best practices, arguing that police across the nation should expect all of their interactions with the public to be recorded. Still, the organization acknowledges that safeguards need to be in place for privacy. Incidents that both occur in public and involve a use of force should be made public in most cases, and laws outlining those cases would be easier to draft, experts say.
Body cameras are not a cure-all for the opacity surrounding many incidents of excessive and deadly force on the part of police, but when they're used correctly, they do help. Studies show that use of force among police officers equipped with body cameras can drop significantly ― in the case of police in Orlando, Florida, by 53 percent. Civilian complaints against officers plummet at a similar rate.
Officers Don't Always Use Body Cameras Correctly
In practice, though, it's nearly impossible to find a case in which a body camera law is passed unconditionally, footage is released in a timely manner, and officers, departments or lawmakers don't stand in the way of due process. Even when lawmakers don't render body cameras useless to the public by exempting footage from open records laws, nobody seems to know how to enforce their use among police officers.
In New York, officers have simply blown off a federal mandate that they wear body cameras. In 2013, a federal judge ordered the NYPD to establish a pilot program in several precincts to help curb illegal searches of black and Latino men. Three years later, exactly no one on the department's 35,800-officer force is wearing them, The New York Times reports.
Tulsa, Oklahoma received $600,000 of the $23 million doled out by the Department of Justice to start a body camera program, but the city hasn't yet purchased any cameras, AlterNet reports. Meanwhile, the city has had its share of controversy after police shot and killed Terence Crutcher, a 40-year-old black man, prompting a federal investigation.
Police unions, meanwhile, are demanding more cash if officers are forced to wear body cameras, citing higher stress levels and the complexity of the job when an officer is being monitored. Advocates for reform say that the unions are essentially holding accountability hostage and blocking a technology that should be fundamental to transparency.
To be sure, there are states that have "successfully" implemented the technology. But even when body cameras are on the street, police may only turn them on when the footage might help an officer in an investigation. As HuffPost's Nick Wing reports:
On Sept. 11, an officer in Washington, D.C., shot and killed Terrence Sterling, an unarmed 31-year-old black man who police claim intentionally rammed a cruiser with his motorcycle. Although the Metropolitan Police Department's patrol division is equipped with body cameras, the officer who fired that fatal shot didn't activate his device until after the shooting. The department has since released body camera video recorded by the officer, but it only shows unsuccessful attempts to revive Sterling. In that footage, eyewitnesses can be heard saying that Sterling "didn't do anything."
Publicly released videos of national police incidents can provide a more complete view of events than what's available in press conferences or police reports. In the August shooting of 18-year-old Paul O'Neal in Chicago, we saw proof that officers were scared of the devices that recorded their every move. Footage showed them agreeing to talk about the shooting off-camera or to turn cameras off completely, in clear violation of the department's own policy on recording.
We also got an admission from an officer that we may never have heard if the cameras weren't rolling: "When I approached … I didn't know if he was armed or not," an officer said of O'Neal, according to the Chicago Tribune.
The Chicago Police Department released the O'Neal tapes quickly in an effort to regain the public's trust. The department had delayed the release of video of 17-year-old Laquan McDonald's death, which led to mass protests and murder charges for an officer.
Recordings of incidents like these ― which occur in a public place and involve officers discharging a firearm ― are clearly a matter of public record. But it's still been difficult to ensure the full use and transparency of this footage.
"With body cameras, it's a battle. We always knew it'd be a battle, and [we as a nation] were a bit naive to think this would be a quick and easy process," said Jay Stanley, a senior policy analyst for the ACLU's speech, privacy and technology program.
Stanley does see a positive side to the controversy surrounding police body cameras, however. "The good news is, it's not a one-sided battle. It's really incredible, the extent to which these policy battles have become a significant part of the national discourse," he said. "The public cares, and there is a growing expectation that these incidents will be recorded."
As it stands now, though, our body camera programs aren't helping us the way we'd hoped.
Calling all HuffPost superfans!
Sign up for membership to become a founding member and help shape HuffPost's next chapter