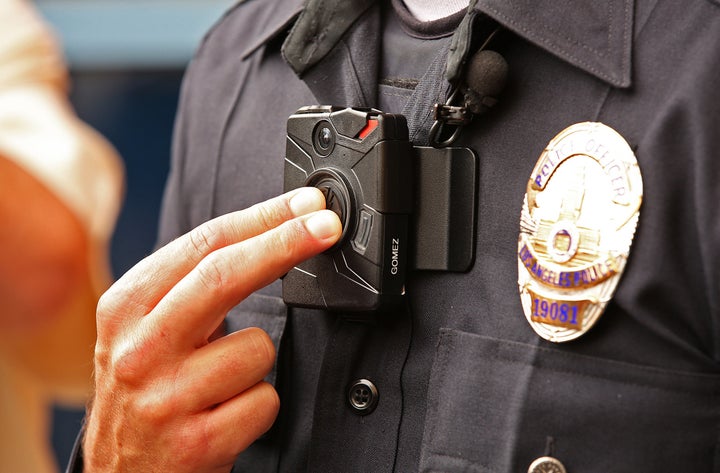 Officers involved in at least two controversial fatal police shootings this month failed to activate their body-worn cameras, leaving critical gaps in evidence that threaten to undermine the primary purpose of the devices.
Police in Charlotte, North Carolina, have come under fire for how they have handled video recordings related to the shooting death of Keith Lamont Scott, a 43-year-old black man killed by an officer on Sept. 20. The department's patrol division is equipped with body cameras, but its tactical division ― to which many of the involved officers belong ― is not.
At least one officer on the scene, although not the one who opened fire, was outfitted with a camera. The department later released the captured footage, which doesn't show the shooting and doesn't include audio of the events leading up to it. The officer was wearing a device that backtracks and saves a silent, 30-second portion of video once it's activated, so the footage suggests the officer didn't activate the camera until after the shots were fired.
The lack of clear documentation has contributed to ongoing disputes between Scott's family members, who say he was unarmed and clutching a book, and police, who say he was carrying a gun.
On Sept. 11, an officer in Washington, D.C., shot and killed Terrence Sterling, an unarmed 31-year-old black man who police claim intentionally rammed a cruiser with his motorcycle. Although the Metropolitan Police Department's patrol division is equipped with body cameras, the officer who fired that fatal shot didn't activate his device until after the shooting. The department has since released body camera video recorded by the officer, but it only shows unsuccessful attempts to revive Sterling. In that footage, eyewitnesses can be heard saying that Sterling "didn't do anything."
Body cameras have become a rare point of agreement between activists and law enforcement as routine police killings of civilians ― and disproportionately black men ― have created a push for transparency and accountability.
The U.S. Department of Justice has given out tens of millions of dollars in grants to help equip local police departments with the devices. Many cities are in various stages of developing body camera programs, which law enforcement and city officials say will help build trust between officers and the communities they police.
But crucial lapses like those in Charlotte and Washington are troubling reminders that body cameras can only provide a clearer picture of an incident if officers use them correctly. There have been numerous examples of police failing to meet these standards, either deliberately or due to possible mistakes.
"A rule without enforcement is as bad as not having a rule at all."
As more departments adopt body cameras, there will undoubtedly be more high-profile instances of noncompliance. And if their leaders don't adequately address these issues, they risk completely jeopardizing the integrity of these programs.
"The whole point of body cameras is that they're supposed to serve an oversight function, and if police officers are not turning them on or are free to turn them on when they feel like, they will not be serving that function," Jay Stanley, a senior policy analyst for the American Civil Liberties Union's speech, privacy and technology program, told The Huffington Post.
"If they're not helping with oversight, they're merely another surveillance device focused especially on communities of color," he added.
There is little evidence that police officials are taking an aggressive approach to discipline. A review of the police body camera policies in 17 of the 30 largest U.S. cities found that most departments have laid out detailed language about when officers are "required" to record incidents. But as of the end of last year, only Denver's agreement contained specific guidelines about how officers would be punished for violating these rules. Officers there must violate guidelines three times in a 12-month period to trigger a formal disciplinary case, and it remains to be seen if the penalties the department has established will be strong enough to deter bad behavior.
Most body camera policies, including those in Charlotte and Washington, don't mention discipline at all. A few include vague language about departments taking violations seriously, according to a policy scorecard of current programs. But overall, the matter is seemingly left up to the discretion of the officer's superiors ― a trend that concerns people who are skeptical that leaders in law enforcement are interested in holding their own officers accountable.
"A rule without enforcement is as bad as not having a rule at all," Stanley said. "Disciplinary action of some kind at least must be taken against officers who fail to follow recording rules or intentionally interfere with a camera."
Although the ACLU and other activists say it's essential for departments to show a commitment to cracking down on misconduct, figuring out exactly how to handle these sorts of policy violations is more difficult. There's no indication that the officers involved in the shootings of either Scott or Sterling intentionally avoided documenting the incidents, for example. They may have simply forgotten to turn on their cameras.
It remains to be seen how ― or if ― they'll be punished for their missteps. But there are legitimate extenuating factors that could make police wary of setting concrete standards for discipline.
"It's hard to say officers should definitely get punished if they don't turn it on ― there's limited storage capacity, for example, so some footage might not get recorded," said Phillip Atiba Goff, a professor at the John Jay College of Criminal Justice and president of the school's Center for Policing Equity.
And in the case of police-involved shootings, where officers may be responding to rapidly evolving situations, the considerations get even more complicated.
"In these critical incidents, police are always going to have a self-preservation argument, which is going to make it very difficult to hold them accountable," Goff said.
"It speaks to the culture of the police department that even when policies and procedures are put in place, that they feel they don't have to follow them."
Officials will get better at determining the difference between intentional tampering and tactical errors as body camera programs evolve, Goff hopes. Refining that process may make it easier to lay out guidelines for appropriate sanctions or remediation.
But in cities like Charlotte, where taxpayers are already on the hook for the millions of dollars and thousands of hours that have been spent equipping and training officers with body cameras, not everyone is willing to be patient.
"It speaks to the culture of the police department that even when policies and procedures are put in place, that they feel they don't have to follow them," Corine Mack, president of the Charlotte NAACP chapter, recently told the Associated Press. "People want to know why we don't trust the police department?"
Like many proposals surrounding police accountability, body cameras won't succeed without a department-wide commitment to building public trust through voluntary actions ― in this case, activating the devices at the proper time. And if we want body cameras to be more than just fancy new toys, we'll have to pay close attention to the policies that govern their use.
"We've been focusing a lot on giving police things, but not so much on how they're actually going to use them," Goff said.
Popular in the Community