WASHINGTON -- Americans overwhelmingly support equipping police officers with body cameras. Police reform advocates and law enforcement officials say such cameras can deter cops from using unnecessary force and protect them from false abuse complaints. But in most major cities, you're still not likely to run into a cop wearing a body cam.
The Huffington Post analyzed police departments in 27 large U.S. cities and found that only two -- Albuquerque and New Orleans -- have finished equipping their officers with body cameras. Most are waiting for funding, comparing different devices or testing the use of cameras with a small portion of their officers.
The infographic below shows where all 27 cities stands on body cameras. Those that have initiated but not completely rolled out their programs vary widely. Some, including Seattle and Minneapolis, hope to have their departments fully outfitted in the next year. Others, including New York City and Chicago, are making progress but have less concrete timetables.
Body cameras create a record of interactions between officers and civilians, which is supposed to keep both parties honest. The idea is that police will be more wary of engaging in potential misconduct, while everybody else will be less likely to mistreat officers or make false claims. And unlike dashboard cameras, body cameras move with the officer away from the vehicle.
Initial studies on smaller police forces, which are out front on purchasing body cameras, have been positive. They show that use of force by cops and complaints from citizens both drop after officers start wearing body cameras.
One agency that's now implementing a pilot program is the Arlington Police Department in Texas, where Christian Taylor, an unarmed black 19-year-old who had broken into a car dealership, was shot and killed this month by a white police officer. The rookie cop was not wearing a body camera.
It's impossible to know if footage of that encounter would have helped a prosecutor decide whether to pursue charges against the now-former officer. Advocates for body cameras acknowledge that the devices don't necessarily catch every encounter in detail. Even when they do, prosecutors and the public may come to different conclusions about what the footage shows. But without body camera evidence, a Texas district attorney -- and possibly a grand jury -- will have to rely on the police narrative in considering what happened to Taylor in his final moments.
Once officers have been issued the devices, they still have to use them.
Last year, in a report alleging excessive force at the Albuquerque Police Department, the U.S. Department of Justice found that the cameras were used inconsistently. The federal investigators found that the cameras "appeared [to be] directed only at placating public criticism" and that the Albuquerque top brass had failed to ensure the support of rank-and-file cops. (Tanner Tixier, a spokesman for the Albuquerque department, said that after several modifications, the current policy was under review by federal monitors.)
In New Orleans, the police department started issuing body cameras to officers in April of last year. But last fall, a federal monitor, put in a place under a separate 2012 consent decree (which had ordered greater use of dashcams), reviewed a sample of cases where cops used force and found that in only 34 percent of those cases did the record show the event had been filmed.
Tyler Gamble, a spokesman for the New Orleans Police Department, said that the federal review took place before the body cameras were fully in use. At present, the officers who respond to calls for service -- but not, say, detectives -- wear them.
"We have addressed issues on a case-by-case basis through additional training and discipline when warranted," Gamble said. He noted that the department introduced new activity sheets where the officers document whether they are wearing a working body camera.
In Denver, an independent monitor's review of a six-month pilot program found that many officers equipped with cameras still failed to record incidents in which they used force. At the time of the report in March, police officials wouldn't clarify if those failures were a result of policy violations or faulty equipment.
When a St. Louis police officer shot and killed a black teenager late last year, the officer had been issued a body camera but wasn't wearing it.
Critics say some cities are moving too slowly on body cameras. In Baltimore, for example, the city council passed a bill in 2014 that required the police department to equip all of its 2,800 officers with body cameras within a year, but the mayor vetoed that measure. She cited concerns about funding and released her own plan, creating a task force to study the issue. A limited pilot program is not set to begin until October, and the mayor has said it could be four years before all cops are wearing cameras.
Other cities and police departments are grappling with the costs of body camera programs. The cameras typically run from $200 to $1,000 each, depending on the manufacturer. The expense adds up when a city needs to buy hundreds or thousands of cameras to outfit an entire police department.
Then there's the cost of storing the footage the cameras capture. Many cities are working out data management contracts with outside vendors, which can run to millions of dollars per year, depending on the size of the force.
In Indianapolis, a pilot program ended last month. Although law enforcement officials said they supported the cameras, they were unsure whether they could get the cash to continue the program, the Indianapolis Star reported. In Washington, D.C., the mayor's plan to provide the entire police force with body cameras stalled earlier this year after the city council cut funds to the program, providing only enough money to equip about half of the officers.
To address these kinds of problems, the Obama administration announced in May that it would provide $20 million to local police departments for body cameras and training. Congress has been slow to address the issue.
Step by step, America is moving toward wider use of body cameras across the country. But with many cities still years away from equipping every officer, we'll likely continue to see controversial incidents in which the story rests on a police officer's word.
Infographic by Alissa Scheller. Additional reporting by Dayana Morales Gomez and Dhyana Taylor.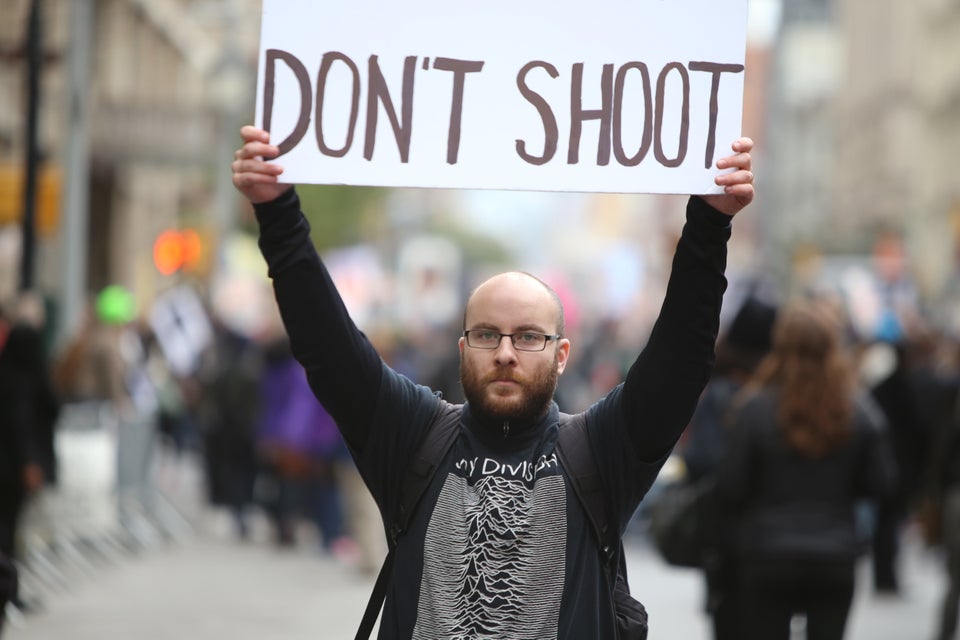 Police Brutality
Popular in the Community