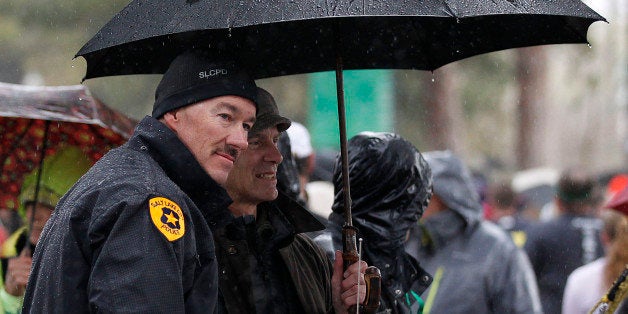 Salt Lake City Police Chief Chris Burbank has resigned amid a clash with the city's mayor over Burbank's handling of a subordinate's alleged sexual harassment.
Burbank said Thursday that he chose to quit after being told he would need to publicly read a prewritten apology from the mayor's office about his handling of a harassment scandal to avoid being fired. He said Mayor Ralph Becker, a Democrat up for reelection, is politicking to get an edge against three campaign challengers at the expense of public safety.
"When we found out about [the harassment in 2013], it was dealt with appropriately," Burbank told reporters outside police headquarters. "This decision is not in the best interests of the public. It's election politics and it's extremely unfortunate."
Becker said Thursday that Burbank didn't follow his instructions to demote Deputy Chief Rick Findlay, who's been accused of harassing three women on the force, and institute more training to protect other officers from harassment.
Burbank said he placed Findlay on administrative leave when he heard of the allegations. He didn't demote him because he wanted him out of the workplace right away, he said. A demotion wouldn't have changed Findlay's retirement anyway, because those benefits are calculated based on the three highest paid years in an employee' tenure, he said.
Burbank's resignation comes as a surprise to the department and city. The Salt Lake Tribune named him "Utahn of the Year" in 2011. The Huffington Post reported in 2013 that Burbank is a model police chief, for his peaceful handling of the Occupy movement and other, more generic policing issues that are becoming more and more relevant today. Radley Balko reported then that:
Unconventional has been Burbank's modus operandi since he was appointed chief of police in 2006. Be it the drug war, immigration, or the handling of protests, Burbank's mantra to his officers is the same: Use the minimum amount of force necessary to resolve the situation. Or as Burbank puts it, "It's not can I do it, but should I do it?"


Salt Lake City Police Chief Chris Burbank speaks to Occupy Salt Lake protesters at Pioneer Park on Nov. 12, 2011

When it came time to evict the Occupy protesters in Pioneer Park, then, Burbank and his officers wore their standard, everyday uniforms, not riot gear, as police units in other cities had. Burbank also made sure he was first on the scene -- that the first person the protesters saw was the one with whom they had already had a conversation.

Most of the 200 protesters left voluntarily. Some took advantage of Burbank's offer to have his officers help with their belongings. Nineteen chose to be arrested. There was no violence, no rioting and little anger. And so as images of violent clashes between Occupiers and police in other cities made headlines across the country, in Utah, some Occupiers even praised Burbank for the way he had handled their eviction. It's one reason why the Salt Lake Tribune named Burbank its 2011 "Utahn of the Year."

"I just don't like the riot gear," Burbank says. "Some say not using it exposes my officers to a little bit more risk. That could be, but risk is part of the job. I'm just convinced that when we don riot gear, it says 'throw rocks and bottles at us.' It invites confrontation. Two-way communication and cooperation are what's important. If one side overreacts, then it all falls apart."
Mayor Becker told The Huffington Post on Friday that Burbank's resignation was necessary, but also a blow to the force and the city.
"I have the highest respect for him," Becker said. "In his orientation toward policing, community policing and building trust, his respect and advocacy for civil rights, and looking out for those who are facing misfortune. In many ways he's been a model of what our community and any community looks for in law enforcement."
Becker shot back at any allegation that he made the move as part of his mayoral bid, noting that he'd gotten more pressure to take action in the form of media reports of a discrimination lawsuit against the city.
"I believe in taking action timely, and then using my best judgement," he said. "This matter has risen to a ripeness now. I have taken action now, and it doesn't matter if it's an election year or a non-election year."
Attorney Ed Brass said last month that Officer Tiffany Commagere, Sgt. Robin Heiden and former Lt. Melody Gray intend to file a civil rights lawsuit against the city, Burbank and Findlay now that a deadline for the city to respond to their notice of claim has expired.
Findlay allegedly shared an image of Heiden and Gray in bikinis and a photo of a nude woman he claimed was Commagere, who denies such a photo existed. He was placed on paid leave in November 2013 amid an internal investigation and resigned in June 2014.
Union members representing Salt Lake City police officers told the Star Tribune that Burbank mishandled the investigation and made the right move by resigning. While some City Council members agree that the nine-year police chief should go, they said the mayor was "too little, too late" in pressuring him to resign. The incident and its fallout were, after all, in 2013.
Deputy Chief Mike Brown has been named interim chief. Burbank and Becker didn't immediately respond to calls for comment, though both planned on speaking to reporters later today.
Calling all HuffPost superfans!
Sign up for membership to become a founding member and help shape HuffPost's next chapter