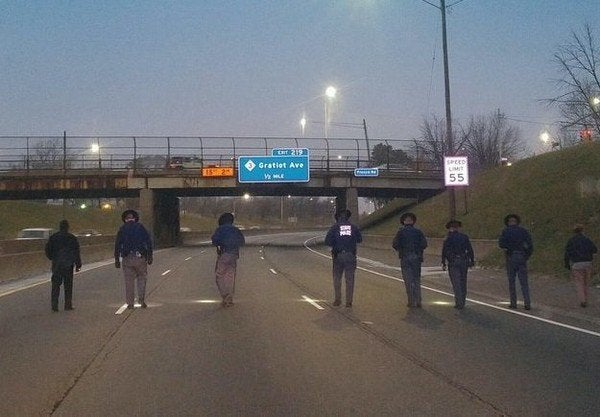 Michigan police say they've linked the individual or individuals who randomly shot at cars traveling on I-94 and I-96 in the Detroit area last week to a fourth shooting.
Investigators made the connection over the weekend, after a Southfield woman reported that her vehicle had been hit by a bullet or projectile on Dec. 7 while she was driving on I-94.
A Michigan State Police spokesperson said investigators believe the "four shootings are one single incident."
Investigators closed a five-mile stretch of I-94 on Monday morning to comb the highway lanes for evidence. It's not yet known if they found anything of interest.
Each of the shootings occurred during the early morning hours of Dec. 7, along a tangle of interstate highways.
Police say the drivers were lucky: A Chesterfield Township man who was shot in the leg while driving on I-94 was the only person known to sustain an injury. The victim told police he was heading westbound near Gratiot Avenue when an unknown vehicle pulled alongside him and opened fire.
Bullets or projectiles hit two other cars that morning along I-96, near Detroit's west side. One of those drivers told police he believed the shooter was inside a silver Impala that had pulled alongside his vehicle.
Currently, there is no known relationship between any of the victims.
Michigan police have been saturating the freeways where the shootings occurred, looking for suspicious activity. But there have been no additional shootings since Dec. 7
The case is somewhat reminiscent of a similar spate of shootings along Detroit-area highways in October 2012. In that case, Raulie Casteel, then 44, was arrested and ultimately convicted of terrorism after committing 23 shootings. Casteel is currently serving 18 to 40 years in prison.
Anyone with information about Thursday's shootings is asked to call Michigan State Police at (313) 237-2450.
REAL LIFE. REAL NEWS. REAL VOICES.
Help us tell more of the stories that matter from voices that too often remain unheard.
BEFORE YOU GO