 WASHINGTON -- The fatal shooting of a man by police on Tuesday near St. Louis kept the spotlight on law enforcement's use of deadly force, as protests continue in nearby Ferguson over the police shooting death of teenager Michael Brown.
The two shootings bear little resemblance to one another. Brown was an unarmed teen who, according to eyewitnesses, was trying to surrender when a police officer shot him at least six times. The man killed on Tuesday, whose name hasn't been released, was wielding a knife, according to police. When he refused officers' orders to put down his weapon and walked toward them, they shot him to death, police said.
As tensions continue to flare over Brown's death, many question the circumstances under which the law justifies a police officer's use of deadly force. When faced with a perceived threat, why is it that many officers shoot to kill, rather than simply to wound?
Members of law enforcement are legally permitted to use deadly force when they have probable cause to believe that a suspect poses a threat of serious physical harm either to the officer or to others. In such cases, most officers are trained to shoot at a target's center mass, where there is a higher concentration of vital areas and major blood vessels, according to a report by the Force Science Institute, a research center that examines deadly force encounters.
John Firman, director of research, programs, and professional services at the International Association of Chiefs of Police, said that shooting at a limb is impractical. Aiming at an arms or legs, which move fast, could result in a misfire that fails to neutralize the threat and may even hit the wrong person, he said. "The likelihood of success is low."
"That's a Hollywood myth," Firman told The Huffington Post when asked why police officers don't tend to shoot people in the limbs. "In all policy everywhere on force in any law enforcement agency in America, the bottom line statement should read: If you feel sufficiently threatened or if lives are threatened and you feel the need that you must use lethal force, then you must take out the suspect."
Officers are trained to assess the risk before firing, Firman said, but often a situation escalates quickly. A guide from his association on officer-involved shootings states that deadly force is legally justified "to protect the officer or others from what is reasonably believed to be a threat of death or serious bodily harm; and to prevent the escape of a fleeing violent felon who the officer has probable cause to believe will pose a significant threat of death or serious physical injury to the officer or others."
The legal justification for deadly force by police is informed by the 1985 Supreme Court ruling in Tennessee v. Garner, in which a pair of police officers fatally shot a 15-year-old boy after he fled from a burglary. It turned out the boy had stolen a purse and just $10 from a house, and the Court ruled that a police officer may only use deadly force to prevent the escape of a violent felon.
Some law enforcement officials said the question of whether officers should shoot to wound or kill misses the point. Officers are often forced to make a split-second decision and are trained to try and deescalate the situation before firing.
Troy Church, a former police chief in Maiden, North Carolina, said officers are trained to shoot to stop a suspect who poses an imminent threat. "Can death result? Certainly it can," Church wrote in an email. "But you are not trained to kill."
Peter Jirasek, a retired police sergeant and criminal justice educator from Illinois, explained that the concept of shooting to wound would not hold up under Tennessee v. Garner. Jirasek said it's unfair to simply state that officers are trained to kill when lethal force is justified in some cases and discouraged in others by law.
"If you only seek to wound someone by shooting, you do not have justification to shoot at all," Jirasek said. "An attempt to shoot to wound all too often can end up in death. It does no good if a police officer says, 'I was just trying to wound and ended up killing somebody,' because that officer now faces criminal prosecution, not to mention a civil lawsuit. And the law will say the officer better be justified in using deadly force."
Jirasek added that tasers and bean bag rounds have been instituted as lesser forms of force if an officer needs to bring a suspect into compliance but has no reason to use deadly force.
This article was edited after publication to add additional context about the use of deadly force, and the headline was changed to reflect that context. Quotes were also added from Troy Church and Peter Jirasek.
Before You Go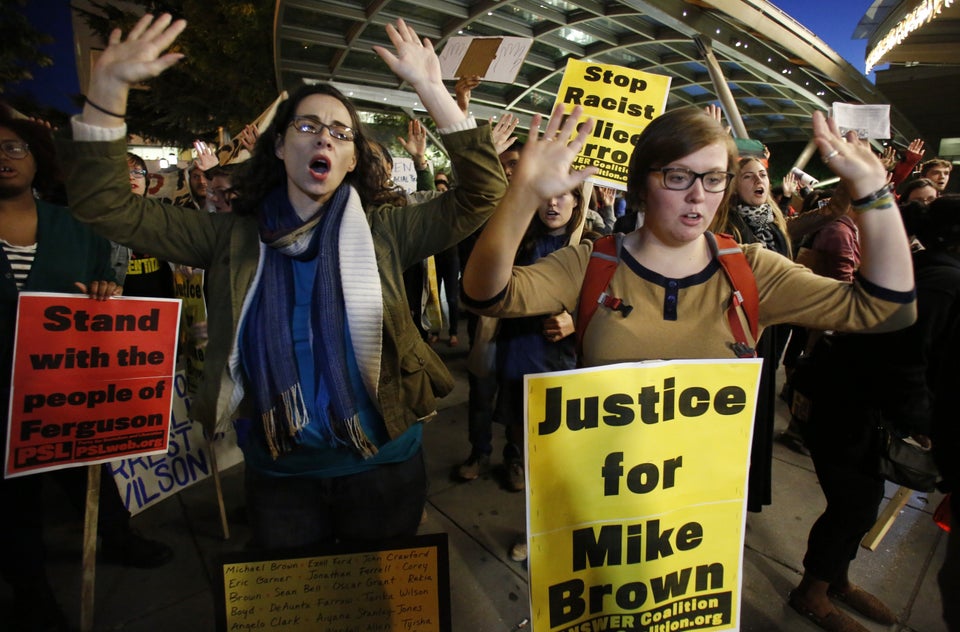 Ferguson
Popular in the Community