A retired police officer who sparked national sympathy and outrage when he learned his K-9 partner would be auctioned off may get to keep the dog after all -- under certain conditions.
Matt Hickey retired last week from the Marietta, Ohio, police force and was heartbroken when he found out that he would not be able to take his police dog, Ajax, with him. The dog lived at Hickey's home and spent every day with him for three years.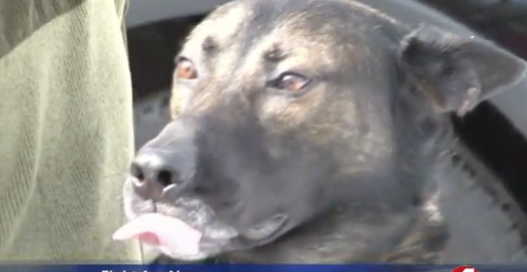 Because Ajax is too young for police dog retirement, Ohio state law says that by retiring, Hickey "forfeits the right" to purchase Ajax. City officials interpreted this to mean that Ajax would have to be sold at auction, where former and current officers, along with K-9 trainers, could bid on him.
"The dog is property of the city of Marietta," Marietta Law Director Paul Betram III told WBNS last week. "Because it is personal property, it is treated like a shovel. That's just the way it is."
Hickey would be allowed to bid at the auction, but feared someone might outbid him for his beloved dog.
"He's with me 24/7," Hickey told The Huffington Post. "He goes with me on my vacation; there's a tight bond. I'm his pack leader."
Hickey also noted that he wouldn't mind turning Ajax over to the care of another responsible officer on the Marietta police force, but he doesn't want to see the dog sold at auction to a less certain future. 
But Marietta Police Chief Rodney Hupp said at a Monday news conference that Hickey would be able to keep Ajax if he signed up to be an unpaid auxiliary officer, the Columbus Dispatch reports. When Ajax reaches K-9 retirement age, Hickey would then be able to buy him from the department for $1.
Officials from the Marietta Police Department were not immediately available to comment on what duties being an auxiliary officer would entail for Hickey.
Hupp also said that he already extended the auxiliary offer to Hickey last week -- before the story made national news -- but Hickey told local news station NBC4 that Hupp never officially offered him the position.
"[Hupp] said, 'We'd look into it. Get back with ya.' Then never got back to me, they never said anything more," Hickey said. Marietta police did not respond to a request for comment.
Two days after the news conference, Hickey told HuffPost that he had still not received a formal offer, and that he doesn't know what his duties as an "auxillary officer" would entail. The Marietta Police Department currently does not have any other auxiliary officers that he knows of, he said. 
But Hickey also said he doesn't think the situation should have played out this way. "Officers throughout the state tell me [the city is] interpreting [the law] wrong," he said. He told the Dispatch he wants to see the state law about police dogs changed.
In case the auction does occur after all, a GoFundMe account has raised over $70,000 that Hickey can use to bid on Ajax. Any excess funds will go toward purchasing bulletproof vests for police dogs. The account was created by Corey Orr, a Marietta resident who told HuffPost he learned of Hickey's situation through a mutual friend.
"I'm touched by everybody's support," Hickey said. "It's just way too much. After 34 years on the police department... you get jaded." 
This story has been updated with additional comments from Hickey and information about Orr and the GoFundMe account.
PHOTO GALLERY
Police Dogs In Action
Calling all HuffPost superfans!
Sign up for membership to become a founding member and help shape HuffPost's next chapter