People love dogs. Especially heroic dogs.
Well I assume even the cat loving people have a soft spot for stories of heroic canines saving the child at the bottom of the well, or being lost for years only to travel for 1000's of miles to return home to their loving owners. I assume cat lovers can appreciate this story (insert smiley face emoji).
This feature spot is not just about any heroic dogs. It's about public service dogs who are amongst the ranks in the Seattle Police Department. Jordan Stead of the Seattle PI, recently did an awesome photo story on these canines and I thought it would be awesome to share it with you here also.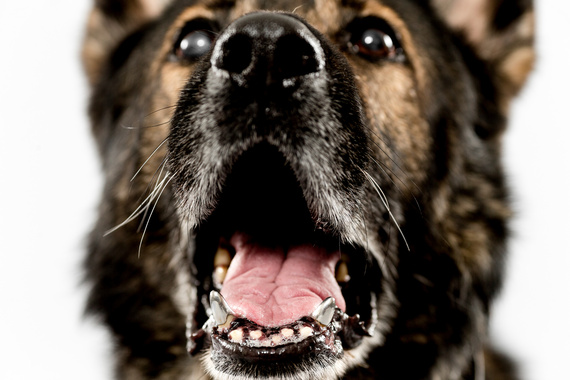 Tracking police dog Orka, age 8, has served seven years with the Seattle Police Department. Orka once tracked a North Precinct burglar over eight blocks of rough terrain. The suspect was caught and later convicted for 62 separate burglaries. Police Dog Orka has false canine teeth due to the wear and tear that his real canines took from his bad habit of gnawing on his kennel. Photographed Monday, May 11, 2015, in Seattle.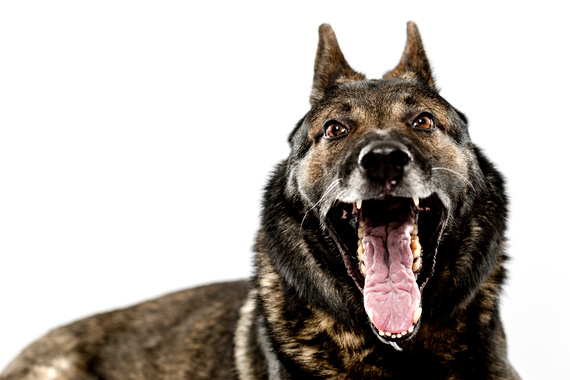 Tracking police dog Kosmo, age 6, serves with the Seattle Police Department. K-9 Officer J. Moyer, described meeting his dog: "Kosmo stood up and placed one paw on each of my shoulders. When I went to say hello, [Kosmo] put his tongue in my mouth and licked my face. I figured that was his way of telling me he was actually the one doing the choosing." Two days after Kosmo completed the basic training academy, he was asked to track a violent domestic-violence suspect who had jumped from the window of a second-story building to escape. Kosmo tracked through yards and over fences to an old dirty mattress pressed flat against a retaining wall. Knowing that no one could hide between a mattress and a wall unless they were as thin as a sheet of paper, his handler explained to his dog no one could be there and the track was ended and officers left. Ten minutes later the suspect returned to the crime scene and fled a second time. Kosmo again tracked through yards to the mattress. To prove to Kosmo no one could be there, his handler pulled the mattress away from the concrete retaining wall to reveal the suspect tucked into a large hole in the wall. Photographed Monday, May 11, 2015, in Seattle.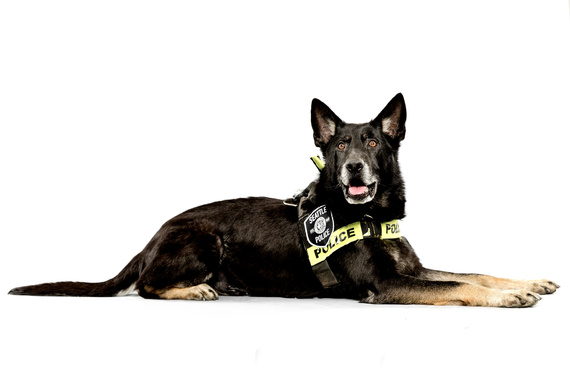 Tracking police dog Magnum, age 8, tracked down a child rapist who fled through a house. After clearing the building and overgrown yard, Magnum tracked the suspect several blocks away. The suspect had run to a dead-end street and was surprised when he was approached by officers and a police dog. Photographed Monday, May 11, 2015, in Seattle.
Buddies and K-9 coworkers Ziva, right, and Dennis, left, have long shared a bond, frequently making public appearances together. Photographed Monday, May 11, 2015, in Seattle.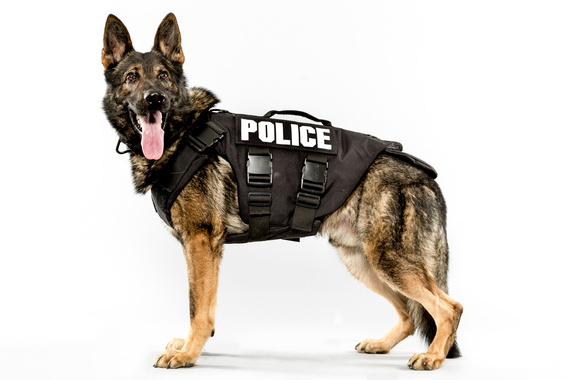 Tracking police dog Cerberus, age 3, serves with the Seattle Police Department. In his first field case after K-9 Academy, Cerberus chased a shooting suspect following a Washington State Patrol pursuit. Cerberus followed the suspect up a muddy, 60-degree, 300-foot hill. After climbing the bush-covered hill, the dog found the armed suspect, who was arrested. Cerberus sings along to the "O'Reilly Auto Parts" song every time it comes on the radio. Photographed Monday, May 11, 2015, in Seattle.
Jordan Stead is a staff photographer for SeattlePI.com, visual educator and avid fan of the Pacific Northwest region of the United States. He can be reached on his website or on Twitter & Instagram with the shared handle of @jordanbstead.
Calling all HuffPost superfans!
Sign up for membership to become a founding member and help shape HuffPost's next chapter