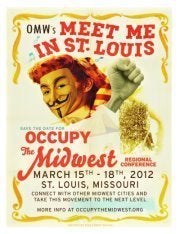 Activists in St. Louis for a national Occupy convention were arrested Thursday night while leaving a park where the city had denied permission for them to camp.
Some 600 people from all over the US are gathering in the midwest city for the second major national conference of the Occupy Wall Street movement. Scheduled events include workshops, discussions, general assemblies and a march to the famous Gateway Arch on the Mississippi River.
Organizers of the three-day Midwest Occupy Conference claim that conference participants were subjected to police brutality and that their First Amendment rights were violated when law enforcement officers with batons aggressively attacked a group of 150 demonstrators who were marching out of Compton Hill Reservoir Park at 10:48 p.m. on March 15.
Just 30 minutes earlier, Eddie Roth, the city's director of public safety, had informed marchers that they would not be allowed to remain in the park due to a city ordinance prohibiting use of the park without a permit. They were given until 10:30 p.m. to leave or be subjected to arrest.
At 10:48 p.m. witnesses say they observed police beating protesters with batons at Compton Hill Reservoir Park as the crowd was leaving the area. Organizers had already convinced the protesters to vacate the park and they were leading the majority of the people away when the police moved in aggressively and began making arrests. Observers watched as the law enforcement officers entered the march and started pushing demonstrators. There was shouting and chaos, then the acrid scent of pepper spray filled the air.
The activists report that police also used batons and tasers. They say at least two people were hospitalized as a result of the police actions.
Occupy St. Louis reports that 14 activists were arrested, some while crossing Grand Street. In most cases, people have been charged with "failure to comply" with the orders of a police officer, or they are being forced to pay a fine for violating the city park ordinance. Two persons are being charged with resisting arrest.
The conference organizers say their attempts to obtain a permit from the city through official channels had failed. Some of the conference attendees from out of town wanted to set up tents because they had been unable to secure housing during their visit to St. Louis. The St. Louis Police Department and city officials remained adamant that no camping would be allowed in any municipal park. The Mayor's Office offered to allow occupy movement participants to gather at a secluded park in another part of the city, but they would not be allowed to set up their tents.
One unidentified activist commented on the city's official position: "This is discrimination! We know that the city has given permits to other groups who have been allowed to stay in the park overnight and set up temporary structures. They just don't want us to be here, so they called in the police to intimidate us."
A 28 year old woman named Angel, from Iowa, said she had been at the park.
"In Des Moines we were able to win a court case against this kind of thing," she complained. "People should not be attacked and arrested for practicing their rights under the United States Constitution. It's outrageous that peaceful people are treated this way!"
In a press release posted on the Occupy Springfield, Illinois website, fellow occupiers stated: "Throughout the history of the Occupy Movement the state has tried to use violence to suppress our constitutional right to assemble in public space and voice our grievances. Time and time again we have been beaten, tear-gassed, tased. And time and time again we have stood strong and committed. We cannot be beaten down, we cannot be silenced....Occupy Springfield, IL denounces the St. Louis Police Department's use of violence."
Conference organizers say St. Louis police also confiscated tents and other personal property. A campaign has been organized on the Occupy The Midwest and Occupy St. Louis websites to offer housing and to replace some of the possessions lost by the people who had gathered at the park.
Police Chief Dan Isom maintains that their actions are in conformity with the municipal ordinance prohibiting camping or overnight events at city parks.
Occupy movement organizers say that Midwest Occupy Conference participants have not been deterred from attending any of the scheduled events. They say they are very excited about current national efforts to coordinate the Occupy Wall Street movement and they see this convention as another step towards establishing an effective, unified populist movement for social justice. Despite the occasional clashes with police, most of the occupiers say they are optimistic about their ability to change the future.
More national Occupy Wall Street movement conferences are scheduled for later this spring.
REAL LIFE. REAL NEWS. REAL VOICES.
Help us tell more of the stories that matter from voices that too often remain unheard.