After Oakland police Officer Miguel Masso shot and killed 18-year-old Alan Blueford last May, prosecutors quickly released their investigator's findings about the incident, amid a public outcry and a protest that shut down a City Council meeting.
In a city seething with distrust of law enforcement, legal experts and residents are now questioning District Attorney Nancy O'Malley's wisdom in assigning former Oakland police officers to the task.
"I would hope that they would look for somebody not for one side or the other – some impartial person that's not the police and not a community activist," said Blueford's father, Adam Blueford. "The prosecutor just kind of rubber stamps what the police said."
Foster's assignment was described as routine. It turns out that the practice of using former police officers to conduct investigations into shootings at their previous departments is widespread, according to a review of police prosecution records by the Center for Investigative Reporting, parent organization of California Watch.
The issue is all the more important now in Oakland, where the beleaguered police department is under court supervision. Last month, a federal judge appointed former Baltimore Police Commissioner Thomas Frazier to oversee the completion of an almost decadelong civil rights reform effort.
The city has seen two officer-involved shootings so far this month. After a witness mistakenly identified a 16-year-old boy as a robbery suspect, police said they perceived the boy as a threat and shot him in the jaw. Two days later, Oakland officers shot and wounded a burglary suspect who they said was brandishing a fake gun.
Prosecutors said they use former police officers for the investigations because they are best suited for the job, coming with years of training and experience. Other prosecutors and investigators said prior police employment wouldn't necessarily bias the investigation or outcome of a case.
O'Malley, Alameda County's district attorney, said her office provides a separate but thorough investigation of each fatal officer-involved shooting and dispatches a team that includes an experienced attorney and investigator. The attorney, not the investigator, writes the final report, she said.
As for the Blueford investigation, O'Malley said her office reviewed all available evidence and statements from more than 40 witnesses and determined that the case "did not exist to prove beyond a reasonable doubt that the officer involved committed a criminal offense." Foster declined to comment.
But legal ethicists say the use of former police officers creates an appearance of a conflict of interest that can erode public trust. And those ethicists say many ex-officers still have ties to their former departments, including a sense of allegiance to the "thin blue line" that can influence the subjective process of an investigation.
"Even though he might not want to be a policeman again, he still has an allegiance to the brotherhood," said Cornell University law professor Charles Wolfram. "If they're from the same department, that could create obvious problems."
Ten district attorney's offices in California contacted by the Center for Investigative Reporting said they use former officers for their police shooting inquiries. W. Scott Thorpe, chief executive officer of the California District Attorneys Association, called the practice "very common."
Some prosecutors, however, keep the identities of the investigators who work on police officer shootings secret – the public may never know about potential conflicts of interest in police shooting investigations, the CIR review found.
For Oakland residents, prosecutors' reports are one of the few sources of information about officer-involved shootings. Federal court-appointed monitors, in connection with the civil rights reform effort, have criticized the department's own investigations as biased and unquestioning. The department seldom releases copies of investigations and police reports on officer-involved shootings, even to the families of the individuals killed.
In Oakland, some officers have faced more shooting investigations than others. According to police records, in the past 12 years, more than half of the department's officer-involved shootings involved the same 20 officers.
In many cases, the investigations of some of the most shooting-prone officers showed potential conflicts of interest.
Frank Moschetti, a former Oakland police officer for 23 years, investigated a shooting case involving William Pappas, a SWAT team member responsible for three shootings, according to police records. In July 2010, he was among a group of officers who fatally shot a man wielding kitchen knives.
Also in 2010, Moschetti investigated Officers Omar Daza-Quiroz and Eriberto Perez-Angeles. The two officers, who were involved in the shooting death of a man in 2008, were responsible for the fatal shooting of Derrick Jones, an unarmed domestic violence suspect whose death spurred protests and an FBI investigation. He had led the two officers on a foot chase before ditching a marijuana scale that police mistook for a gun. His case is under review by the Department of Justice.
On April 1, both officers involved in the case were cleared of any wrongdoing in a federal civil trial filed by Jones' widow. The city already had paid a $225,000 settlement in a separate civil suit filed by his parents and daughter.
In 2011, three officers shot and killed a man wielding a fake firearm. After Foster completed his investigation, prosecutor John Creighton cleared the officers in Matthew Cicelski's death. Less than a year earlier, Creighton had received an endorsement from the Oakland Police Officers' Association during his unsuccessful run for superior court judge.
Deputy District Attorney Teresa Drenick called Foster and the other investigators professional and unbiased. If there is bias, Drenick said, the prosecutors who work alongside the investigators would intervene.
"The district attorney is there throughout the entire thing, everything," Drenick said. "They go as a pair to all of the interviews. And then the ultimate report that is done is written by the deputy district attorney."
Foster also investigated the shooting deaths of two alleged gang members in May 2011, relying in part on investigative materials collected by the Oakland Police Department. The officers involved were Capt. Ersie Joyner, who has five officer-involved shootings on his record (the most of any member of the department), and Officer Cesar Garcia, who has two.
To complete his investigation, Foster relied on evidence collected by Oakland police Sgt. Jim Rullamas, according to the prosecutor's report. Not mentioned was the fact that Joyner once oversaw Rullamas as head of the homicide division, praising the detective as hard working, according to one news report.
After the prosecutor's office cleared the officers of wrongdoing, some of the cases resulted in hefty civil settlements. Robert Roche, a longtime member of the department's SWAT team, has been involved in three shootings, including one that resulted in a $500,000 civil suit settlement.
Alameda County prosecutors provided the Center for Investigative Reporting with records on Oakland police officer shootings since 2000 that were proved justified and closed. Out of 23 fatal shooting cases, 10 were investigated by former Oakland police officers, the records show.
'It's a specialized skill'
Unlike Alameda County, not every prosecutor's office in California releases records of shooting investigations involving police officers, which are protected by law from public disclosure. Many prosecutors' offices declined to provide the names and employment histories of those they assign to investigate the shootings.
But some prosecutors acknowledged that their investigators are most often retired police officers. District attorneys in San Francisco, Santa Clara, Napa and San Mateo counties all said they employ former police officers and sheriff's deputies to investigate officer-involved shootings.
"It's pretty common," said Glenn McGovern, a senior investigator at the Santa Clara County district attorney's office who leads the training committee for the California District Attorney Investigators' Association. "In Santa Clara, we have a lot of San Jose police. It's a specialized skill. You have to go through advanced training for it."
Some counties in other states have decided against using ex-officers to investigate their former departments. In Miami-Dade County in Florida, for example, only prosecutors with special training investigate officer-involved shootings. The agency does not use former police officers.
In California, legal ethicists expressed concern that most prosecutors make no attempt to avoid the controversial assignments.
"It undermines the legitimacy of the investigation," said Stanford Law School professor Deborah Rhode. "At the very least, they should try to find investigators hired by somebody else."
Most counties in California follow the same procedure. When a police officer shoots and kills someone, the police department conducts two separate investigations. One determines whether the officer violated department policy; the other looks for evidence of criminal conduct. Then the county prosecutor's office either monitors the department's criminal investigation or conducts its own and decides whether to file charges. In Alameda County, investigators are assigned to officer-involved shootings on a rotating, on-call basis.
Prior to 1985, most states legally allowed police officers to use their firearms to arrest anybody suspected of committing a felony, according to a U.S. Department of Justice report on police use of force. Some states even allowed police to shoot a fleeing suspect, including one suspected of a property crime such as forgery.
Then the U.S. Supreme Court handed down a decision that changed the landscape of police shooting investigations: An officer may not use deadly force unless he or she "has probable cause to believe that the suspect poses a significant threat of death or serious physical injury to the officer or others" – in other words, self-defense.
Despite the ruling, it is still extremely rare for a police officer to be charged. While police need only probable cause to make an arrest, prosecutors must prove "beyond a reasonable doubt" that an officer acted criminally. Most fatal officer-involved shootings are deemed justifiable homicides.
In 2011, according to the FBI, law enforcement officers nationwide committed 393 justifiable homicides. A review of news articles about on-duty officer-involved shootings in California shows that since 2005, only three officers have been prosecuted in a fatal or near-fatal shooting.
The most prominent was the case of former BART Officer Johannes Mehserle. In 2010, a jury acquitted Mehserle of second-degree murder and voluntary manslaughter after he was captured on video shooting an unarmed man, Oscar Grant, in the back on a train platform in the early morning hours of New Year's Day 2009. The jury found him guilty of involuntary manslaughter, and he was sentenced to two years.
In 2007, a jury swiftly acquitted former San Bernardino County sheriff's Deputy Ivory Webb of attempted voluntary manslaughter and assault with a firearm. A cellphone video had shown Webb opening fire on Iraq War veteran Elio Carrion, a passenger in a car that had led Webb on a high-speed chase.
And in 2005, a San Jose jury acquitted state Bureau of Narcotics Enforcement agent Mike Walker of voluntary manslaughter charges. He'd shot and killed Rudy Cardenas, a father of five whom he'd mistaken for a wanted parole violator, after Cardenas led him on a car and foot chase.
It's unclear if former police officers investigated the three cases that led to a prosecution – those records are kept secret.
Policies vary across counties
Prosecutors are not legally required to conduct investigations into police shootings.
After budget cuts in 2010, Fresno County District Attorney Elizabeth Egan halted her office's investigations of officer-involved shootings, a practice that had been in place since 1984. After widespread complaints – including from the Fresno police chief – a Fresno County grand jury recommended Egan reverse her decision. She declined.
Sacramento County District Attorney Jan Scully made a similar decision in 2011. A slew of shootings has since prompted furor over Scully's decision, including urgent requests from Sacramento County law enforcement to resume the investigations.
"We would like to do them, if we were given the resources," said Assistant District Attorney Albert Locher, who once supervised the unit.
The Kern County district attorney's office investigates shootings at the county's small police agencies but has never investigated officer-involved shootings at the county's two largest agencies, the Bakersfield Police Department and Kern County Sheriff's Office.
After a high-profile police shooting several years ago, District Attorney Lisa Green said she saw no need to investigate because "the public might view the district attorney's office as a rubber stamp."
"Although I would never approach it that way, the community may view it otherwise," she said.
But in many cities, officials said, the investigations serve as assurance to the public that the death is being treated seriously. Police officials say the investigations can restore confidence in a department. Without them, only the police are left to investigate their own.
"It allows the public to sleep better at night," said former police officer Mike Donovan, chief investigator at the Napa County district attorney's office and treasurer of the California District Attorney Investigators' Association. "Knowing that if there is an officer-involved shooting, there's some other level than just the agency itself that gets to make the decision."
In Los Angeles, law enforcement agencies and the areas they cover are so large that the 256 former police officers at the Los Angeles County district attorney's office are unlikely to know anyone they are assigned to investigate, spokeswoman Sandi Gibbons said.
Still, some prosecutors have decided to avoid the appearance of a conflict by assigning others to the task.
San Diego County District Attorney Bonnie Dumanis assigned a single investigator to work on officer-involved shootings. Although a former police officer, the investigator has never worked for a San Diego County law enforcement agency, spokesman Steve Walker said.
Oakland shooting sparks protest
In Oakland, several police shootings have galvanized the community. But instead of instilling confidence in the system, the report from the Alameda County district attorney's office has provoked suspicion.
After Officer Miguel Masso fatally shot Alan Blueford in May, activists and residents shut down a City Council meeting in protest, and Blueford's family filed a civil suit.
In District Attorney Nancy O'Malley's office, several investigators, mainly former law enforcement officers from the Oakland Police Department and a few other county agencies, are assigned to a rotating on-call team.
When an officer-involved shooting occurs, an on-call inspector and prosecutor report to the scene, sit in on witness and officer interviews, and review evidence collected by each police department and coroner's office. In Blueford's case, Foster and Senior District Attorney Ken Mifsud were on call.
After O'Malley released a report on Foster's investigation, Blueford's supporters released their own, in which they said the prosecutor's report lacked "professionalism and objectivity, and appears to be directed at swaying public opinion."
The report writer, Darrell Whitman, a regional investigator for the U.S. Department of Labor, analyzed the heavily redacted police and coroner's reports released to the public. He said the evidence made it seem more likely that Blueford was unarmed on the ground when Masso shot him.
Masso and his partner had stopped Blueford and two other teens just before midnight on suspicion that they were hiding a gun. Moments later, Blueford broke away. There was a brief foot chase before Masso said Blueford pointed a gun at him, and the officer reacted with gunfire, according to police reports.
At first, Masso said Blueford had shot him. Police later determined that Masso had accidentally shot himself in the foot. The gun Masso said Blueford possessed was found 20 feet from Blueford's body, and investigators determined it had not been fired. Investigators found one of Blueford's fingerprints on the gun.
In his report, Whitman pointed to discrepancies in the evidence that he said Foster and Mifsud should have examined. Instead, he said, they unquestioningly accepted Masso's account. Mifsud declined to comment.
For example, according to the redacted police reports, of the 16 people who witnessed the shooting, only three said they saw Blueford with a gun. Another witness said he had not seen a gun but had seen Blueford grabbing his waistband. A fifth witness said he had overheard another woman saying Blueford was armed.
Masso told investigators that his first shot caused Blueford to fall into a gate and onto the ground, but according to the redacted reports, most witnesses said Blueford already was on the ground when he was shot.
Eight witnesses said they heard Blueford say, "I didn't do anything!" right before the gunfire. Mifsud and Foster's report detailed Masso's accidental shooting of his own foot but otherwise repeated Masso's account of the shooting and did not mention Blueford's alleged statement.
Whitman also said Foster and Mifsud didn't appear to question some of the police department's actions. Although investigators found one of Blueford's fingerprints on the gun, Whitman noted that at least two officers handled the gun before it was secured.
By the time it was photographed, the magazine already had been removed, "possibly contaminating DNA and biological evidence," he wrote. In addition, per department policy, Masso had never turned on his lapel camera. Whitman said the camera footage might have captured the entire incident.
"If you have nothing else, you want to fight for your kid," said Blueford's father, Adam Blueford. "My son was on the ground screaming, pleading for his life."
O'Malley declined to comment on the report.
Others said they would not be so quick to dismiss the activists' concerns.
"From a public point of view, (using former officers) might not be the best course of action," said Tony Monheim, a retired Miami-Dade police officer who now leads training on officer-involved shooting investigations.
"The public has its own perception of what is going on," Monheim said. "Maybe it's a better thing to try to ease the tension a little bit and not have someone investigate themselves."
Shoshana Walter is an investigative reporter for California Watch, a project of the nonprofit Center for Investigative Reporting. Find more California Watch stories here.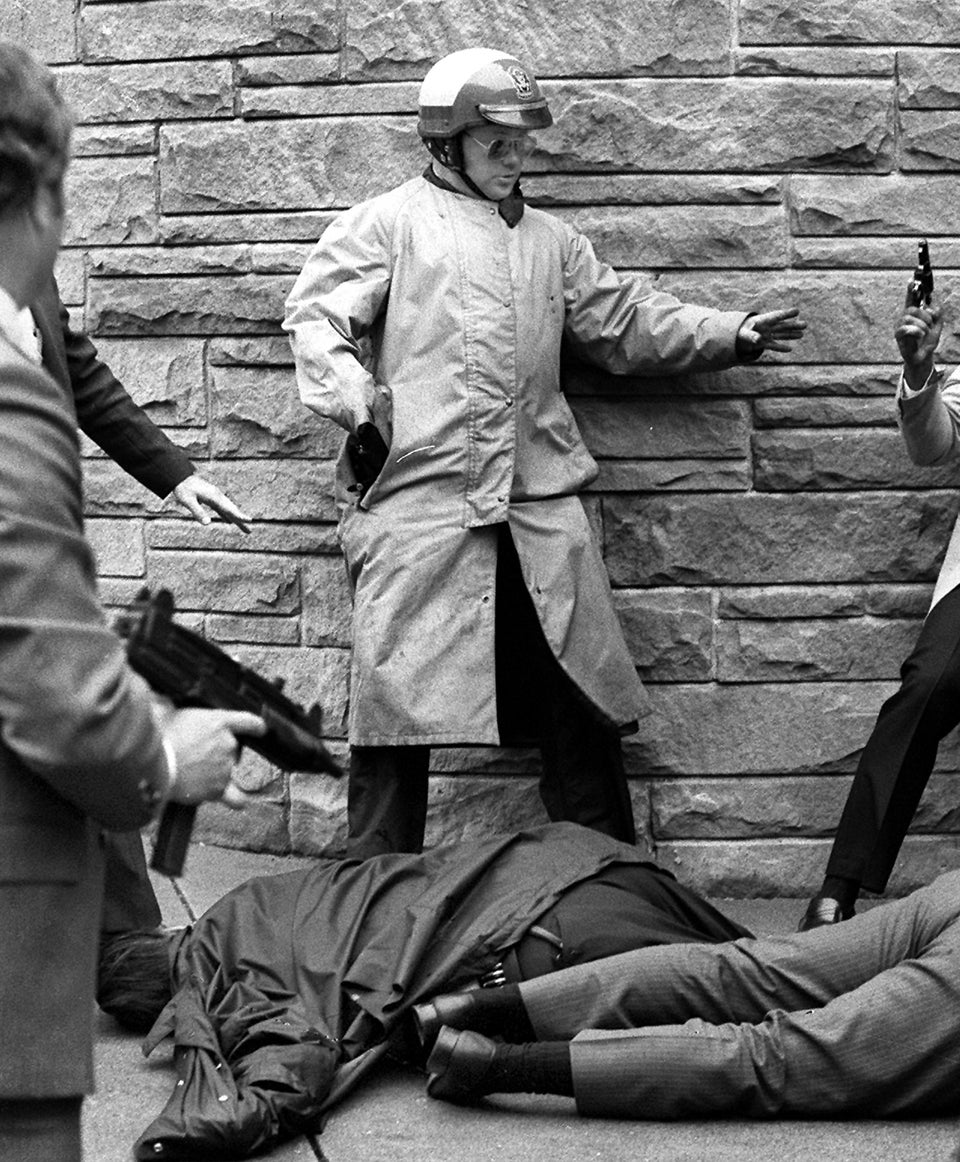 Pivotal Moments In The Federal Gun Control Debate
Popular in the Community