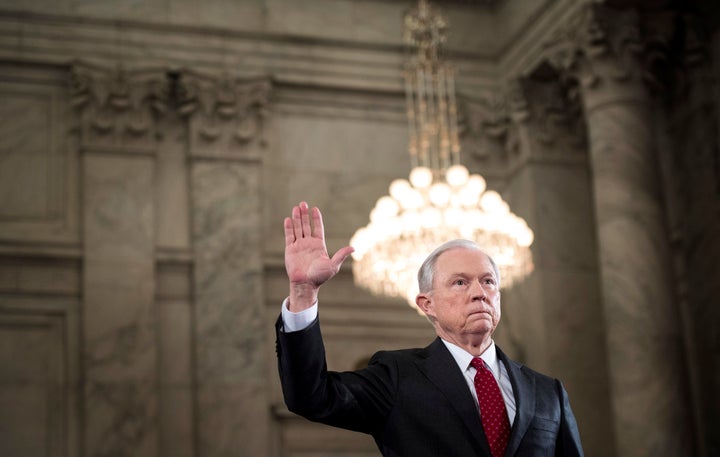 WASHINGTON ― Jeff Sessions, who will very likely be confirmed as the 84th attorney general of the United States, expressed skepticism this week about the ways the Obama administration has forced reform in troubled police departments.
Under a law passed in 1994 in the wake of the videotaped beating of Rodney King by Los Angeles Police Department officers, the Justice Department's Civil Rights Division opened 25 "pattern-or-practice" investigations of law enforcement agencies during the Obama administration to determine whether the departments were systemically engaged in unconstitutional conduct.
But Sessions suggested during his Senate confirmation hearing Tuesday that his Justice Department could take another path and that agencies investigated by DOJ had been unfairly maligned.
"I think there's concern that good police officers and good departments can be sued by the Department of Justice when you just have individuals within a department who have done wrong," Sessions testified. "These lawsuits undermine the respect for police officers and create an impression that the entire department is not doing their work consistent with fidelity to law and fairness."
As Sen. Mazie Hirono (D-Hawaii) pointed out to Sessions, pattern-or-practice lawsuits aren't just about individual rogue officers. The law is specifically crafted to address conduct that goes beyond isolated incidents, targeting widespread patterns that need to be addressed comprehensively.
Sessions said he worried that suing a police department could have "ramifications" on the morale of the agency and the public's view of the police department.
"It's a difficult thing for a city to be sued by the Department of Justice and to be told that your police department is systemically failing to serve the people of the state or the city," Sessions said.
But Jonathan Smith, a former official in the Civil Rights Division who worked on police misconduct cases, said that airing the issues was important despite potential short-term effects.
"If you've got a police department where you've got a widespread practice that's violating the rights of the people that live in that community and you point that out, undoubtably that's going to affect the morale of police officers ― they're being told their conduct violates the constitution," Smith said. "But you can't heal the rift that's created between the community and those officers until you do that, until you have a recognition that a problem exists and you've got a plan in place to address it."
Smith said Sessions' concern that police departments would be targeted over the actions of a few individual officers are unfounded. Smith said it is often the lack of training or supervision that is the underlying issue, not a few bad apples.
"It's beyond individual. It's beyond isolated. It's a widespread practice that has the effect of being the policy of the department. It doesn't have to be the written policy, it has to be the way that it's done inside the department," Smith said.
"I challenge Sen. Sessions to point to any one of our findings in any one of these police departments where we found a pattern of violations of the constitution that was simply the conduct of a few individual officers," Smith said.
A finding of widespread constitutional violations doesn't necessarily mean that every officers in an agency acted with malice and purposefully violated constitutional rights. Officers may have simply been acting in accordance with their training, he said.
"In each of the places where we concluded that there were patterns of violations, we found widespread use of the unconstitutional practice as well as deficiencies in the systems of training, hiring, accountability and policy that lead to those violations," Smith said.
If Sessions wants to see examples of the types of widespread unconstitutional practices that would spark a pattern-or-practice probe, he could turn to pretty much any letter of findings. (Conveniently, the Justice Department just released an interactive guide to its police reform work that provides access to all of the agreements.)
Here are some examples from DOJ investigations that describe widespread patterns, not individual conduct:
But the report that documents some of the most systemic deficiencies may be the Justice Department's report on Ferguson, Missouri, where the constitutional violations extended far beyond just the police department. Ferguson's mayor also used the "bad apples" excuse to respond to DOJ's report. But a cursory review of DOJ's report, even focused just on one of DOJ's key findings, makes it clear the issues in Ferguson were not limited to a handful of rogue cops.
"City, police, and court officials for years have worked in concert to maximize revenue at every stage of the enforcement process, beginning with how fines and fine enforcement processes are established," DOJ's report said. "City and police leadership pressure officers to write citations, independent of any public safety need, and rely on citation productivity to fund the City budget."
Some Ferguson officers disagreed with the city's money-raising tactics. "Several officers commented on the futility of imposing mounting penalties on people who will never be able to afford them," the report stated. "One member of FPD's command staff quoted an old adage, asking: 'How can you get blood from a turnip?' Another questioned why FPD did not allow residents to use their limited resources to fix equipment violations, such as broken headlights, rather than paying that money to the City, as fixing the equipment violation would more directly benefit public safety."
But as the report indicated, it was essentially impossible to work in law enforcement in Ferguson without engaging in unconstitutional conduct to generate revenue:
However, enough officers — at all ranks — have internalized this message that a culture of reflexive enforcement action, unconcerned with whether the police action actually promotes public safety, and unconcerned with the impact the decision has on individual lives or community trust as a whole, has taken hold within FPD. One commander told us, for example, that when he admonished an officer for writing too many tickets, the officer challenged the commander, asking if the commander was telling him not to do his job. When another commander tried to discipline an officer for over-ticketing, he got the same response from the Chief of Police: "No discipline for doing your job."
The government overreach that the feds helped uncovered in Ferguson would normally seem like the type of thing that would upset Sessions' political allies. Leon Wolf, currently managing editor of Glenn Beck's The Blaze, wrote in a 2015 post on RedState titled "Many Conservatives Are Blowing It On The Ferguson DOJ Report" that the report was an "incredibly damning" portrait of the city's policing and municipal court practices.
"Even if you read only the parts of the Ferguson DOJ report that come directly from the files of the FPD (which is to say, files that would be most favorable to the Department), the report paints an incredibly damning picture of the Ferguson Police Department. No conservative on earth should feel comfortable with the way the Ferguson PD has been operating for years, even according to their own documents," Wolf wrote.
"Anyone who can read the actual report itself and be comfortable with the fact that citizens of an American city live under such a regime is frankly not someone who is ideologically aligned with me in any meaningful way," he continued.
On Thursday morning, Justice Department officials will go to Baltimore to announce a court-enforceable consent decree with the city to reform its police department. Federal officials are expected to release the findings of their investigation of the Chicago Police Department before President-elect Donald Trump is sworn in next week. But the future of DOJ's comprehensive investigations into police departments under Attorney General Jeff Sessions is up in the air.
Vanita Gupta, the current head of the Civil Rights Division, said in a recent interview with The Huffington Post that certain communities "really needed the investigative power of the Civil Rights Division and a long-term process to try to rebuild that trust." While policing was "fundamentally local," she said, DOJ could play a crucial role in some cities where there was a breakdown in trust between a police department and their constituents.
Gupta said that there was a "recognition of the division's role in the current conversation in policing" and that it was difficult to imagine the federal government simply sitting back the next time a controversial police encounter sparks unrest.
"It's hard to imagine how the entrenched concerns around policing will be remedied without the important role of the Justice Department in those conversations," Gupta said.
Before You Go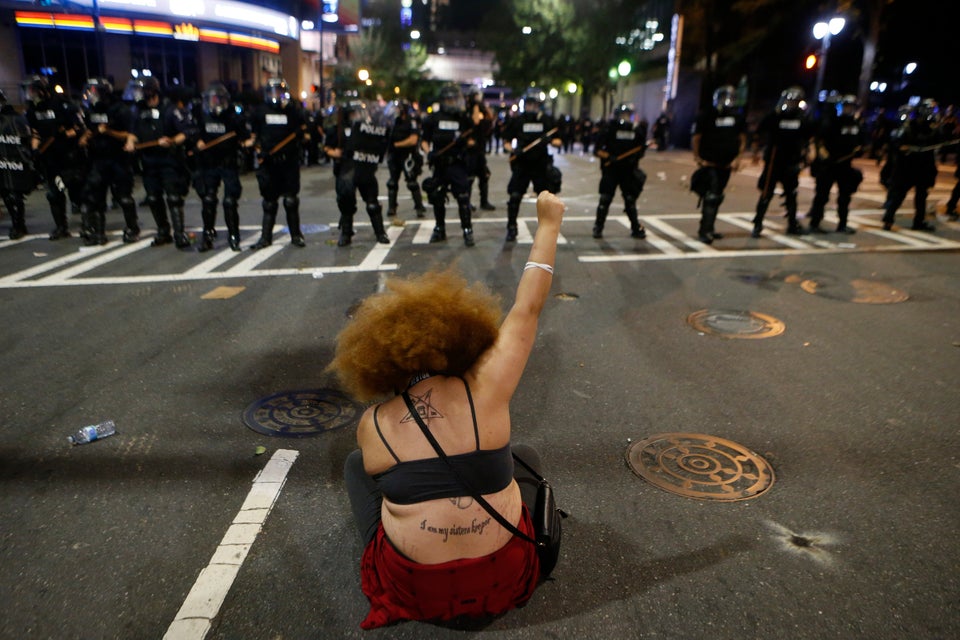 Protests Break Out In Charlotte After Police Shooting
Popular in the Community