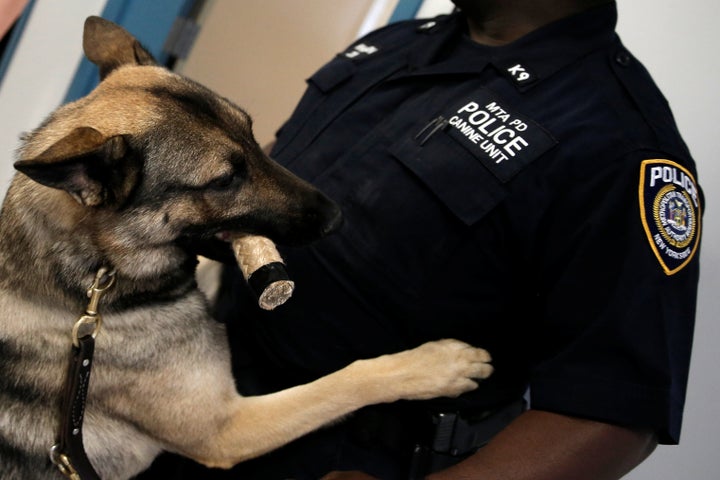 You've probably seen them sniffing around airports, or taking down suspects on TV. Or maybe you've seen one in your town, patrolling in his cruiser in case there's trouble. Police K-9s are everywhere, filling any number of highly specialized jobs and support duties on the force—keeping America safe, one whisker at a time.
But despite their wide recognition and being highly regarded by the public for their contributions to society, working police dogs are the least-funded members of the force.
According to the National Police Dog Foundation (NPDF), this is because K-9s are considered a specialty unit, which means you can run a department without them—unlike police cars, police officers, and their training.
Departments must often rely on grants or public fundraising campaigns to finance their canine partners.
These grants help with purchasing the dogs, training them (and their handlers), housing and feeding the animals, and outfitting patrol vehicles to accommodate a dog. But what about their veterinary care?
Without the assistance of programs like NPDF, working and retired police dogs are at risk for shorter and less comfortable lives because the costs of their medical care can be a heavy burden. The Foundation says that law enforcement agencies constantly request assistance for the ever-increasing cost of veterinary care.
... It's absolutely essential that police departments protect their working dogs with pet insurance.
Police departments typically use German Shepherds, Belgian Malinois, Dutch Shepherds, Rottweilers, Doberman Pinchers, and Bouvier de Flandres as K-9 officers. They also train Labrador Retrievers and Bloodhounds for detection work. Some agencies even adopt Pit Bulls from local shelters to serve on the force!
What all these breeds have in common is their large size, which makes them prone to conditions like hip dysplasia and orthopedic injuries. And of course, occupational hazards put them at risk for more severe injuries than their non-working counterparts; it is not uncommon for police K-9s to suffer gunshot or stab wounds or other injuries when apprehending a suspect.
To give you an idea of the veterinary expenses police departments may face, here are the average costs to treat some common conditions:*
Cruciate injuries: $3,480
Elbow dysplasia: $2,623
Hit by car: $2,542
Hip dysplasia: $1,850
Injured tail: $703
Puncture wound: $661
Lacerations/cuts: $581
So while police dogs may have the heart of a lion, their bodies aren't always so brawny. Which is why it's absolutely essential that police departments protect their working dogs with pet insurance. And why Chris and I decided to get Petplan involved.
K9 officers provide protection, loyalty, and unwavering support — and they deserve the same in turn. Since individual departments can't usually finance the care of their K-9s on their own, the NPDF steps in to provide funding for essential services. With Petplan's support as a sponsor in 2016, they helped police dogs all across the country get the best veterinary care. We plan to do even more in 2017 to further the mission of the NPDF.
Want to get involved yourself? Here are some simple things anyone can do to help police provide for their K-9s:
1. Donate to the National Police Dog Foundation.
2. Designate the National Police Dog Foundation as your charity on smile.amazon.com (a percentage of every purchase will go to the organization).
3. Contact police departments in your area to see how you can support their K-9 unit.
4. Raise funds to provide lifesaving K-9 equipment, like bullet- and stab-proof vests, first aid kits, vehicle heat alarms, cooling vests, and pet oxygen masks.
5. Organize first aid training for K-9 handlers and paramedics to treat injured police dogs. Knowing how to place an IV, bandage a wound or intubate an animal can mean the difference between life and death in an emergency. (Hint: your veterinarian may be able to help!)
Whatever you do, you can make a difference in giving police dogs the lives and the care they deserve—even if it's just saying a simple, "thank you."
*According to 2015 Petplan claims data
Calling all HuffPost superfans!
Sign up for membership to become a founding member and help shape HuffPost's next chapter
BEFORE YOU GO